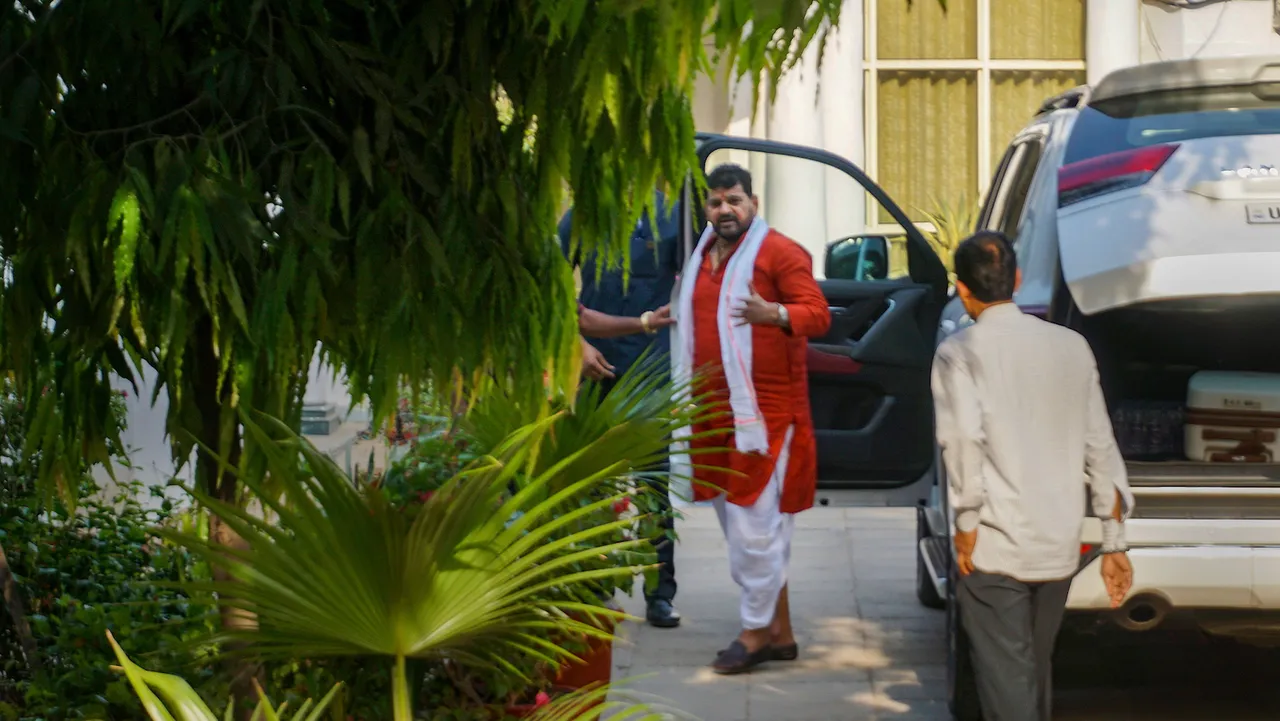 New Delhi: The sexual harassment case against Wrestling Federation of India chief Brij Bhushan Sharan Singh is under consideration and the status report of the investigation will be submitted to court, the Delhi Police said on Wednesday.
Earlier, police sources said the force had not found sufficient evidence in favour of the allegations levelled against Singh by female wrestlers and that it will submit the report within 15 days.
As the news came out in the media, the Delhi Police took to Twitter to say: "It is clarified that this news is wrong and the investigation into this sensitive case is under progress with all sensitivity."
A public relation officer of the Delhi Police also shared the same message with reporters. After nearly an hour, the Delhi Police deleted its tweet. The PRO also removed the message she had shared in the official WhatsApp group for reporters.
Later, the PRO put another message in the group in Hindi that read: "The cases filed by women wrestlers are still under consideration. Status reports are being filed before the court regarding the investigation in the said cases.
"As the cases are under investigation, it would be against the procedure to say anything before the report is filed in the court," the message read.
The wrestlers, who were protesting at Jantar Mantar here since April 23 demanding the arrest of Singh, were removed from the site by the police on Sunday after they tried to march towards the new Parliament building following its inauguration.
Addressing a programme in Uttar Pradesh's Barabanki on Wednesday, Brij Bhushan Sharan Singh said that he will hang himself even if a single allegation is proved against him.
The BJP MP also said all wrestlers are like his children and he will not blame them as his blood and sweat have also gone into their success.
"I am once again saying that if even if a single allegation is proved against me, I will hang myself," Singh said while addressing a programme at the Mahadeva auditorium in the Ramnagar area here.
"It has been four months since they (wrestlers) want me to be hanged, but the government is not hanging me. So they were going to immerse their medals in the Ganga. Brij Bhushan will not be hanged by throwing medals in the Ganga. If you have proof, give it to the court and if the court hangs me, I will accept it," the member of Parliament from Kaiserganj said.
On Tuesday, the protesting wrestlers announced that they would immerse their medals in the Ganga river in Haridwar as a mark of protest to demand action against Singh. But they did not carry out the threat after farmer leaders sought five days' time from them to resolve the issue.
Farmers' outfit Samyukta Kisan Morcha on Tuesday called for nationwide demonstrations on June 1 in support of the wrestlers.