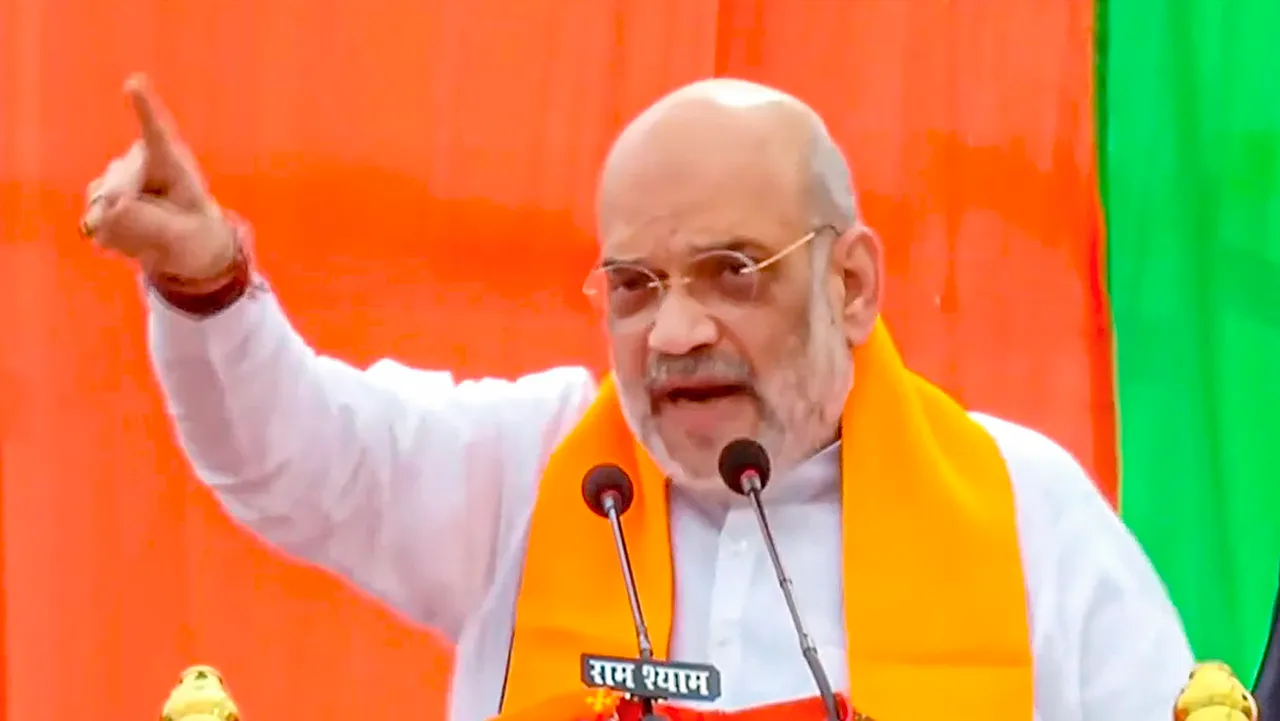 Bemetara: Union Home Minister Amit Shah on Wednesday said the Bemetara district in Chhattisgarh has become a centre of "love jihad" and that no one would dare do such an act if the BJP is voted to power in the state.
He accused Chief Minister Bhupesh Baghel of insulting Lord Mahadev by "naming" a betting app after him.
Addressing a rally in Saja assembly constituency of Bemetara district on the last day of campaigning for the second phase of elections in the state, Shah alleged that Baghel had turned the Durg division from being an education hub to a "centre of betting".
BJP has fielded Ishwar Sahu, whose son Bhuneshwar Sahu was killed in a communal clash in Biranpur village of the district in April this year, from Saja seat.
"Ishwar Sahu is not only a candidate but a symbol of the fight for justice. Under Bhupesh Kakka's rule, communal elements lynched Sahu's son Bhuneshwar Sahu. People of Bhupesh Kakka offered a cheque and job to Ishwar ji asking him not to seek justice. But I would like to thank Ishwar ji that he refused and sought justice," Shah said.
"It is our responsibility to ensure justice for Bhuneshwar Sahu. No one will be allowed to violate the law. Every murderer of Bhuneshwar Sahu will be sent to jail... the countdown of the exit of Bhupesh Kakka has started," he said.
Shah urged people to bring his party to power saying their votes would not only make a BJP government in the state but would also ensure justice to Bhuneshwar Sahu and teach a lesson to those indulging in the politics of appeasement.
Further slamming the Congress government, Shah said Bemetara turned into a centre of "love jihad" under Bhupesh Baghel.
Love jihad is a term often used by right-wing activists to allege a ploy by Muslim men to lure Hindu women into religious conversion through marriage.
Sahu, Kurmi and Gond communities were under the target of it (love jihad) while the Bhupesh Baghel government remained asleep, he said. "Who will wake them up? It's your votes. I promise, you bring BJP to power, no one will dare commit such an act," he said.
Targeting CM Baghel over the alleged Mahadev betting app scam, Shah said, "Bhupesh Kakka destroyed Durg division. During the Raman Singh-led BJP government, Durg division had become a centre of education. Bhupesh Baghel turned it into a centre of satta (betting)." Shah said Baghel could have named the app after his own name.
"Why did he use the name Mahadev? Modi ji sent 'Chandrayaan' to the moon and named the spot (where it landed) Shivshakti, expressing reverence to Lord Shiva and Maa Shakti. But Bhupesh Kakka named a betting app after Mahadev and insulted him," he said.
If Bhupesh Baghel returns to power citizens won't be able to utter the name of Mahadev, Shah claimed. "...As Bhupesh fears police would come. He has committed the sin of pushing youths into the business of betting," he said.
Hitting out at the Congress government over corruption, Shah accused Baghel of turning Chhattisgarh into a collection centre and ATM of Congress.
Wednesday is the last day of campaigning for the second phase of state polls on November 17.