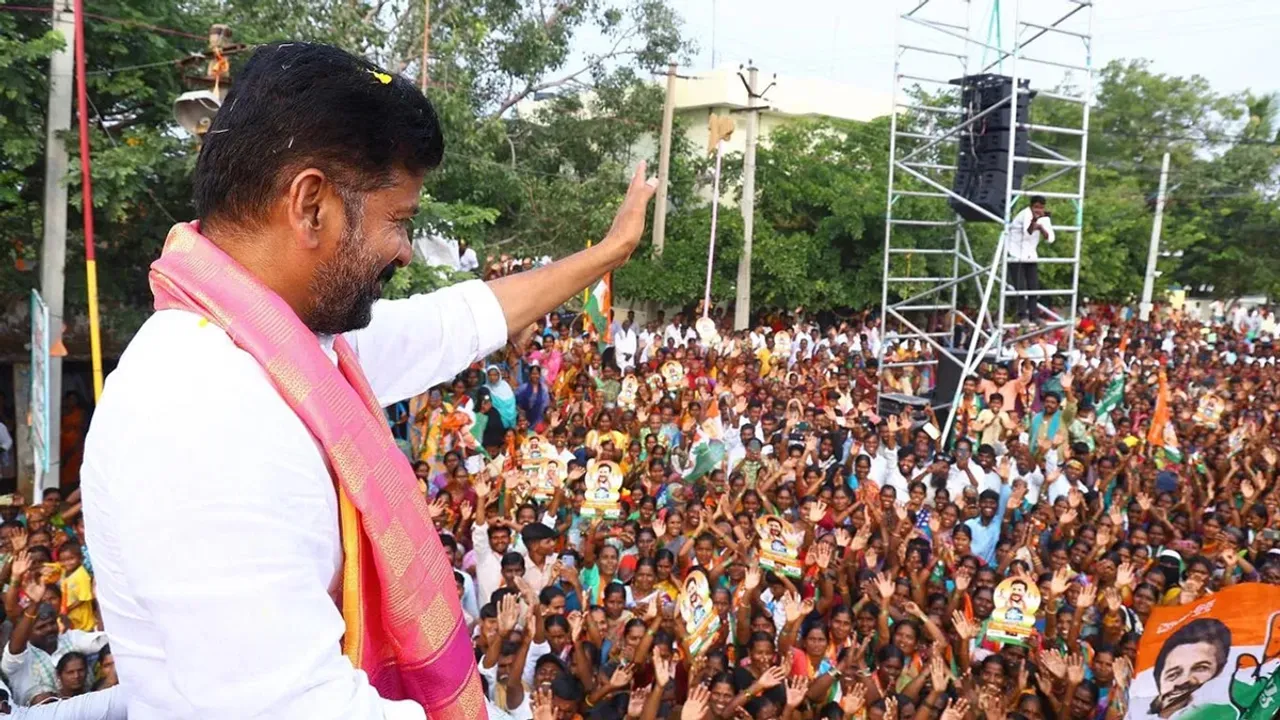 Kodangal: As Telangana Pradesh Congress Committee President Revanth Reddy is busy campaigning across the state, his four brothers are working hard to ensure his victory in two constituencies -- Kodangal and Kamareddy -- in a tough battle against the BRS.
Reddy is pitted against the might of Chief Minister K Chandrasekhar Rao in Kamareddy.
Kodangal is located in the southern part of the state bordering Karnataka, while Kamareddy in the northern part of Telangana. Revanth Reddy is facing the CM in Kamareddy, while sitting MLA Patnam Narender Reddy in Kodangal. His key opponents in both segments are from the Bharat Rashtra Samithi (BRS).
Being a state Congress chief and a front runner for the chief minister post if Congress wins this time, Revanth Reddy is leaving no stone unturned and campaigning aggressively across the state.
When the state Congress president is busy campaigning outside his own constituencies, his four brothers -- Tirupati Reddy, Jagdishwara Reddy, Kondal Reddy and Krishna Reddy -- are managing the electioneering.
Revanth Reddy's elder brother Tirupati and youngest brother Krishna are handling the election campaign in Kodangal, while younger brother Kondal is taking care of Kamareddy. Another younger brother Jagdeshwara who came from the US will be joining his brother in Kamareddy.
"We are campaigning along with local leaders. When my brother (Revanth Reddy) comes, we campaign at mandal level. He has completed campaigning in five mandals in Kodangal assembly constituency three are left," Krishna, who otherwise runs a business, told PTI.
Eldest brother Tirupati, who is incharge of Kondagal, is campaigning door-to-door in villages. "We have reached 70-80 per cent through our campaign. We still have time, we plan to reach out to everyone," he said.
On people's complaints that Revanth Reddy is not giving enough time to his own constituency, Krishna said, "people of Kodangal are proud that their leader is campaigning across the state." "People are campaigning themselves on my brother's behalf with vengeance to defeat the opposition party. Local leaders are working hard to ensure his victory with a huge margin. Their faith in my brother is our strength," he said.
There are 2.36 lakh eligible voters in Kodangal. "... we are receiving good response. We are confident of winning with a huge majority of 40,000-50,000 votes," he added.
In Kamareddy too, another brother Kondal is looking after the election campaign. Out of seven mandals in this assembly segment, Revanth Reddy has completed campaigning in two mandals and scheduled to cover three mandals today and rest in the coming week.
He has held several corner meetings and one town hall meeting in Kamareddy.
Jagdishwara, who is going to help his brother in the last leg of the election campaign in Kamareddy, said, "I am a businessman settled in the US and never been part of politics. I have come from the US to do my bit this time." Revanth Reddy is fourth among seven brothers, while two eldest brothers have passed away.
Two-time Telugu Desam Party (TDP) MLA from Kodangal, Revanth Reddy contested the 2018 assembly election on a Congress ticket but lost to BRS candidate Patnam Narender Reddy. He, however, went on to win the Lok Sabha election from Malkajgiri, whereas in Kamareddy, he is contesting for the first time against chief minister Rao.