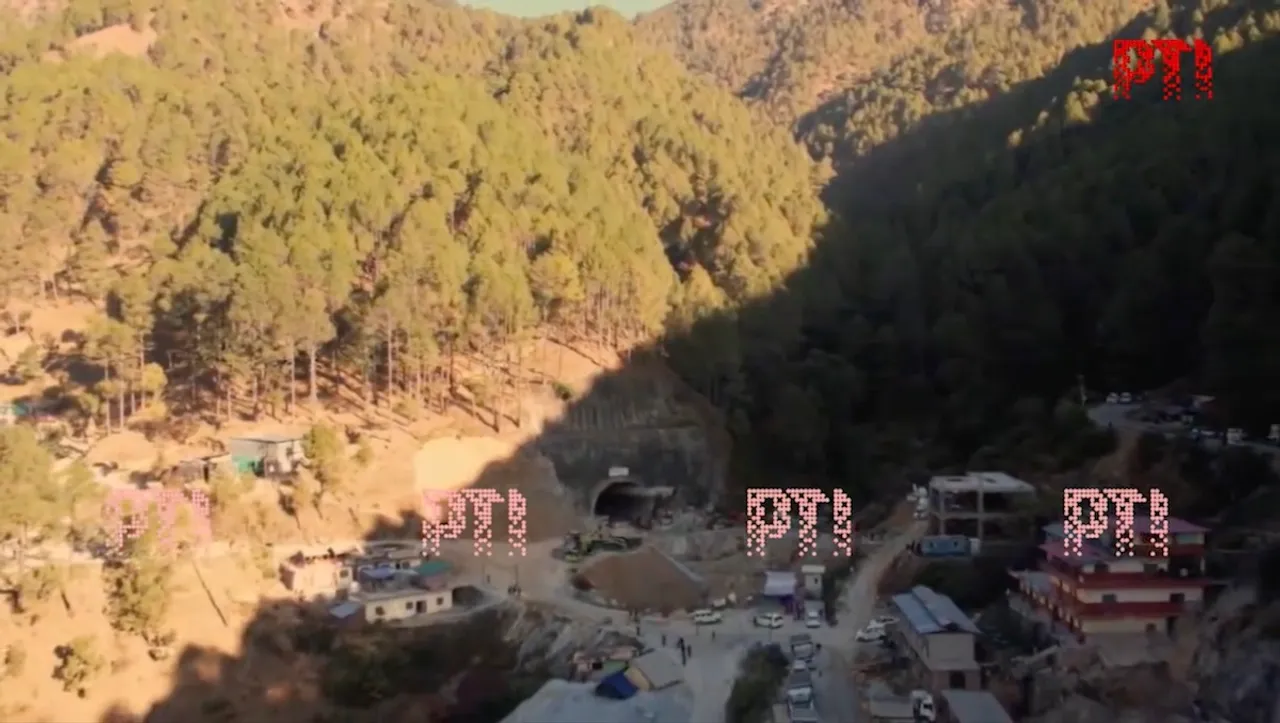 Uttarkashi (Uttarakhand): Efforts were underway on Sunday to build an access road at the top of the hill above Silkyara tunnel for initiating vertical drilling to reach 41 workers trapped for seven days, with authorities hopeful that a platform to drill the hole might be ready by this afternoon.
Larger diameter pipes have also been inserted up to a length of 42 metres through the debris this morning to provide enough food and other essentials to the trapped workers, a control room set up at the site said.
Work on building the road began towards Saturday evening with personnel of the Border Roads Organisation (BRO) on the job, an official at the spot said.
Senior officials, including those from the PMO who visited the site on Saturday, are still stationed in Silkyara to oversee the operations aimed at the safe evacuation of the trapped workers at the earliest.
Plan for evacuation of labourers stuck at Uttarkashi tunnel
A five-plan strategy on which work will begin simultaneously has been devised to rescue the labourers after the earlier strategies did not produce the desired results. The five plans include drilling from one end to the other on both Silkyara and Barkot sides, vertical drilling from top of the tunnel and perpendicular drilling, former Advisor to PM and now OSD in Uttarakhand government Bhaskar Khulbe told reporters in Silkyara on Saturday. Khulbe said the concerted efforts could lead to good results in four-five days or even earlier.
Drone visuals of the tunnel collapse site in Uttarkashi, Uttarakhand. 41 workers are trapped inside the under-construction tunnel since November 12. pic.twitter.com/tAPuIk3VbV

— Press Trust of India (@PTI_News) November 19, 2023
The Silkyara tunnel, about 30 km from the district headquarters of Uttarkashi and a seven-hour drive from the Uttarakhand capital Dehradun, is part of the ambitious Char Dham all-weather road project of the central government The labourers have been trapped since Sunday morning at the partially collapsed Silkyara tunnel where rescue operations are on hold since Friday.
Different agencies have been assigned the task of working on one alternative option each. The BRO and the construction wing of the Indian Army have also been assisting in the rescue operation," an official said.
National Highways and Infrastructure Development Corporation Ltd (NHIDCL) MD Mahmood Ahmed has been made in-charge for coordination with all the central agencies and has been stationed at Silkyara, the sources said.
The Uttarakhand government has made Neeraj Khairwal, a secretary-level officer, as the nodal officer for coordination.
The sources said all the agencies concerned have posted senior officers at the site and the government has given a clear direction that whatever is possible be done for the rescue operation.