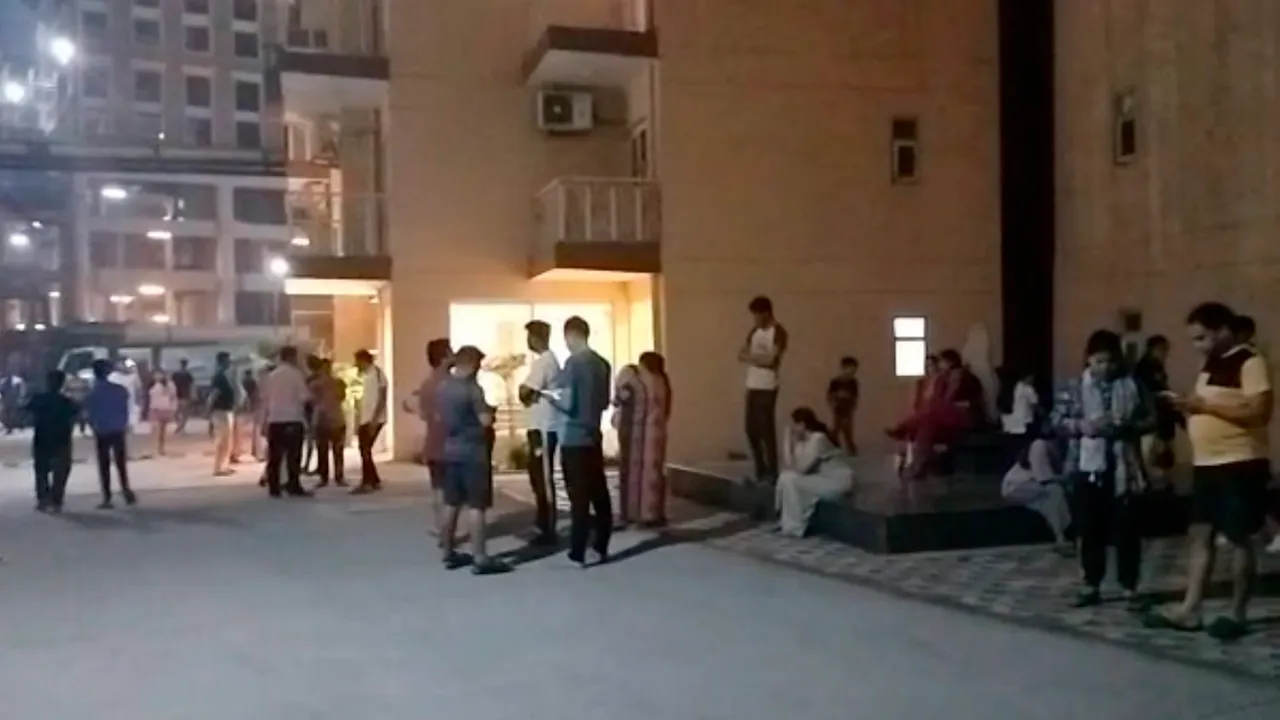 New Delhi: Strong tremors jolted large swathes of north India, including Delhi-NCR, on Tuesday night as an earthquake of magnitude 6.6 struck the Hindu Kush region in Afghanistan.
People rushed out of their homes and came out on the streets as the powerful temblor shook the mountainous region at 10.17 pm, the National Centre for Seismology said.
The epicentre of the earthquake was 133 km south-southeast of Fayzabad in Afghanistan, the National Centre for Seismology (NCS) said.
According to the NCS, the epicentre of the earthquake was located at 36.09 degrees north on the latitude and 71.35 degrees east on the longitude with a focal depth of 156 km.
A powerful earthquake of 6.8-magnitude jolted parts of Pakistan on Tuesday night, the country's meteorologicial department said, sparking panic and forcing residents to flee homes.
The epicentre of the earthquake was Afghanistan's Hindu Kush region, while its depth was 180 kilometres, according to the Pakistan Meteorological Department.
There were no immediate reports of damages or injuries. According to initial reports, tremors were felt in various cities, including Islamabad, Peshawar, Charsadda, Lahore and Rawalpindi.
The earthquake was also felt in Jammu and Kashmir, Haryana, Punjab, Himachal Pradesh and Rajasthan.
A resident in Rajasthan's Sri Ganganagar district said he felt three tremors back to back.
A senior seismologist said the reason why people in northwest India and Delhi felt the tremors for a relatively longer time is because the "depth of the fault was more than 150 km".
People in northern India first felt the primary waves and then were impacted by the secondary waves, he said.
There was disruption in mobile services in some parts of the Jammu region immediately after the earthquake, an official said.
There was no immediate report of any loss of life or property.
In east Delhi's Shakarpur, anxious people filled the congested lanes after claims by some that a building had tilted, but it turned out to be false alarm. Two fire tenders were rushed to south-east Delhi's Jamia Nagar after a call claiming that a building was leaning there, officials said, adding further information is awaited.
Delhi Chief Minister Arvind Kejriwal tweeted, "Strong tremors were felt across Delhi-NCR. Hope you all are safe." 
A Noida resident said he first noticed the dining table shaking. "Soon after we saw that the fans were also shaking. The earthquake was strong in terms of intensity and stayed for a longer period," the resident of Hyde Park society in Noida said.
A cab owner in Delhi said he felt the earthquake while he was waiting for passengers.
"I was waiting for passengers and suddenly my car started shaking. I immediately shouted and told my friends about it," said cab owner Ramesh Pawar, who was near Connaught Place in central Delhi.
Jyoti, a resident of Lajpat Nagar in south Delhi, said she was watching television when she suddenly saw the TV and sofa were shaking.
Initially, she ignored it but when her husband alerted her, she and her family members rushed out of their home.
"I ignored it initially but as soon as my husband alerted, I felt the earthquake too. This time it was strong and the sofa I was sitting on started shaking a bit. We rushed outside our home. Thankfully, we are on the ground floor, so in such situations, we have an easy escape," she said.
Ghaziabad-resident Inderjeet Kaur said, "We felt the tremors for nearly 30 seconds and rushed out of our home." Jagdish Patwal, a resident of a high-rise apartment building in Noida, said, "The sofa, fan were shaking and people climbed down from the 20th floor." Chatter about the possible epicentre of the earthquake and memories of the destruction caused by a series of temblors in Turkiye dominated the discussions in the groups of people who rushed out of their homes.
The tremors also sparked panic in Rajasthan as people rushed out of buildings as a precautionary measure and enquired about the earthquake from others.
In Punjab and Haryana and their common capital Chandigarh, people rushed out of their homes during the tremors.
"I was about to go to sleep when I suddenly felt a strong tremor. I along with my wife and two children rushed downstairs," said Ajay Kumar, who lives on the third floor of a residential society in Chandigarh.
In Zirakpur, a town in Punjab which is on the outskirts of Chandigarh and has many high-rise residential societies, panic-stricken people rushed out of their homes and gathered in open parks.
Reports from many places in Punjab including Pathankot, Mohali, Jalandhar, Phagwara and Ludhiana said that strong tremors were felt.
There were similar reports from many places in Haryana including Panchkula, Ambala, Karnal and parts of the National Capital Region.
In Himachal Pradesh, people in Shimla, Mandi and several other places rushed to safety.
"Tremors were felt in all the 12 districts of the state but no loss of life or damage to property has been reported," Special Secretary Disaster Management Sudesh Mokta told PTI.
Hundreds of residents rushed out of their homes in Noida - that houses scores of high-rise apartments -- in the wake of the strong tremors.
Among those who rushed in panic were also elderly, women and young children while some residents also carried their pets with them.
"I was watching a TV serial when I felt the earthquake. It was scary and I counted till 10 in my mind," Rajesh Kumar, a senior citizen who lives on the first floor of Supertech Capetown in Sector 74, told PTI moments after his family and he reached outside their building.
Several people opted for staircases and avoided lifts during the rush.
Those living on the upper floors are the ones who suffer the most in emergency situations," said Mansi, who accompanied a sick friend of hers as they climbed down from the 15th floor of a residential tower.
Once on the ground outside the towers, many people were seen calling up their contacts and checking on them for their safety while some even took to video calls to show the crowds that surrounded them.
"I can still feel as if I am shaking," a Noida youth said as he was rushing out of home.