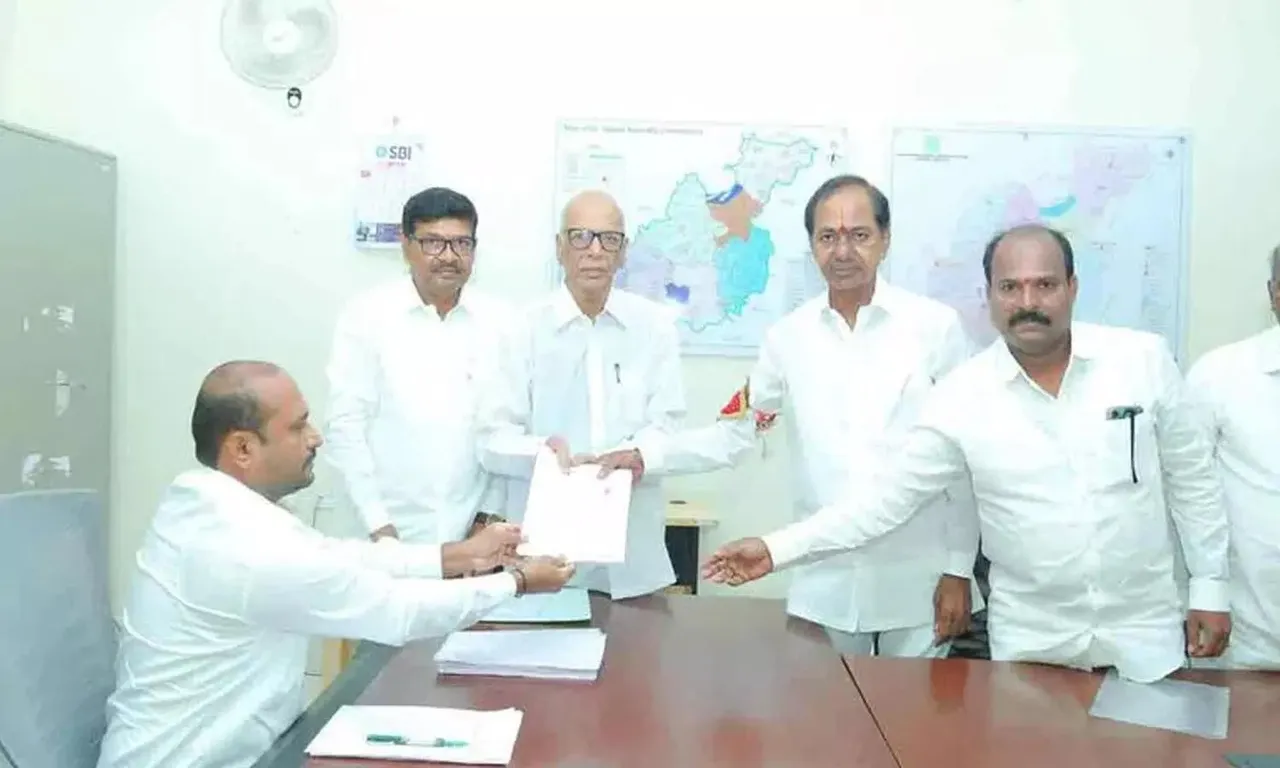 Hyderabad: Telangana Chief Minister K Chandrasekhar Rao has declared family assets worth nearly Rs 59 crore, including "Hindu Undivided Family" and liabilities of Rs 25 crore.
According to the election affidavit submitted on Thursday while filing his nomination for the November 30 Legislative Assembly polls, he does not own a car.
There are nine cases pending against him, all booked during the Telangana statehood agitation and he was not convicted of any criminal offence.
The gross total value of movable assets in the name of his wife Shobha was over Rs seven crore and his HUF (Hindu Undivided Family) was over Rs nine crore. She also possesses 2.81 kg of gold jewelry, diamonds and other valuables worth nearly Rs 1.5 crore.
The total current market value of immovable assets in Rao's name was about Rs 8.50 crore, it is about Rs 15 crore in the name of HUF.
Rao's total income as per IT returns was over Rs 1.60 crore as of March 31, 2023, while it was Rs 1.74 crore as of March 31, 2019.
The income of Rao's wife was over Rs 8.68 lakh as of March 31, 2023 and a receipt/transfer of Rs 7.88 crore from K Chandrasekhar Rao-HUF.
The affidavit showed Rao as an agriculturist and his educational qualification is BA.
The HUF owns several vehicles, including tractors.
Meanwhile, Rao's son and BRS Working President K T Rama Rao and his family disclosed total assets worth Rs 54.27 crore in the affidavit submitted by him while filing his nomination.
According to the affidavit, Rama Rao's wife Shailima has movable assets worth Rs 26.4 crore including 4.5 kg gold ornaments and other valuables.
Similarly, Rama Rao's immovable assets of Rs 10.4 crore (market value) increased when compared to immovable assets of Rs 1.30 crore in 2018. His wife has immovable assets of Rs 7.42 crore and their daughter has immovable assets worth Rs 46.7 lakh.
Rama Rao also has liabilities of Rs 67.2 lakh while his wife has liabilities of Rs 11.2 crore.
As per the affidavit, the BRS working president declared that he owns one car and 100 grams of gold ornaments while his wife has 4.7 kg gold ornaments and diamonds.
Rama Rao's total annual income shown in IT return as per the financial year of 2022-23 was Rs 11.6 lakh, compared to Rs 1.14 crore income as of March 31, 2019.
Rama Rao is facing seven criminal cases which were filed during the separate Telangana Statehood agitation.
The BRS leader said he was convicted in a 2012 case under the Railways Act. However, no punishment was imposed as the trial court extended the benefit under the provisions of the Probation of Offenders Act and all the accused were released after due admonition.
Rama Rao called himself a 'politician' and an 'agriculturist', while his wife's profession has been listed as 'business' and an 'agriculturist'.