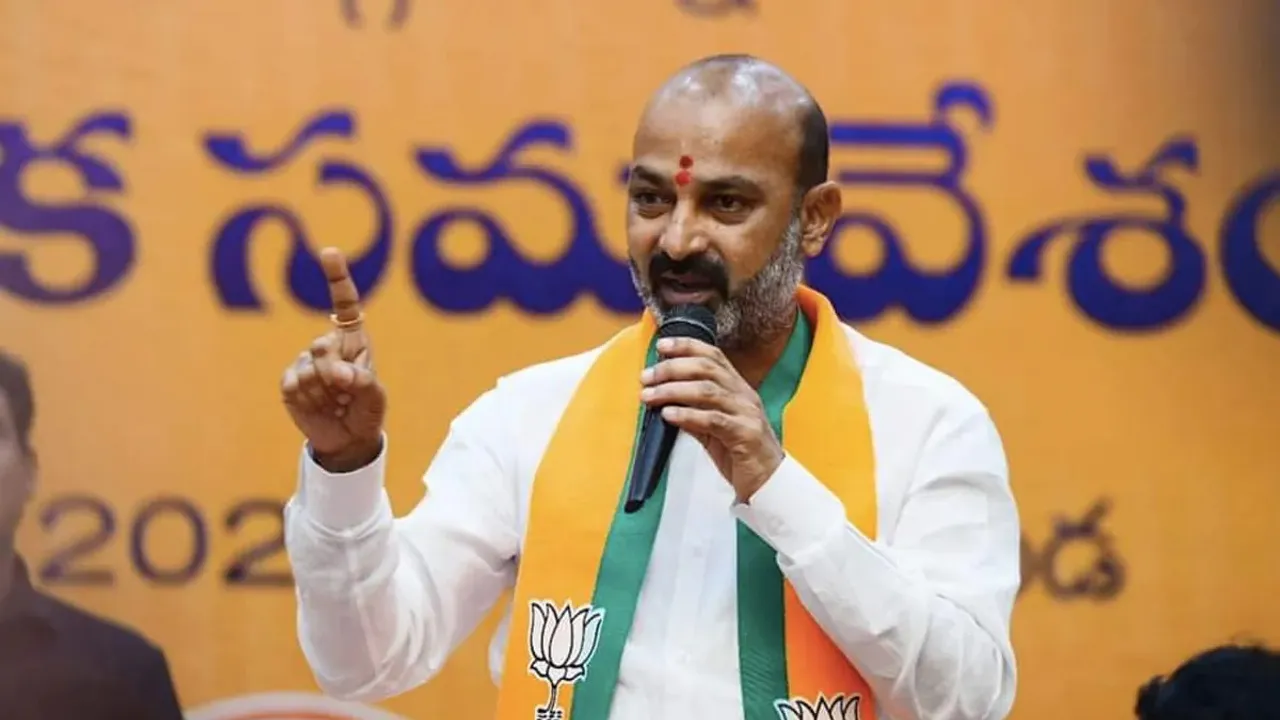 Karimnagar: Having lost the assembly polls twice from Karimnagar in the past, BJP's National General Secretary and Karimnagar MP Bandi Sanjay Kumar is hoping for a win in the present Telangana Assembly election.
Sanjay Kumar, who was recently replaced as state BJP president, is faced with a formidable rival in Telangana Backward Classes Welfare Minister Gangula Kamalakar who had defeated him in the 2018 and 2014 assembly polls.
While Sanjay Kumar is a fiery leader known for his strong Hindutva views, Kamalakar is a popular leader in the constituency.
Congress nominee Purumalla Srinivas, Sarpanch from Bommakal village near Karimnagar, is a new face.
All three belong to the same community of Munnuru Kapu among the backward classes and the contest promises to be a nail-biting one.
Sanjay Kumar, who scored a thumping win in the 2019 Lok Sabha polls from Karimnagar, is popular with a strong Hindutva appeal, especially among youth in Karimnagar, while Kamalakar draws his strength from the rural areas and the welfare schemes of the BRS government.
Sanjay Kumar's stature grew with an eventful tenure as president of BJP in Telangana during 2020 to 2023. BJP in Telangana had achieved tremendous successes during his stewardship, including in several assembly bypolls and the Greater Hyderabad Municipal Corporation (GHMC) elections.
Sanjay Kumar emphasises on the need for a "double-engine government" (BJP in power at the Centre and in state) for Telangana to achieve rapid progress, and has alleged that Chief Minister K Chandrasekhar Rao "conspires to prevent me from entering the assembly".
Kamalakar highlights the numerous welfare schemes of the BRS government and emphasises that re-electing the party is important for the welfare schemes to continue unhindered.
"I will continue to serve the people of Karimnagar until my last breath," he has said.
Sanjay Kumar, popularly known as Bandi Sanjay in Telangana, started his political career as a Corporator and served in the Karimnagar Municipal Corporation during 2005-2018, while Kamalakar won the assembly elections in 2014 and 2018 as a BRS candidate and earlier in 2009 on behalf of the TDP.
Kamalakar got 40.22 per cent vote share in the 2014 elections with 77,029 votes, while Sanjay Kumar obtained 27.8 per cent vote share with 52,455 votes.
In the 2018 assembly election, Kamalakar defeated Sanjay by 14,974 votes.
Indian National Congress (INC) candidates won as legislators from Karimnagar in 1972, 1978 and 2004 assembly elections in undivided Andhra Pradesh, while TDP nominees emerged victorious in 1985, 1994, 1999 and 2009 from the constituency.
Karimnagar constituency has a total number of 3,42,014 voters, including 1,70,615 female voters and 1,71,254 male voters.
Telangana goes to polls on November 30 and the counting of votes would be taken up on December 3.