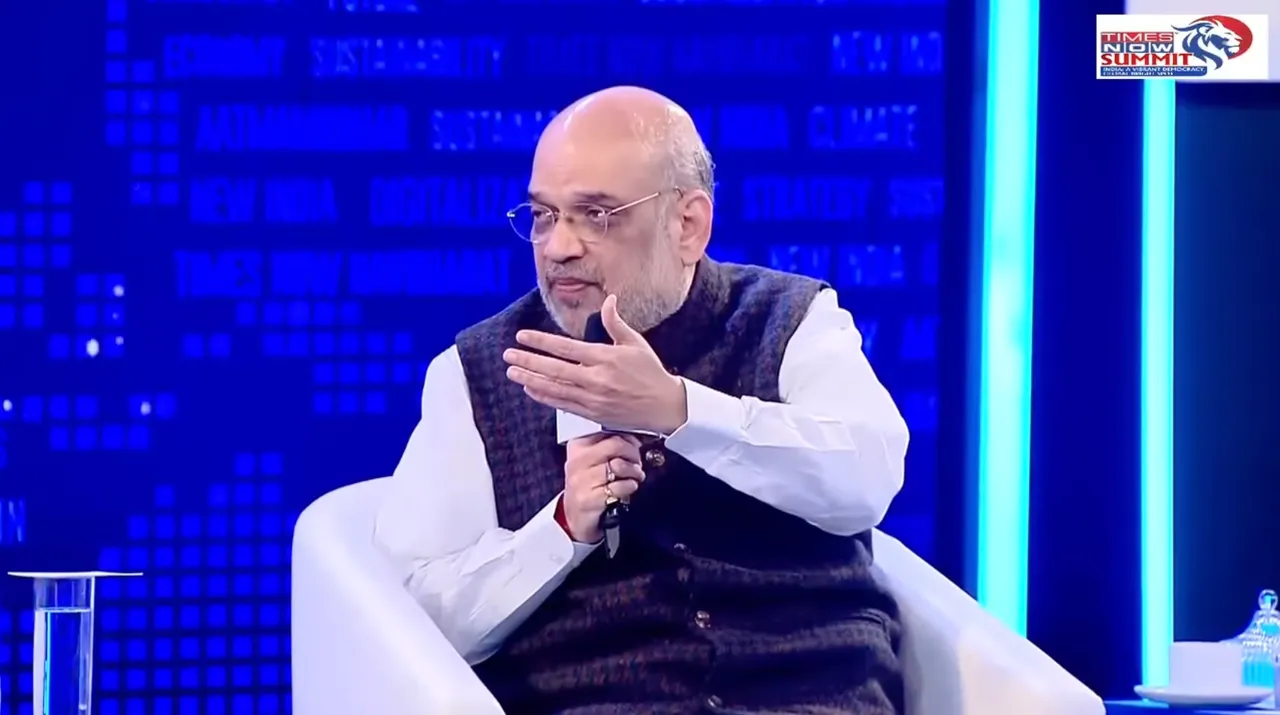 New Delhi: It is possible that about two-thirds of the states may implement uniform civil code (UCC) before 2024 Lok Sabha elections, the union home minister Amit Shah said on Thursday at Times Now Summit 2022. 
In an interview with Navika Kumar, Group Editor, Times Network and Editor-in-Chief, Times Now Navbharat, Shah said that the Parliament will have to think about it after that. 
"If that does not happen, don't worry because we will come back to power in 2024. We will accomplish it in 2024," the home minister added.
Shah spoke on the range of issues from abrogation of Article 370 from Kashmir to targeted killings of Kashmiri Pandits to upcoming elections.
Excerpts: 
It seems you understood the question in my mind when you said that the biggest achievement of your government has been the way you have changed the future of Jammu and Kashmir in 2019. First, I want to ask you on a personal note, do you consider Jammu and Kashmir to be your biggest achievement and with this, has India given a new statement to the world?
See there is no personal achievement in this. I am a member of the Modi Cabinet. It's the achievement of the entire Cabinet, it's the achievement of the entire government. But yes the Modi Government had brought a major change in Jammu and Kashmir. 
For several years, it was being told that Jammu and Kashmir has been a part of India merely because of Article 370. Now there is no Article 370, there is no 35A, and Kashmir has been integrated with India and about 30,000 panchs and sarpanches are building a new generation of democratic leaders. An investment of 56,000 crores has been made in Jammu and Kashmir. Over 80 lakh tourists, the maximum since Independence, have gone to Jammu and Kashmir. The local languages of the state have been given recognition for the first time. 
The backward castes, Dalits, and tribals have got the benefit of reservations. Women have got their rights. Electricity has reached every household in Jammu and Kashmir. The work of providing piped water to every house has been completed. Everybody in Jammu and Kashmir can get free medical treatment of five lakh rupees. And due to the investments, Jammu and Kashmir is aiming for new heights. 
As far as terrorism is concerned, I can say with certainty that since terrorism began in the 1990s, we are now seeing the minimum number of incidents of terror. The incidents of stone pelting are now zero. All this is a very big achievement of the Modi Government. There can be no two opinions on this. 
Some very big security experts used to say that Article 370 should not be removed as it would light a big fire. But Article 370 has been removed and Jammu and Kashmir is prosperous today. This has also helped in controlling terrorism in the rest of the country
There is another question attached to this. Some people say that this question was raised through fake film, this is the question about Kashmiri Hindus. Even today they have not been able to return to their homes. This is one of your promises that people are still waiting to be fulfilled. What would you say about this promise?
This is a relative question. Maybe earlier there used to be 400 civilian deaths due to terrorism. But today that toll would be 12. If we have travelled from 400 to 12, we will reach the level of zero too. The day it happens it will be good for everybody. Investment is going there, and people from outside are going to live there. But the roots of terrorism and those who give them support have gone so deep that it will take some time to uproot the entire structure of terrorism. We are working on this. I give you an assurance that we will not let the roots of terrorism spread in Jammu and Kashmir and we are committed to rooting out terror.
For any political party, a five-year term is the usual period when its performance is assessed. Some or the other elections keep happening every year in our country. But the General Elections happen after five years. The most difficult task of your manifesto was the removal of Article 370, which you have removed. There were some other promises like the uniform civil code. Now that four years are going to be over in your government's second term, so what is going to be the BJP's outlook on this (UCC)? There have been multiple law commissions and multiple suggestions. When will this be decided?
Uniform Civil Code has been our promise from the days of Jana Sangh and then our political journey as the BJP. Not just the BJP, but even the Constituent Assembly gave a suggestion to the state assemblies and the Parliament that a uniform civil code should be brought in at the appropriate time. Because for any secular state, laws should not be framed on the basis of religion. If the country and the states are secular, then how can the laws be based on religion? There should be one law for the believers of all religions which is passed by the state assemblies and the Parliament. But over a period of time, everybody has forgotten the suggestion of the Constituent Assembly. 
Except for the BJP, no other party is in favour of the uniform civil code nor do they speak about it. If they don't have the courage, they might not oppose it but they are not going to say that they are standing in support of the UCC. We are living in a democracy and a healthy discussion is essential in a democracy. 
When so many political groups have another view and my party has its own view, the intention maybe even to get votes, but they believe that a uniform civil code should not be brought in at this time. But in three states where the BJP has its governments in Uttarakhand, Himachal Pradesh and Gujarat, we have formed a panel headed by retired SC judges and HC chief justices. 
People from all religions are presenting their concerns before them. We will work as per the advice of those panels. It is obvious that this issue will be debated in various summits and interviews as well. It will help to form public opinion. The BJP is completely committed to the uniform civil code but only after all the democratic discussions.
No one supported you for the abrogation of Article 370. But you walked alone and revoked it. Why aren't you doing the same at UCC? Why is there no timeframe in this case?
Both are different issues. When Article 370 was brought into effect, the makers of the Constitution with foresight had made it a temporary article. You can read the Constitutional debate of that time. However, it was incorporated without a lengthy debate, for whatever reasons. But there was a Constitutional spirit that it cannot remain a permanent part of the Constitution forever. They felt that Jammu and Kashmir needed a special status to fully merge with India. 
I believe that 70 years is a very long time for that. This did not need the opinion of any other state because only one state had special status. And the Governor of Jammu and Kashmir had sent us a request and on the basis of that, we took this decision. So, no parallels can be drawn between Article 370 and UCC, because both of them have fundamental differences.  
That means UCC will be a part of 2024 manifesto of BJP as well?
Time will tell that. It may happen that about two-thirds of the states may implement UCC till then. After that Parliament will have to think about it. If that does not happen, don't worry because we will come back to power in 2024. We will accomplish it in 2024.
That's why it is said that you carry an election-winning machine with you, and the current BJP regime. No other party is as well prepared for elections as the BJP. What is the BJP's formula that it goes ballistic during the elections?
See, when we were in Bharatiya Jan Sangh, we knew were not going to be in power.  We never thought about that. People would make fun of us. I have met with candidates, who when they did not lose their deposits, would see a reason in that to celebrate. But what you see now is something else. 
I want to tell, you that during elections, the BJP always stands out, whether it is about winning or losing the elections, be it the gram panchayat level, or the Parliament. That is because we don't consider elections as a means to attain power. 
For us, the election is a medium to spread our ideology to every citizen of the country. Through election campaigning, we contact the voters of the country, and every BJP leader tries to create awareness among the people about our policies, achievements and the working of the government. Our leaders also try to understand the issues facing the people. 
So,  in a democracy, I think it is an important process and all the parties should follow that. Now, whether others do it or not, we are following that method. The BJP tries to reach out to the public, through its representatives, and help them create awareness about the government, manifesto, achievements, agenda and policies. Maybe, that's why you may feel that the BJP process is aggressive, but this is not aggression to attain power. The aggression is to reach out to the people and make them aware of our policies and ideology.
But the opposition says that the BJP has two brothers. That is the ED and the CBI. Whenever there are elections, both these agencies go after the leaders of opposition parties. Is this a formula for the BJP to win elections?
See, in this country, we have a three-tier judiciary, the district level, the high courts and the Supreme Court. The opposition can't say that the judiciary is not independent. All those who have any grievances should approach the court. Do those running political parties have the right to commit financial crimes? This happened when Congress was the ruling party. The political parties approached the court. I want to say clearly, that these two agencies are working with full transparency and everyone is free to approach the courts. This should not be viewed through a political lens.
This question is being raised because there is an election in Gujarat. There used to be the Congress party which always stood against the BJP in the state and now there is a new entrant (Aam Aadmi Party). They say that the BJP is rattled after their win in Punjab and that is why they are now releasing new videos. I am talking about the Aam Aadmi Party. Who is your competition in Gujarat? Is it congress or the Aam Aadmi Party?
See, as far as releasing the videos are concerned, as a journalist you should have asked, is the video right or wrong?
 
We have asked that.
Is asking why the videos are released an actual question? Those who have objections should clarify if the video is right or wrong. If what is shown is right, then they are answerable, and not me. They are supposed to answer that even when a Jail Minister goes to prison, he is not sacked. And while he is inside the jail, he is availing all the facilities. So, who is supposed to answer that? Not my party. Whose Jail Minister is inside the jail? That party has to answer. Even today he is a Jail Minister. 
I have never seen in my life a party's minister go to jail and doesn't resign. And the entire media is silent over this. The whole media is silent about this, including Times Now. Everyone is silent. I don't understand what has happened to all of them. And you are asking me this question.
Amit Shah Ji, you have not seen the Times Now debates. I will send the clips to you. You must be busy.
You might have covered that news once or twice.
I want to ask from the public's point of view. You are saying that the AAP has to answer and that they are alleging that you are being tough on them. Where is the public here? Is there any provision in the Constitution that the way you transferred the IG of the Jail, then in the same manner you could send a recommendation to the L-G and get him suspended?
There is no such provision in the law. When the Constitution was being framed, no one imagined that a person will have the audacity to not tender his or her resignation. Maybe a provision of this kind is pending. The makers of the Constitution never imagined anything like this would happen. Even I have been to jail. But I had tendered my resignation the next day after going to jail. This is not how public life runs. 
Even we had cases against us. We fought legal battles and the court stated they were part of a political conspiracy. They were false cases. If you think you are being tortured, then you have to approach the court. You can't behave in such a shameful manner.
You think the time has come when there should be a provision in the Constitution because the public is watching all this like a mute spectator, and the minister is sitting inside the jail and no one is doing anything about that.
The public has the power. The public has the power, that it can use every 5 years.  We all go to the public for approval. Now the time has changed. Our democracy is more mature. India is the only country where there have been so many reforms and there has been no bloodshed. 
Now, even in developed nations, the counting takes 20 days. In our country, by 2 pm we know who is the winner and no violence takes place and everything happens smoothly. The public is mature and it sees everything. But yes, there are loopholes, we need to look into that. There needs to be a discussion on that.
There is a case about Shraddha. In fact, this is not only a case of Shraddha, it is about women. There is talk about conversion, in layman's terms, it is known as 'Love Jihad'. Do you think there is a need for an anti-conversion law in the country? Or do you think we have sufficient laws to tackle such issues?
See, wherever we have a BJP government, we have introduced anti-conversion laws and I can say that in Gujarat, we have implemented them strictly. If you read the Constitution, it says one can preach their religion, but you can't convert someone by providing facilities and using greed or fear as a tool for religious conversion. This is the spirit of the Constitution. And there has been a plea in the Supreme Court, and the court has also made it clear. I think that the ruling political parties should take this into consideration in their states. Wherever the BJP is the ruling party, we have made anti-conversion laws. And we have also implemented them.
What about the national level?
This is a grey area. It's a State and a Central subject. We will have to understand whether or not this is possible at the national level.
Shraddha was killed brutally. A letter also came forward. Do you think there is an issue of coordination between the states or police of Delhi and Maharashtra?
There is no lack of coordination between Maharashtra and Delhi Police. I am monitoring the case. I just want to assure the people of this country that whoever has committed this crime, the Delhi Police will work as a prosecution agency to punish the culprit in the shortest possible time. But the Delhi Police has no role in the letter that has come forward. The Maharashtra Police had received a letter from Shraddha where she said that she was threatened to be killed and chopped off into pieces. She also said that she could be choked to death. But there was no action after that. 
Maharashtra Deputy CM Devendra Fadnavis has said the matter will be investigated and whichever officer will be found responsible will be dealt with strictly. A strict investigation will also be taken up against them. But as far as this heinous act is concerned, the BJP government will not tolerate this. We will ensure the guilty get strict punishment from the courts.
The election season is underway. Himachal has cast its votes. In Gujarat, you are holding rallies and so is PM Modi. But Rahul Gandhi is not seen. Are you more comfortable with Congress as the competitor or with other parties?
I think the battle is between the BJP and Congress.
What about the AAP?
The way the people of Gujarat have voted historically and their voting pattern... there were 3 such instances when Gujarat politicians formed three separate groups - first was by former CM Chimanbhai Patel, then by another former CM Shankar Singh Vaghela and then by Keshav Bhai Patel. But no one could cross the 10-mark. The people of Gujarat have always decided between these 2 national parties. The Delhi media is always looking for some opposition against the BJP and you keep trying to push someone forward, but as far as the current ground situation is concerned, the fight remains between the Congress and the BJP.
I have seen how you review the situation on the ground and meet every officer in person. I want to ask you what is your estimate of the seats BJP will get in Gujarat. It was 99 versus 77 the last time. This time?
The Gujarat elections were held on 3 big agitations by caste groups. This was pushed by Congress 1-2 years before the elections were held. The election was fought against that backdrop. It was polluted with casteism. Then the Lok Sabha election happened and we won all 26 seats. Then the local body elections took place and we bagged 92% of seats and in all units and Zila Panchayats, the BJP is ruling and in all municipal corporations too. We won 98% of seats in the bypolls after that. It is a clear trend that the BJP will win the polls. The BJP will break its all past records of gaining the maximum seats and vote share.
Won't you give a number this time?
We have a record of 129, so certainly the number will be above 129. It can go to any number above 129.
The last time, you changed the arrangements. The CM was changed and so was the Cabinet. Is Gujarat with BJP because of PM Modi or does the local leadership have a role to play? It appears that Narendra Modi is Gujarat and Gujarat is Narendra Modi.
It is natural. PM Modi is from Gujarat.
What about the local leadership?
Local leadership has a huge role to play. They are the ones running the government. But naturally, PM Modi is from Gujarat and his government of Gujarat had done a lot for the people of the state. The state government of now has also done too well for the state. As a result today, Gujarat contributes 30% to the exports of the country. Most numbers of MSMEs are registered in Gujarat. Most start-ups are registered in Gujarat. Gujarat remains among the top 3 states to receive business investments. Law and order situation is good. 
Infrastructure is developed. We have done several experiments in the field of education, and many new universities have been developed - for shipping, petroleum, FSL, defence and child universities. We have done several experiments in the field of education and successful ones. Gujarat people are with the Lotus, PM Modi and the BJP.
And Himachal Pradesh?
We will retain Himachal Pradesh. You can mark my words, on the day of the counting of votes for Gujarat, Himachal Pradesh and Delhi MCD polls, the BJP will win.
You spoke of MCD along with Gujarat and Himachal. 
Because there are elections in Delhi too. I knew you would ask so I mentioned it.
I want to ask if your party is completely aggressive when it comes to the state, national or MCD elections.
I am a different kind of leader. I've come from the booth level. My career started from a booth. My motto is to fight and win every booth-level election.
There has been a debate on freebies. The Opposition is asking whether the Garib Kalyan Yojna also comes under the ambit of freebie.
Good that you asked this question. My answer is no. There is a vast difference between Garib Kalyan Yojna and revdi culture. BJP gave everyone a gas cylinder. We provided electricity to all. We gave toilets to all. We gave houses to all. The repairs and maintenance are managed by the people. We worked towards uplifting the poor. In the last 70 years, there has been a huge gap & the poor were left behind. Everyone knows when Covid came there was a lockdown. 
The economy was impacted too. We couldn't afford to sit silently. We didn't credit any money to the bank accounts of people but gave 5kg of foodgrains to the poor. This can't be called a freebie. This was given to help them survive the Covid period. Some promise to waive electricity bills etc. They made promises and Gujarat's budget reached Rs. 2 lakh 42 thousand crores and promises made will cost Rs 3.62 lakh crores. How will you generate the revenue for that? They have no answers.
The ration that the centre is providing under the Garib Kalyan Yojana will also have an effect on the budget. At least by Rs. 3 lakh crore. 
Yes it will have an impact but the scheme is doled out for a specific time period due to specific circumstances. It's not a state policy. The promises made today are regarding state policy. 
When will the specific time period end because Covid…. 
That we will decide, why are you concerned?
It means that it is linked to polls?
Not even remotely.
Will the scheme go up till 2024?
Then it would've happened before the 2019 polls as well if it were linked to the polls.
Rahul Gandhi is participating in the Bharat Jodo yatra and the Congress claims that the yatra is getting immense support. The Congress claims a sea of people is participating in the yatra. It claims that when Rahul Gandhi will finish the yatra he will bring a new revolution. What's your take on the issue?
I have always been a supporter of hard work. I welcome anyone indulging in hard work. Hard work leads to results. But only happens if the hard work is continuous. Let's see what happens in future. 
BJP might have been scared a little because some commented that Rahul has started to look like Saddam Hussain!
We shouldn't give importance to such remarks. When elections are around the corner such talks happen. The voters also listen to this but the voting (pattern) doesn't change. During the elections, such kind of remarks is often made. 
On the Savarkar issue, the BJP considers him as 'Veer' but Rahul Gandhi....
Forgive me. It's not only the BJP but the entire nation considers him as Veer Savarkar. 
Yes, the Veer Savarkar for all of us is being criticised by Rahul Gandhi. He says that he literally wrote letters seeking forgiveness on his knees as 'your obedient servant'. The BJP cited Mahatma Gandhi's letter. I want to ask that instead of heated debates over our history, can't it be settled once and for all?
There is no need to settle the issue because it is already settled. If anybody understands the difference between Veer and Savarkar then the issue is already settled. The title is not Padma Bhushan, Padma Shri or Bharat Ratna that the govt of India has conferred. 130 crore people have honoured Savarkar's nationalism and given him the title of Veer Savarkar. The title Veer is added for eternity. 
I dare those insulting Veer Savarkar to spend 10 days in solitary confinement where he had spent 10 years of his life. He escaped from a ship which travelled 600 Km on the ocean. He had the will to sacrifice his life for the nation's freedom. Those having at least 10% of the emotion that Savarkar had then only they should comment. The first-ever prohibition imposed by the Britishers was on Veer Savarkar's book. Nobody has the right to make foul and distasteful remarks about Veer Savarkar. When they (Congress) will go to seek votes then the citizens will show them the consequences of what it means to insult Veer Savarkar. Many people like me have shunned personal ambitions to follow Veer Savarkar's footprints to serve the nation. Nobody has the right to insult Veer Savarkar. 
Isn't this part of the reaction as the BJP often targets Jawaharlal Nehru? He was the first PM of India.
There is a difference between the 2 personalities. Nehru was the President of a political party, he was the PM after independence and one party keep harping on his legacy. Savarkar ji neither was a Prime Minister nor fought elections from any political party. There is a difference. There is a difference between Subhash Chandra Bose and Jawaharlal Nehru. When anybody enters the political field, he/she must have the patience to hear the criticism. Why shouldn't people criticise? People can criticise me also. They can criticise the clothes I am wearing, on my way of talking, and they do it as well. But things are different when anybody enters the political ring. The entire nation has certified Veer Savarkar for his love towards the nation. The nation and its citizens honour Veer Savarkar. A true nationalist like Veer Savarkar shouldn't be insulted.
Coming back on the issue of unfinished business. You had promised CAA and NRC. Have they been put into cold storage?
Nothing is put into the cold storage. CAA is a law. There is no turning back. We have to make the rules. We couldn't do it due to covid situation but now the covid is on the decline. I can assure you that for those who were thinking that CAA will not be implemented, I want to say that CAA is a reality and a law of the land. 
There is another case that is in the courts, it's called the 1991 Places of Worship act. I want to ask whether this too will go through the courts as it happened in the Ram Mandir case or will the govt bring an amendment?
It's not right for me to comment as the case is sub-judice. After the Ayodhya judgment, the dispute that has come forward and due to that, the 1991 act is also challenged. I don't want to comment from a public platform. But I want to say that all laws must undergo legal scrutiny. Now, that someone has challenged it, let's see what the court does.
But why doesn't the government (say anything) in Parliament...
Government has also been sent a notice. The government will file its affidavit and make its stand clear. 
How would you react to the Opposition's repeated claim that China is in possession of some of our land and that our talks on the border issue haven't reached any conclusion yet?
There is no confusion. Our dispute with China is years old and stems from Jawaharlal's legacy. Who is raising this question? Are those under whom we lost more than 1 lakh acres of land to China, raising this question? They should read history. As far as Narendra Modi's government is concerned, we are firm that we won't cede even an inch of our land to any foreign nation. This is our commitment to the people of our nation. 
With 2024 LS polls approaching, Aaditya Thackeray is meeting Tejashwi Yadav. Hopes of change in equations are visible. Do you think that non-Congress opposition will take shape? 
It may happen. Anything can happen. We have no issue with that. We will go to people with our agenda and BJP is fully confident that we will once again form the government under the leadership of Narendra Modi with an increased tally. In 2024, the NDA government will be formed and we will get a full majority.   
And in South, BJP had put all its efforts into Telangana but lost the bye-elections by 10-12 thousand votes. Apart from Telangana, you have not been able to enter Andhra, Tamil Nadu, and Kerala. Do you think this will have an impact on the 2024 elections?
We will certainly make an entry in these states this time. In the Telangana Vidhan Sabha elections too, BJP will form a government in the state with a strong majority. You take this as given. I regularly visit Telanagana and know the pulse from the ground. Change is about to happen and the BJP government is going to be formed. 
What tops your priority list when it comes to your unfinished agenda?
BJP's manifesto is our only priority. We are a political group that takes the manifesto seriously. That's the reason why we call it Sankalp Patra instead of a manifesto. Whatever we have promised is a priority for us. So far as my ministry is concerned, I would like to say that the Modi government has such a firm grip on the internal security of the country that nobody needs to be worried about it. Internal security will be in a good state and it is in a good state.