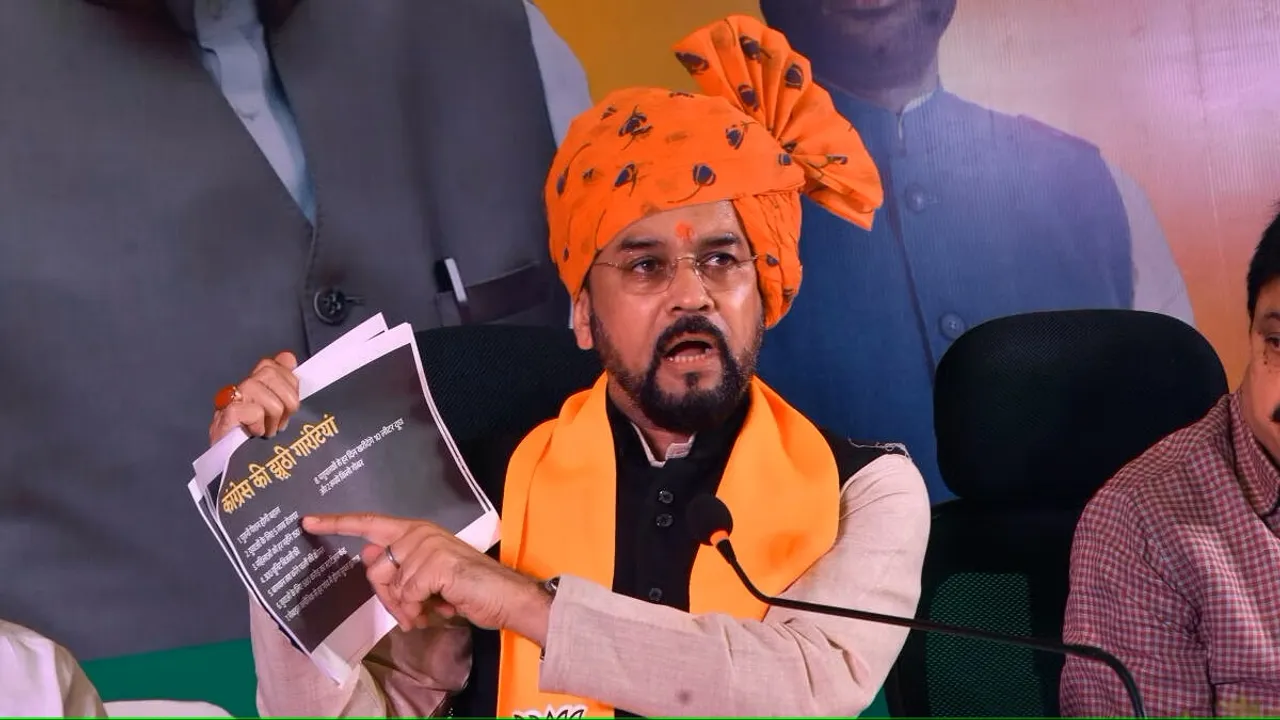 Raipur: Union minister Anurag Thakur on Tuesday accused the Congress of having a "soft approach" in tackling terrorism and claimed that thousands of people died in the country in terror incidents due to its wrong policies.
Addressing a press conference at Ekatma Parisar, the BJP's Raipur city office in Chhattisgarh, he targeted the Bhupesh Baghel government in Chhattisgarh over alleged scams and said it is certain that those who have committed corruption will go to jail.
When asked about Congress leader Priyanka Gandhi Vadra's statement on killings of children in bombings in Gaza, Thakur said, "I feel some people support terrorism. Congress is greedy to remain in power. In the country as well as the state, their wrong policies have led to the deaths of thousands of people (in terror incidents)." "Congress always had a soft approach towards terrorism. Whenever blasts took place in different parts of the country, Mauni Baba remained silent as the remote control was in the hands of someone else," he said, apparently referring to former prime minister Manmohan Singh.
After the 26/11 Mumbai terror attacks, on whose direction the then chief minister (Vilasrao Deshmukh of Maharashtra) brought a film director to the site (of attack), he asked.
No retaliatory action was taken (after the 26/11 attacks). They (Congress government) used to beg before the world to save the country from terrorists and intrusion. But now there is a government led by PM Narendra Modi which conducts surgical strikes, and those who spread terrorism beg before the world to save them, he said.
"We have clearly said that India is against terrorism. Modi ji has pointed against terrorism and black money in all big international meetings from 2014 to 2023 and the world has accepted his points," the Minister of Youth Affairs and Sports said.
When a terrorist attack happened in Israel, we condemned it and advocated for a strong action against terrorism. India wants peace in the entire world, be it in Russia-Ukraine or any other place but also wants to root out terrorism, he said.
He also slammed the Bhupesh Baghel government in Chhattisgarh for not fulfilling various promises made by the Congress in the 2018 assembly elections.
"I have come here to tell about the 'jhoothe' (false) and 'adhure' (uncompleted) promises of Congress which it had made in 2018. Every government has to present its report card to the people after five years, but Bhupesh (Baghel) has been trying to run away from keeping its report card as well as from investigation into alleged scam. Run Bhupesh run. How much will you run?. "Bahut hua satte ka khel, bye bye Bhupesh Baghel'," he said.
"After Mahadev betting scam, the Chhattisgarh CM has been roaming by covering his face...For five years, the Chief Minister's Office had been giving protection to 'sattebaji' (betting) as Bhu-Pay was going on," he said.
Rs 508 crore were paid to Baghel, he alleged, referring to the Mahadev betting app case.
"Now it will not happen anymore as there will be no Congress government," Thakur added.
The way Delhi's Deputy CM, MP and Health Minister are in jail for an excise scam, in Chhattisgarh also, guarantee is certain (of going to jail) for those who have committed multiple scams and are now hiding their faces, he added.
Polling in 20 out of the total 90 assembly seats in Chhattisgarh was held on November 7. Voting in the remaining 70 seats will be held on November 17. Wednesday is the last day of campaigning for the second phase of polls.