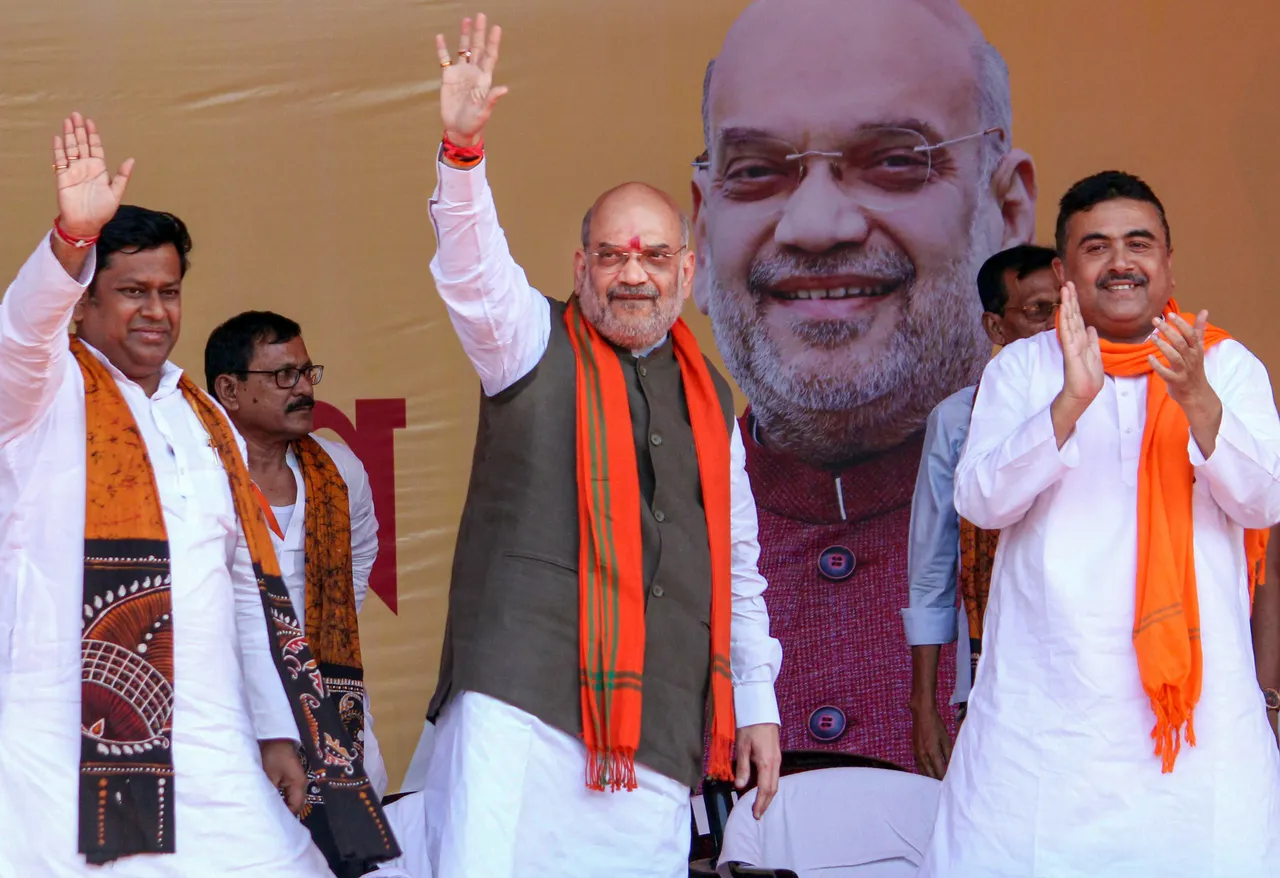 Kolkata: Union Home Minister and top BJP leader Amit Shah has asked the party's Bengal unit to unitedly fight against the ruling TMC and unmask corruption and misrule by it, a senior party leader said on Saturday.
He also asked the BJP state unit to strengthen its organisation, he said.
Shah, who is on a two-day visit to the state, held two rounds of closed-door organisational meetings with the state-level leaders of the party during his visit. He held one meeting on Friday night and another on Saturday morning.
"Amit Shah Ji has said that the party needs to be strengthened at the grassroot level and will grow only on the strength of its organisation. He has said when a party is in the opposition, it has to face many challenges. It has to emerge victorious after facing those challenges," the BJP leader said on condition of anonymity.
According to sources in the party, Shah set the target of winning 35 plus seats from the eastern state in the 2024 Lok Sabha poll.
He asked party leaders to put up a united fight against the misrule of the TMC and unmask the "corruption and atrocities" of the ruling party.
"Amit Shah Ji said that we must ensure that the party wins at least 35 of the total 42 seats in the state in the next Lok Sabha poll and from now on our focus and energy must be directed towards achieving the goal. He said we must work hard to strengthen the hands of Prime Minister Narendra Modi in the next general election," the saffron party leader said. Shah had spoken of the target on Friday while addressing a rally in Birbhum and claimed that if it is acheived the Mamata Banerjee government in Bengal will not survive beyond 2025.
Referring to the recent by-poll in Sagardighi Assembly seat in which the BJP slipped to the third position, Shah asked the party's state unit to ensure that the slide in its vote share is "checked without fail".
During the internal meeting, several state BJP leaders demanded deployment of central forces during the upcoming panchayat polls. Shah advised the state unit to strengthen the organisation first.
"He (Shah) said if the state election commission demands central forces, there is no harm in providing it. But he said first we must strengthen our organisation," the BJP leader said.
Shah's advice to the state unit comes at a time when the state BJP unit is plagued by infighting and exodus and is still licking its wounds after the drubbing in the 2021 assembly poll.
The state unit has been fighting hard to keep its flock together after former union minister Babul Supriyo, party MP Arjun Singh and six legislators, including its national vice president Mukul Roy switched over to TMC since the assembly election.