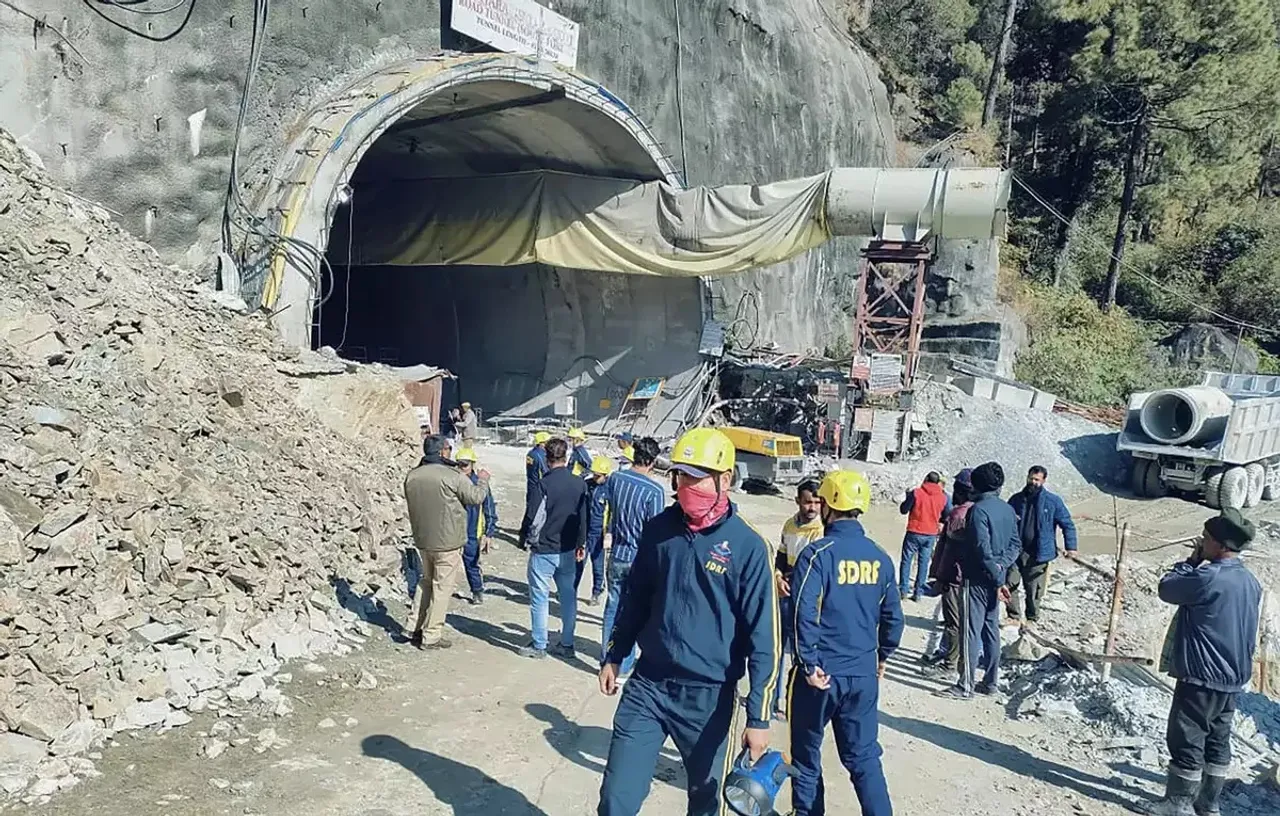 Uttarkashi: A portion of a tunnel under construction between Silkyara and Dandalgaon on the Brahmakhal-Yamunotri national highway here collapsed on Sunday morning, trapping 36 workers inside, officials said.
Police, National Disaster Response Force and State Disaster Response Force personnel launched a search and rescue operation on the spot immediately after being informed of the incident, Uttarkashi Superintendent of Police (SP) Arpan Yaduvanshi said.
An oxygen pipe has been inserted into the collapsed part of the tunnel, which is part of the Char Dham all-weather road project, so that those trapped would not have difficulty breathing, the SP said.
About 160 rescuers are trying to reach the trapped labourers with the help of drilling equipment and JCBs, Uttarkashi district emergency operation centre said. Border Roads Organisation and ITBP teams led by Commanding Officer Naman Narula and Assistant Commandant Jadhav Vaibhav were also roped in later to assist in rescue efforts, the officials said.
Uttarkashi District Magistrate Abhishek Ruhela, Chief General Manager National Highways Authority of India Vishal Gupta and NDRF second-in-command Ravishankar Badhani are on the spot to supervise the search and rescue operations.
Chief Minister Pushkar Singh Dhami spoke to Uttarkashi DM Ruhela to get an update on the situation and asked him to speed up the rescue operation.
"I am in touch with the officials on the spot and constantly monitoring the situation. I have asked them to expedite the rescue efforts. I pray everyone is rescued safely," Dhami said in a post on Facebook.
According to the Uttarkashi SP, the incident occurred between 6 am and 7 am.
As per records made available by officials of the National Highways and Infrastructure Development Corporation Limited, 36 labourers are trapped inside, he said.
Initial reports had, however, said 40 workers were trapped.
The collapsed portion is located about 200 metres from the entrance of the tunnel, Yaduvanshi said, adding food items are also being sent in and the workers will be rescued soon.
On the circumstances that led to the collapse, he said the priority was to save the lives of those trapped inside the tunnel.
"What led to the incident, fixing responsibility, etc will come later. Saving the lives of those trapped inside is our first priority," Yaduvanshi said.
The construction of the tunnel, which is part of the Char Dham road project, will reduce the journey from Uttarkashi to Yamunotri by 26 km.