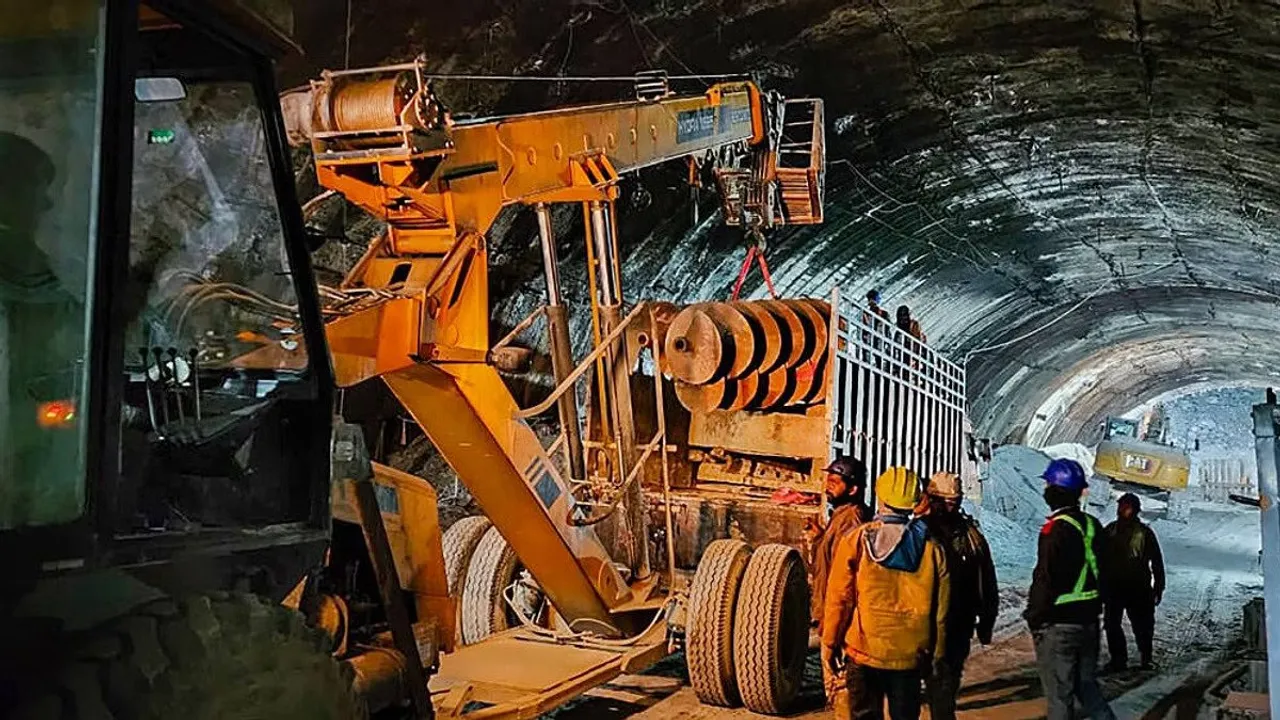 Uttarkashi: Drilling to create a passage for 40 workers trapped in an under-construction tunnel that collapsed four days back will resume soon with a new heavy machine, which was flown in from Delhi, officials said here.
The 'American auger' machine was airlifted in parts by three IAF transport aircraft on Wednesday to replace the "failed" equipment which was being used earlier to create the passage. These were then brought from the Uttarakhand's Chinyalisaur airport, over 30 kilometres from the Silkyara tunnel on the Char Dham route, and assembled at the site. Installation of the heavy equipment is almost complete and drilling will resume soon, the officials said. The process of installing the new machine began at 11 pm on Wednesday.
The labourers are safe, and oxygen, electricity, medicines, food items and water are being constantly supplied to them through pipes, they said.
"Ninety-five per cent of installation work is complete," Navayuga Engineering Company Public Relations Officer G L Nath said. The company is building the tunnel on behalf of the NHIDCL.
Nath said the labourers are being supplied necessary items every half an hour and they are healthy.
The plan is to use the 'American auger' machine to drill through the rubble of the tunnel's collapsed portion and insert 800-mm and 900-mm diameter sections of mild steel pipes -- one after the other. Once this happens, the workers trapped on the other side of the rubble can crawl out to safety.
The first drilling machine turned out to be too slow and technical issues developed, the officials said. Also, falling debris inside the tunnel damaged the equipment and injured two rescue workers on Tuesday.
A portion of the tunnel, part of the ambitious Char Dham all-weather road project, collapsed on Sunday. The 30-metre collapsed section is 270 metres from the mouth of the tunnel from the Silkyara side.
A six-bed makeshift hospital has been set up and 10 ambulances with expert doctors stationed outside the tunnel to provide immediate medical care to the trapped workers after their evacuation.