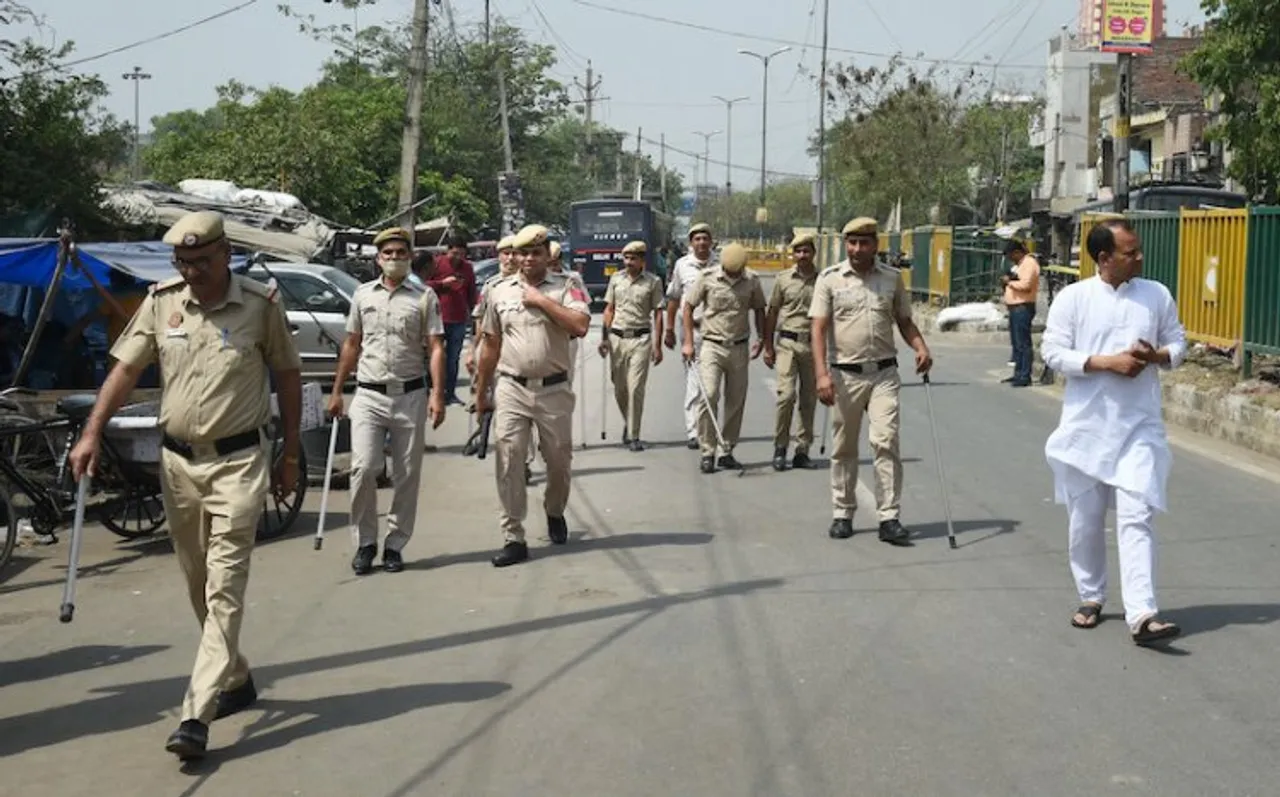 Communal clashes have been reported from at least four places on the occasion of Hanuman Jayanti in which at least 100 people have been injured and close to 500 named in separate FIRs lodged in these states. 
This is the second round of communal violence in India in April after similar incidents were reported from Rajasthan, Gujarat and Madhya Pradesh on occasion of Ram Navami. During both the festivals, huge processions were taken out by specific groups through communally sensitive areas. Claims and counterclaims by both groups about who is responsible for the violence are then produced in the following days.
In all these cases, the local administration had given permissions to hold the processions and had promised to provide adequate security cover to prevent any untoward incident. However, the number of miscreants in all these cases outnumbered the police personnel, therefore, making it impossible for police to prevent the clashes.
In Jehangirpuri, northwest Delhi, a few people were injured in clashes on Saturday in which a police sub-inspector is said to have sustained a bullet injury. The police have so far arrested 23 persons for the clash and a flag march has been conducted to bring the situation under control. This was the first major communal clash in Delhi after northeast riots in 2020, in which 50 persons had died.
In Uttarakhand's Roorkee, the police on Sunday booked 114 people including 14 named persons at Bhagwanpur police station after stones were pelted on a religious procession (Shoba Yatra) being carried out on the occasion of Hanuman Jayanti at Danda Jalalpur village in the district on Saturday late evening. In retaliation, some of those participating in the yatra pelted stones and burned a car and a two-wheeler.
Provincial Armed Constabulary along with state police personnel have been deployed in and around the village. "We have lodged a case against 14 people and 100 odd unknown accused. Probe and search is on to nab the accused," said Station house officer Bhagwanpur PD Bhatt. 
In Holagunda town in Andhra Pradesh's Kurnool district, at least 15 people were injured in a stone pelting between two groups belonging to different communities during the Hanuman Jayanti procession. Police said the stone-pelting continued on Sunday also in the village which is close to the Karnataka border.
"The situation is absolutely peaceful now. As many as 89 persons have been taken into custody so far. We are closely monitoring the situation," Kurnool Superintendent of Police Chaudhary Sudheer Kumar Reddy said.
In Karnataka's Hubballi, at least 40 persons have been arrested in connection with the violence late on Saturday night in the old city part of Hubballi. A Police inspector is reported to be in a serious condition while at least ten people have been admitted with minor injuries in local hospitals injured in the late-night violence. The police had to use lathi charge and tear gas to disperse the mob who had gathered in the locality after one person posted on social media content that offended religious sentiments. District administration has imposed prohibitory orders till April 20.
According to National Crime Records Bureau, 857 incidents of communal riots were reported in 2020 as compared to 438 in 2019. In 2020, Delhi Police recorded 520 cases of communal violence, primarily on account of riots in the north-eastern part of the national capital. Many of these incidents happened during religious procession of a community passing through an area dominated by another community.
Experts say that the pattern of all the incidents is the same. The group carrying religious procession turns nasty while passing through communally sensitive areas and there is a reprisal from the minority group resulting in a clash. 
"The administration should permit religious processions through the area of that religious community. This would be a reasonable restriction under Constitution on the grounds of maintaining security," an internal security expert and senior journalist Manoj Joshi said.
UP CM Yogi Adityanath on Monday reviewed the law and order situation in the wake of ongoing festivals and passed several prohibitory orders including conditional permissions to processions and using loudspeakers in a controlled manner.
Experts have time and again emphasised that such clashes are law and order issues and no one, irrespective of their association, should be allowed to take the law into their hands.