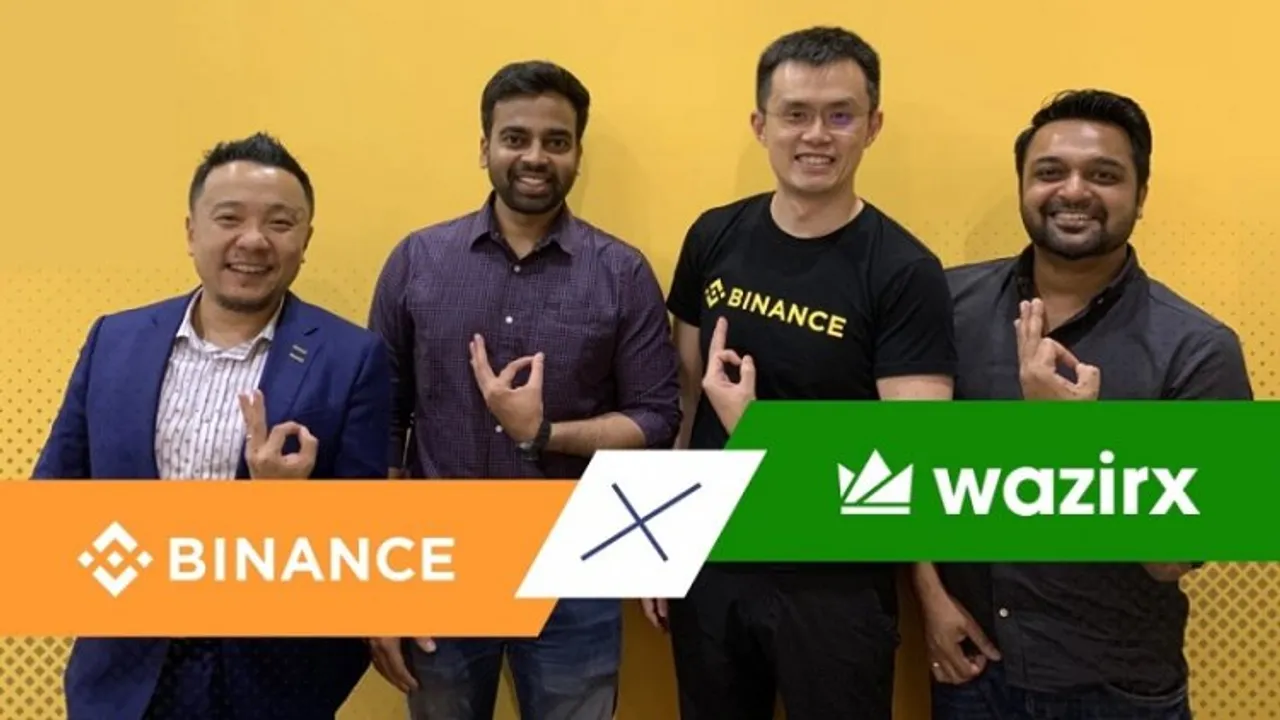 New Delhi: Just a day after Indian Enforcement Directorate (ED) froze assets worth Rs 64.67 Crore of cryptocurrency exchange firm as part of its anti-money laundering drive, global cryptocurrency platform Binance CEO Changpeng Zhao (known as CZ) and WazirX cofounder Nischal Shetty shared barbs on Twitter.
ED's latest crackdown has hit about 15 million registered users (as of August) of the Indian crypto exchange.
Following ED's Tweet, Shetty took to Twitter to share his side of version and facts, stating that Binance owns WazirX.
Almost three years ago, Binance in a blog post said that it had bought the Indian cryptocurrency exchange.
But Zhao said on Friday that the shares were never transferred from WazirX's parent entity Zanmai Labs, and the deal was not completed.
CZ's next tweet, however, triggered panic among users as he said that users should transfer their funds from WazirX to Binance.
Users have flooded the WazirX Telegram channel curious about how to carry out transfers from WazirX to Binance, what happens to their funds and why these questions are being raised after so many years and if WazirX will shut down.
One of the common questions that the users had in mind has been about the WRX coin which is registered on WazirX and whether Binance will delist the coin. According to CoinMarketCap, WRX's price dropped from $0.27 to $0.248 at the time of publishing.
However, Zhao claimed that they have asked for transferring of WazirX system source code, deployment, and operations, as recently as Feb this year and it was refused by WazirX. Binance does not have control over its systems. "WazirX has been uncooperative with us, and looks uncooperative with ED as well."
WazirX did not stop either and replied from their official Twitter page saying, "We have been fully cooperating with the Enforcement Directorate (ED) for several days and have responded to all their queries fully and transparently. We do not agree with the allegations in the ED press release. We are evaluating our further plan of action."
As per PTI's report, the ED issued a statement and said the exchange and its executives were "giving contradictory and ambiguous answers to evade oversight by Indian regulatory agencies".
The agency said it found that several fintech companies involved in "predatory lending" through mobile apps in the country "diverted maximum amounts of funds to WazirX exchange and the crypto-assets so purchased have been diverted to unknown foreign wallets".
On which WazirX founder Nischal Shetty said, "WazirX has been acquired by Binance and that the Changpeng Zhao-led exchange operates crypto to crypto pairs, and processes crypto withdrawals."
Responding to Shetty, Zhao in a tweet thread said, he could shut down WazirX if he wanted to, but he will not do that as it would hurt users.

In the tweet post, he further continued that Binance provides wallet services for WazirX and that the domain control of the Indian crypto exchange rests with Binance.
Interestingly, the ED had slammed Binance for Binance for being unresponsive to its queries on the investigation. "All crypto-crypto transactions are controlled by Binance, which is again without any known office, any known employee and rarely responds to queries on legal@binance.com," the ED said.
According to ED, "WazirX works from a Cloud-based software, all employees work from home, the registered office is a two Chair coworking We Work space, and all crypto-crypto transactions are controlled by Binance."
Moreover, the agency alleged that despite giving repeated opportunities, WazirX "failed to give the crypto transactions of the suspect fintech app companies and reveal the KYC of the wallets." "Most of the transactions are not recorded on the blockchain also," it said.
Clearing this, Shetty said, all the user assets- Crypto & INR on WazirX are safe as WazirX has always ensured KYC is conducted, and AML policies are in place. He said, "We only allow bank transfers so everything is traceable. WazirX to Binance transfer is recorded in our database ALWAYS and it's ONLY between user's account."
According to PTI's report, ED has been probing the instant loan app alleged fraud cases and has said that a number of NBFC (non-banking financial companies) and their fintech partners were indulging in predatory lending practices in violation of the RBI guidelines and by using tele-callers who misuse personal data and use abusive language to extort high-interest rates from loan takers.
Various fintech companies, it said, backed by Chinese funds, could not get an NBFC license from RBI for carrying out lending business, and hence they devised the MoU route with defunct NBFCs to piggyback on their license.