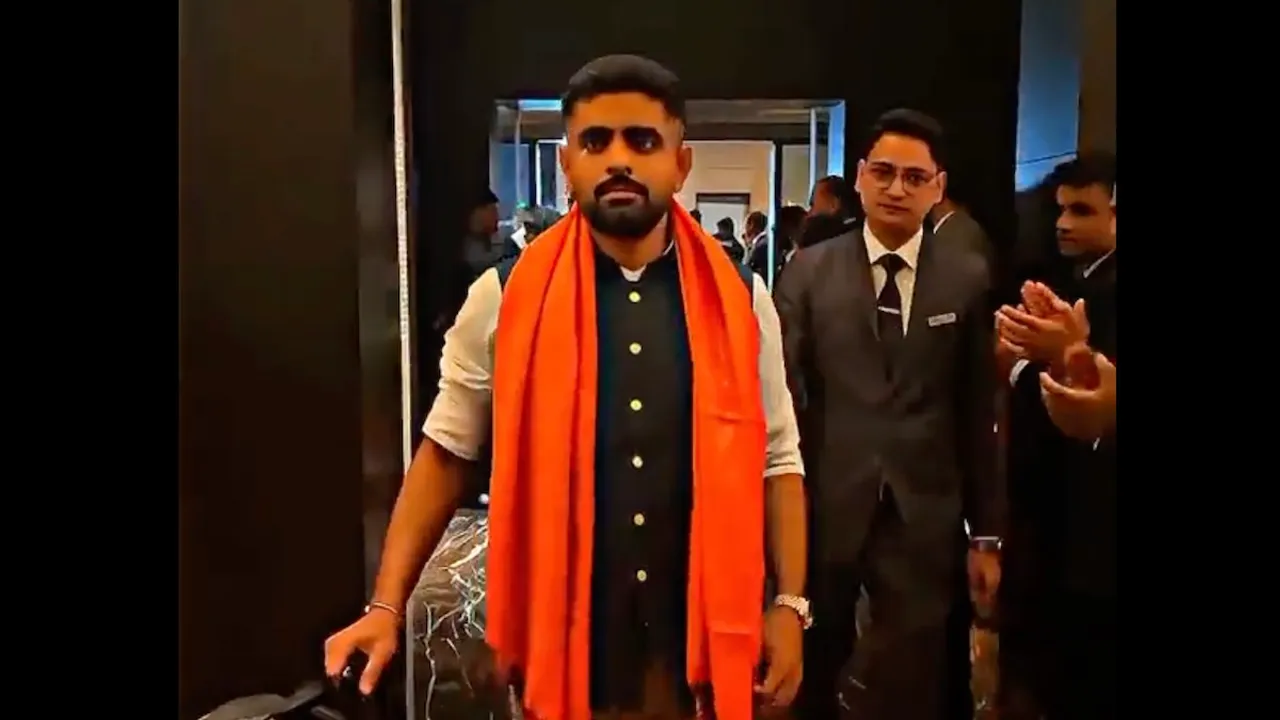 Kolkata: Just recently, Babar Azam and his merry men were welcomed by hordes of fans at Hyderabad Airport. Equally recently, Colonel Manpreet Singh, Major Ashish Dhonchak and DSP Humayun Bhat were murdered by neighbourly terrorists in Kashmir. Can we still bat for parallel realities or is it time to choose any one?
In the late 1970s and through much of the earlier century, we used to adore Pakistani cricketers. After all, they had been selected for Kerry Packer's circus and most were regulars at County Cricket - badges of global recognition that were denied to Indian stars, even the latter very sporadic.
Imran Khan was good-looking beyond compare and his cousin Majid Khan no less - apart from being stylish performers they were Oxbridge educated. Zaheer Abbas was dashingly iconic, Javed Miandad the original rouge, Sarfraz Nawaz as venomous as Jeff Thompson and even the balletic Abdul Qadir blessed with cajoling charisma. All of this at a time when Indian heroes were either Amol Palekar clones in humble simplicity or rustic athletes sans semblance of makeup. 
Equally valuably, at least from a perception perspective, our conflicts were purely black and white, with limited shades of grey. Every high school student knew the years of aggression ( 1947, 1965 and 1971) and the liberation of Bangladesh being a potent lesson for posterity. Kashmir was still stable and the cameras of Bollywood rolled seamlessly around Dal Lake, with tourists flocking to the valleys and lakes. When we were at war, games were not played and when peace was restored so was Cricket, 1978 in Pakistan being a major rapprochement tour. 
But even during troubled times, the cricketers remained friends, as famously recounted by Sunil Gavaskar in Sunny Days. The Rest of the World tour to Australia coincided with the Bangladesh War, with Bishen Bedi's family fairly close to the border. In his patently light-hearted manner, Gavaskar denied this matter much gravitas, except saying that the relationship between the Indian and Pakistani players was indeed tested. 
But after the 1980s, due to much geopolitical realignment especially the breakdown of the Cold War, our very own Warm War started. The playground sadly being Kashmir, set up for this sordid saga by a series of bunglings and mishaps. As rites of passage, the Warm War was populated by cross-border infiltration, deliberately orchestrated by the desperate ISI, mandated to deflect attention from the internal catastrophes. It reached a crescendo in Kargil and even after the resounding defeat,  Pakistan persists with the strategic abetting as state policy, no doubts at all. 
As the Warm War moved on to becoming a Shadow War, anecdotal peace became a persistent pursuit. The usual candidates being sport and culture, soft targets as ever to camouflage the hard realities. So Ghulam Ali and Ustad Rais Khan were invited for musical homilies while Cricket and Hockey resumed the bilateral hues, bolstered by another significant 21st-century consideration. Namely big money for not just a few but many, thus the desire to reinstate faux civility became a smart gambit. A pattern which gets escalated yearly, thus the childish repetition of encounters during the Asia Cup, for instance.
In all this, a few other significant episodes rattled the Indian consciousness, if not the sovereign state. The Bombay carnage of 26/11 assuming pole position for sheer scale but a nagging culture of minor encores disabling Kashmir for many decades, including even now. In a seemingly convenient equilibrium, both realities seamlessly prosper - the systemic elimination of the brightest Indian lives in the forces, as well as the fiery decimation of Indian pacers by Rizwan and Babar, else vice versa. Sounds rather in jest, but this is a deadly serious contradiction, for a nation as advancing as India.
In fact, what we are clearly grappling for is a pleasing equilibrium, a union of reality and aspiration that blends beautifully with integrity and common sense. Currently, it is a compromise, for the larger values of projection and revenues, thus partially sidelining clearly disturbing realities. A simple Google search will reveal images of the photos of the martyrs' families, most truthfully no warm-blooded Indian can be immune to the innate human tragedy. Perpetrated by a nation whose players will be our guests this evening, enjoying finely crafted Hyderabadi biryani and shikampuri kebabs, firni to boot.
There is a concept of honourable conflict, governed by the Geneva Convention, and then there are the Che Guavera wars, where neither dignity nor empathy dares to speak up. The latter is what Pakistan is perpetrating today and we all seem to be aware, yet selectively oblivious. Besotted by new age affluence, we wake up to the temporary consumption of martyrdom and go to sleep with the delirium of a cricketing encounter.
Here is my humble and rather simplistic submission for the nation we finally are today, G20 et all. Let's create a motion, pass a bill or do something suitably legislative that bans 'soft power' encounters with the state of Pakistan unless linked direly to multilateral competitions that are genuinely unavoidable, only on foreign soils. If India Inc. makes less money as a result, that too is cool, as long as the larger integrity is sustained. This is a first-world sentiment, proud and absolute, and not just third-world abdication. We have had enough of the latter and need top-ups of the former. 
If I had the power to make a choice, I would clearly select ISI as the Pakistan that we must engage with. An unabashed adversary who does not deserve any attempts at bridging, unless the basics are resolved. Therefore, zero direct conflict but equally, zero fake hugs. Next time they have to play India, simply don't invite them or even if we do, schedule the matches in Upper Volta or Guyana, not on our blessed soils. 
A key reason for our loving tolerance of Pakistan is perhaps a less-than-sufficient respect for our armed forces. Culturally driven by a non-conscription policy, which permits the majority of Indians to take their peace for granted. Unlike every Western or Eastern democracy which has endured the ravaging of sovereign territories in the perceivable immediate, whether the world wars or specific conflicts. We owe it to our soldiers to stop playing Cricket or indulging in comparable anecdotes, as people like us are dying from tracer bullets, and that is not a Ravi Shastri metaphor. 
Finally, what must be said is that this is a sovereign argument, a conflict of nations that must be treated as such, without communal hues. This anecdotal culture of regal treatment, whether Roger Binny or Babar Azam, must not be amplified by opportunistic media. Neither must this narrative percolate to internal matters, as frankly the twain is not scheduled to meet, Zoom or otherwise. 
The real Pakistan is a failed nation deeply jealous of multi-cultural India, determined to create fundamental damage. We need not react in a violent fashion, befitting a genuine leader, yet we must not engage in false friendliness. Equilibrium be damned, we simply need to stand up for our identity, 1.4 billion in entirety. DRS is not required, thank you.
(Disclaimer: The opinions expressed in this article are those of the author. The facts and opinions appearing in the article do not reflect the views of NewsDrum.in and we do not assume any responsibility or liability for the same.)