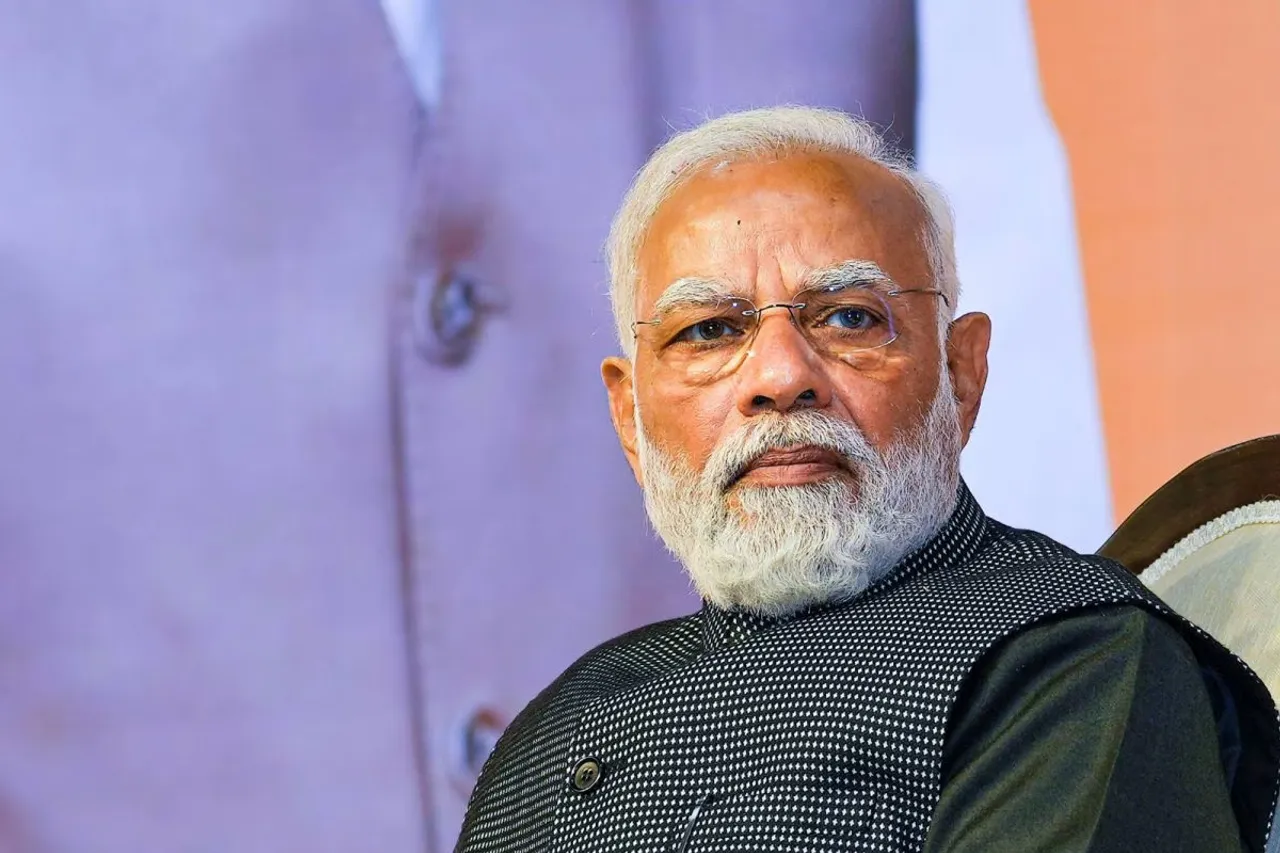 New Delhi: Just as curtains fell on Rahul Gandhi's Bharat Jodo Yatra targeting the BJP and opinion remained divided on its impact on the future of the Congress, Prime Minister Narendra Modi appeared to sense a bigger trouble and asked his ministers to spread the "good word" among the middle classes about the schemes and decisions undertaken by his government from 2014 till now.
In a way, Modi signalled that he expected a renewed onslaught on him from the Opposition as the Budget session of Parliament opens on January 31.
Despite a flop finale due to heavy snowfall and the disinclination of many opposition leaders to be by his side, Rahul feels triumphant after his 135-day-long trip from Kanyakumari to Kashmir. Secondly, the BJP's political rivals are smelling blood in the controversy over businessman Gautam Adani locking horns with US-based short seller Hindenburg Research that quizzed him about his financial gains at the cost of countless investors.
No doubt, Modi will leave it to Gautam Adani to fend off the charges as his government has always maintained that all contracts awarded for major projects since 2014 have been transparent.
On its part, Adani Group has issued multiple statements criticising the Hindenburg Research report, which it termed as baseless and malicious. It has also questioned the timing of the report, released just days ahead of Adani Enterprises' Rs 20,000 follow-on public offering (FPO).
Will the Hindenburg report blow up in the government's face?
Short sellers like Hindenburg are not unbiased narrators, a US Court said in a ruling on January 11 in a securities fraud class action against sports betting company DraftKings Inc. 
When they publish damning revelations about publicly traded companies, the judge noted, it's usually because they are hoping to drive down the company's share price so they can cover their bets, according to U.S. District Judge Paul Engelmayer of Manhattan. He said courts shouldn't believe everything they read in shareholder class actions — especially when allegations are based on reports from short sellers.
Hindenburg Research has accused Adani Group of stock manipulation, improper use of tax havens and money laundering. It has also raised concerns about the group's mounting debts. 
Adani Group's rebuttal has failed to pacify investors as shares of most Adani Group-listed companies have fallen sharply.
In the face of attacks by the Opposition over the fate of public institutions like the LIC or the State Bank of India because of their huge investment in the Adani Group, neither the government nor the BJP can come to its rescue.
Almost sounding like the BJP, Adani Group has released a 413-page report in response to Hindenburg's report. 
It said: "The document is a malicious combination of selective misinformation and concealed facts relating to baseless and discredited allegations to drive an ulterior motive. This is not merely an unwarranted attack on any specific company but a calculated attack on India, the independence, integrity and quality of Indian institutions, and the growth story and ambition of India."
BBC docu-series 'India: The Modi Question': Modi and BJP think Gujarat riots won't help Opposition
Predictably, the government's act of banning the BBC docu-series on Modi and the 2002 Gujarat riots will also definitely be used by the Opposition to corner him. 
On February 6, the Supreme Court will hear requests challenging the use of emergency powers under the IT rules to block the BBC documentary.
A bench comprising Chief Justice DY Chandrachud and justices PS Narasimha and JB Pardiwala took note of the submissions of serial litigant Advocate ML Sharma and senior advocate CU Singh seeking urgent listing of their separate Public Interest Litigations on the issue. In addition to Sharma, another petition has been filed by veteran journalist N Ram, activist-lawyer Prashant Bhushan, and Trinamool Congress MP Mahua Moitra.
With enough ammunition on hand, the Opposition will attempt to derail the Budget session, which is to last till February 12, that is until four days before the assembly polls in Tripura.
But Modi's aides as well as the BJP think that the ban, which may appear as an act of overdoing, has actually helped the issue to stay in the headlines, which should ultimately help them --because polarisation is bound to re-happen because of the sensitivities involved on both sides of the religious divide.
Can the Budget turn the mood in favour of Modi?
Is there any way Modi can turn the tables on the Opposition? Perhaps, yes, if the Union Budget for the financial year 2023-2024 can be all honey and no sting for the salaried class as well as the businesses.
It will be presented in the Parliament by Finance Minister Nirmala Sitharaman on February 1. This is her fifth straight Budget. Notably, this is also the last full Budget before the Lok Sabha elections in 2024.
It is the last, big spending opportunity before the elections. Therefore, will Modi be tempted to give some relief to different sections?
It is quite possible that Modi, who is against rampant populism at the cost of financial stability, may choose to keep the goodies away till the Lok Sabha elections fifteen months later. Even if the 2024 budget is an interim and merely a vote-on-account, it can promise freebies if it becomes politically necessary.
Already, Rahul Gandhi has been trying to whip up a mood against the BJP and the Central government on everyday issues like unemployment and inflation, besides trying to show that the BJP government is working only for a few rich businessmen such as Gautam Adani and Mukesh Ambani, two of the world's wealthiest people.
But the hands of Nirmala Sitharaman are tied down. There are fears of a recession in the west and a further fall in demand on a global scale.
Yet, Sithraman will have to do something in the budget that appears to satisfy different sections if Modi needs to stave off the threat to his popularity posed by the rows like the one involving Adani Enterprises.  
So, it is quite possible, Sitharaman may announce some tax relief measures for the common man, including salaried employees and senior citizens. Some experts have demanded the inclusion of standard deductions as well as housing loan interest in a new tax regime.
As indicated by the PM, she may also come with an expansion of existing welfare schemes for better old-age security and higher maternity benefits to counter Rahul Gandhi's accusation that the Modi government is for the rich class.
Of course, given the global recessionary environment, the Finance Minister has to find the balance between maintaining fiscal deficit and pursuing populist agenda.
She is expected to focus on job creation and hike funding for infrastructure, manufacturing, agriculture and other important sectors.
Nevertheless, many experts believe Budget 2023 will take a balanced approach towards fiscal consolidation and economic growth. It will focus more on capital expenditure on infrastructure, widening production-linked incentive schemes for more sectors, and boosting rural demand and divestment targets.
Even any tweak to capital gains tax or its tenure structure would be keenly watched by the Opposition as a sop to the stock market.
Fiscal incentives under the production-linked incentive (PLI) scheme to some more sectors are likely to step up domestic production. Through his political lows and highs, Modi's core economic agenda has been to promote India as a rival manufacturing destination to China. He has sought to achieve this by incentivising domestic manufacturing and allocating more state resources to infrastructure, particularly rail and road. 
Accordingly, banks have indeed ramped up credit and capital-goods manufacturers have come up with new business.
India's steel demand, which has already overtaken the US, is expected to grow the fastest in 2023 among the large economies.