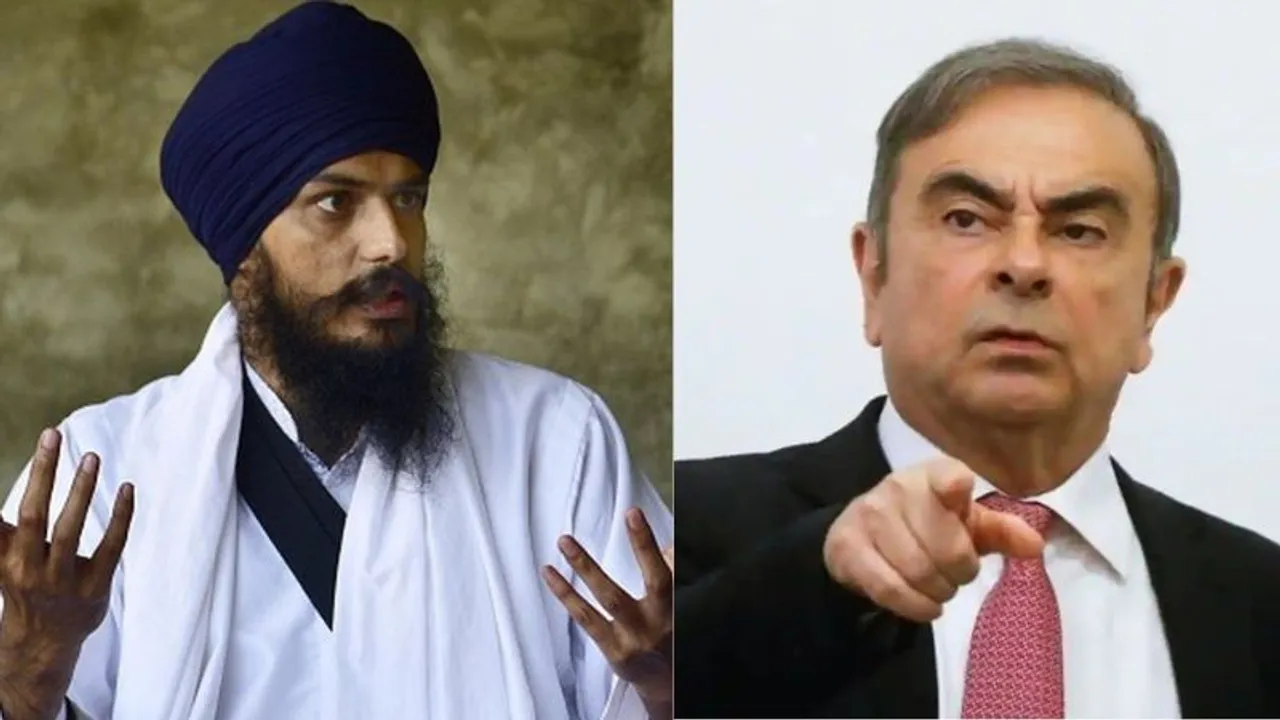 Kolkata: If it wasn't such a correctable tragedy, it would certainly qualify as a credible comedy. But do help me understand how an 80,000-strong police force, reporting to AAP, is unable to catch the rogue seditionist but is delighted to share CCTV photos.
At one level, I am reminded of Inspector Clouseau, played by Peter Sellers, who immortalized the bungling cop to rip-roaring perfection. But even he, when the hurly-burly was done, managed to get the job done, much to the chagrin of ever-indignant Chief Inspector Dreyfus. However, this is certainly no laughing matter and I must reasonably digress to a real-life case that is ominous in many ways.
Carlos Ghosn, the Renault-Nissan Chief was scheduled to be charged and convicted in Tokyo for multiple corporate transgressions, in Japanese law most certainly. Conviction rates in such matters are close to Six Sigma in that country so he was sufficiently motivated to hatch an escape plan. He was hidden in a box designed for a musical instrument, transported to a distant airport and flown by private jet to Lebanon, his country of birth, possessing no extradition treaty with Nippon. There is an OTT documentary which captures this piece and the blending of audacity with operational flair was classic Ghosn.
Perhaps the police should consider seconding ICICI Bank collection agents as part of the investigation party as these fellows are renowned for nabbing dilettante loan takers with nagging doggedness. Fiction offers many such candidates, including Byomkesh Bakshi and Bob Biswas, contrasting styles but converging agendas. Google Maps can come to the party with an investigative façade, as most certainly, some technology from somewhere can help nab this rascal. What's worse is the way he is mocking the efforts of the state, releasing photos et al, quite like a modern-day Jack the Ripper.
Folks like me, born in the early 1970s, have been privy to the senseless carnage of the Khalistan movement of the 1980s and 1990s, perpetrated by Dr Jagjit Singh Chohan and later Bhindranwale. The hard-earned rapprochement in the subsequent decades is much respected and younger Indians must unite to convert this sentiment to an actionable strategy. To integrate further with the youth of Punjab in the quest for national equilibrium and quashing the devious attempts by Pakistan-fed felonies, to create trouble. Thought leaders across every community must unify in this mission as what seems like a TV spectacle now may well turn into a more serious infection, as per evidence of the recent past.
An important ingredient in this agenda must be a serious talking-to delivered to Western nations, conveniently and selectively purveyors of human rights. The symbolic act of removing barricades outside the UK Embassy in Delhi is classic diplomatic tete-a-tete as Section 144, or its equivalent, should have been imposed on dissidents trying to disrupt our missions in California and London. A quick flashback will reveal how Margaret Thatcher withdrew her sympathies for Dr Chohan after he threatened Indira Gandhi on live television and that was surely a more troubled universe during a deeply active Cold War. India in 2023 is not a pushover and the tacit harbouring of dissidents by the West is a dangerous anachronism.
And now, back to the meat of the biryani. No way can Amritpal Singh be allowed to flee from our sovereign shores and equally importantly, this charade must come to a hasty conclusion. This is clearly damaging to our national image, amongst every other consideration.
Protocols may be damned, a Central Force may well be summoned to nab the cheeky troublemaker and national considerations must supersede every other thwarting factor. This is not the equivalent of capturing some routine criminal as his continued influence is a real threat to national security. We cannot afford a rerun of the Tokyo episode, the escape in this case perhaps facilitated by bullock carts or some other jugaad innovation.
The Punjab situation in the 80s and 90s occurred due to a combination of internal bungling and overseas abetment and I still have memories of Dr Chohan flaunting a Khalistan passport, as depicted in the now defunct Sunday magazine. Any resurgence of such inebriated thoughts must be made urgently defunct and I sincerely hope that Amritpal Singh has not been chatting with Carlos Ghosn.