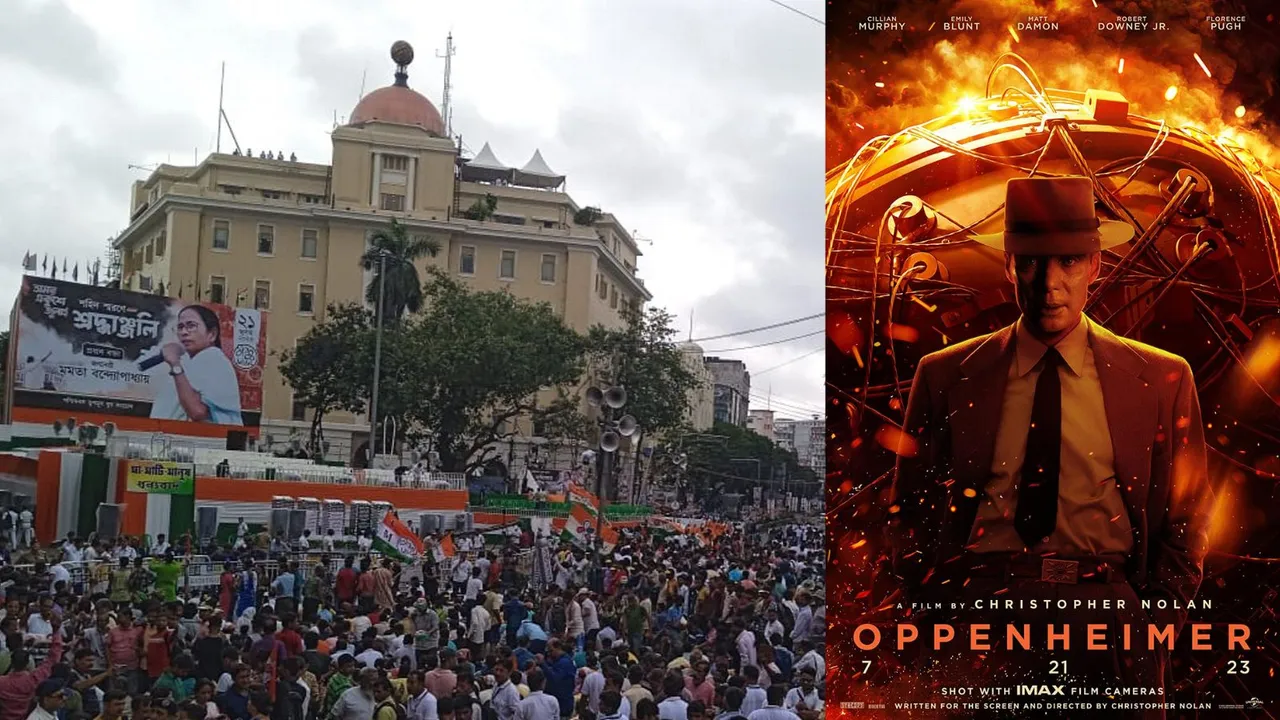 Kolkata: Today, July 21, is the Martyr's Day observed by Trinamool Congress, guaranteed to choke Calcutta. Ironically, a box office casualty will be Christopher Nolan's Oppenheimer, running successfully here and almost everywhere.
Ironical, because the circularity of martyrdom is applicable impeccably for both and indeed in so many instances over timelines. A martyr is a 'relative' entity, whether avoidable sacrifice or delivery of justice changes in tune with the social narrative. Bhagat Singh was thus an enemy of the state for the country known as British India while justifiably a noble martyr post the midnight hour of August 15, 1947. Same, yet so different.
Oppenheimer was the hero of the atomic bomb, carried manfully by 'Enola Gay' named after pilot Colonel Paul Tibbets' mother. On August 6, 1945 it did the dreadful on Hiroshima and this was followed swiftly by an encore on Nagasaki. For the Japanese people, every innocent civilian could be considered a martyr while for Americans ravaged by battle, this act saved thousands of soldiers from becoming martyrs. Which would have been the case if Japan were to be physically invaded, as a key pillar of Plan B. Martyrs saving others from being martyrs sounds insane but is true.
Arguably, Oppenheimer himself was martyred in the war against Communism, a role reversal for a hero. The deeply trigger happy Senator Mccarthy unleashed a wave of upper-class terror in the USA to isolate 'enemies' of the state, which also included folks like Charlie Chaplin, Arthur Miller, Elia Kazan and Bertold Brecht. On scant evidence, the Rosenbergs ( Julius and Ethel) and Alger Hiss were convicted, with the former being executed. Oppenheimer lost his stature and prestige, reinstated partially by Kennedy and finally by Joe Biden in 2022, stating that the Government wrongly revoked his security clearance in 1954. From hero to villain to eventually martyr, a deadly troika as the world was rid of the Axis evil and the Red scare.
The TMC matter, separated by decades and contexts, is another unique case of circular martyrdom, quite like an unfathomable riddle. On this day in 1993, 13 members of the West Bengal Youth Congress were shot dead by the police during a Voters ID Card demonstration. Law and Order infringers, as per worldview of the ruling Left Front while soldiers for democracy as per the Congress. As the leader formed her own party and swept to power in 2011, the slain swiftly assumed martyr stature, but with several built-in ironies. They died under the auspices of a party which became enemies to the party which commemorates the sacrifice and most strangely, the three entities ( including the then-ruling Communists) are now united in the I.N.D.I.A. alliance. Confusing, but surely riveting.
The ridings in Bangladesh post independence offer further drama for this circularity. Mukti Bahini, the original martyrs, were jolted shortly after independence when Sheikh Mujib was brutally murdered by his own army, engineered arguably by ex-ally General Ziaur Rehman. The latter became de facto ruler in 1977 and Mujib was suitably vilified till it was Zia's turn to be murdered in Chittagong in 1981, by bodyguards sympathetic to Mujib's Awami League. Thus Mujib once again became a full fledged martyr as his daughter Sheikh Hasina rose to political prominence, in ironic tandem with Begum Khaleda Zia whose BNP also had its share of power. After Sheikh Hasina came to power, her father's killers were sent to the gallows, villains for some and martyrs for others. In all this, the Dhaka Airport, lovingly named after General Zia was eventually christened as Hazrat Shahjalal, a revered Sufi saint and clearly above politics. Bangladesh is clearly a solid case study of circular martyrdom, as is the curious state of Pakistan. Proving rather soundly that the the difference between heroes and villains is actually all in the mind and not in the deeds.
In  Warsaw Pact Eastern Europe, the Russians swiftly moved gears from oppressor to liberators, Imre Nagy and Alexander Dubcek martyrs for the current democratic state. Alan Turing, of Enigma Code fame, was persecuted for homosexuality and now is considered a deserving martyr for the LGBT movement. Kerry Packer's World Series Cricket was initially tarnished and then destroyed by the establishment, but was the precursor for the 'entertainment' genre of the game that rules the day. Freddie Laker's Skytrain took on the might of Pan American and British Airways in transatlantic routes, an erstwhile villainy that led to the low-cost aviation boom, benefitting all and not just many. The doctor behind India's first test tube baby, Subhash Mukhopadhyay, was harassed by the Government and eventually committed suicide, but his legacy thrives with the IVF boom that is a societal boon. Circular martyrdom has many episodes, the seesaw between good and evil purely contextual and not absolute.
On Oppenheimer, the movie must be watched by all not just as compelling cinema but as a lesson for living, truthfully timeless. The TMC rally must be observed equally sincerely as a crash course in the impermanence of politics, rooted in scalable opportunity more than unflappable ideology. Martyrdom is indeed a circular sentiment and not an unshakeable truth and there is sufficient evidence from yesterday and today.