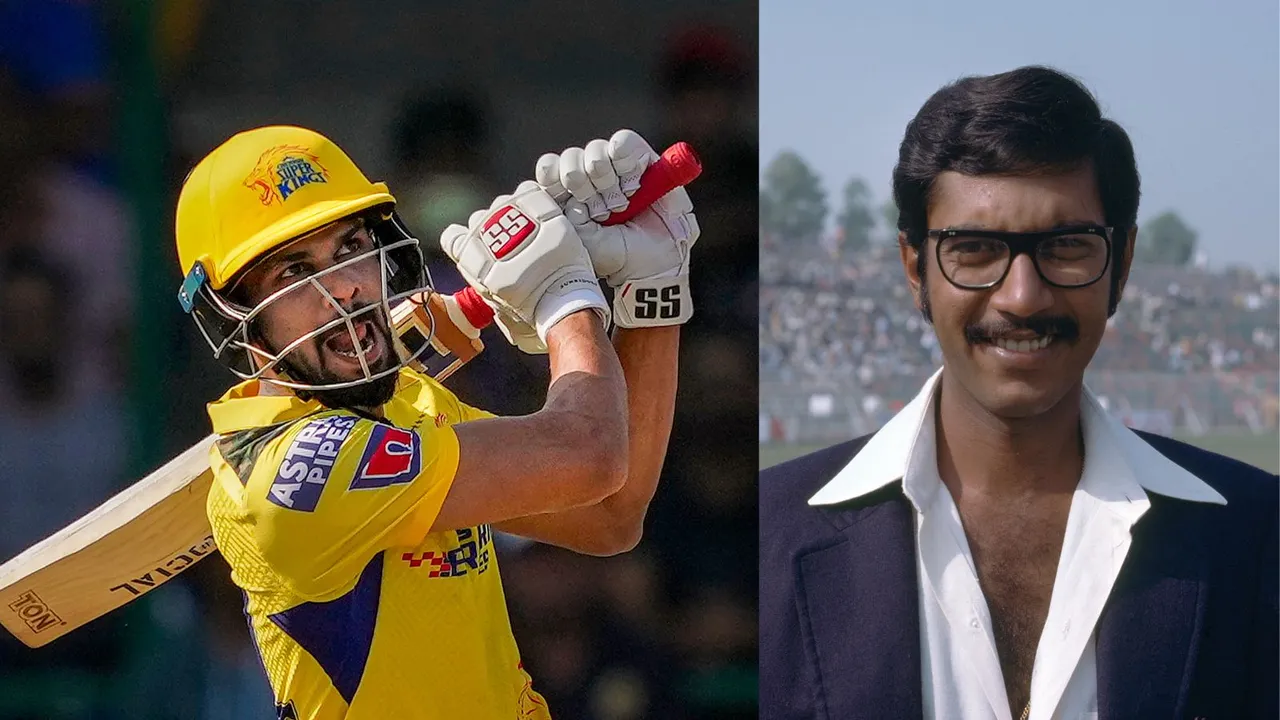 Kolkata: The day after Anshuman Gaekwad's book was unleashed in Mumbai, Ruturaj Gaikwad expressed his point of view. His dashing 79 of 50 deliveries charmingly contrasted with the stoic Grecian demeanour of the elder pro.
For those entrenched in the IPL era, Anshuman was a firm member of Indian test squads from 1974 to 1984, averaging around 30 in 40-odd test matches, quite accomplished in such days. But his signature calling card was relentless bravery, the spiritual Guru of Cheteshwar Pujara and Hanuma Vihara. In the legendary Sabina Park test match of 1976, when the Windies pacers turned assassins, Gaekwad's bruises were way more heirloom quality than even a fiercely curated knock of 81.
Anshuman clearly belonged to the  'Dunkirk' school of batting, where defensive survival was a desirable and necessary destination. Especially against fast bowling undisturbed by sissy restrictions, valour was valued as much as aggression, with heroes like Brian Close closely eligible for sainthood. His role deserved viewing in a larger and not individualistic context, often setting the tone for GR Vishwanath and others to set up famous victories.
But the sincere boy on the burning deck was often a burden for softer tasks, especially on daal-chawal home surfaces which easily befriended mediocrity. On such playgrounds, his efforts were arduous on the eyes, and I remember particularly a tormenting double century against Zaheer's Pakistanis in Jallandar. This actually adds to his aura, as if a hill driving specialist inconsequential in the plains, a cocktail dictated by other-worldly courage and not routine malts.
Ruturaj, no relation in any sense, is clearly the 'Normandy' to Anshuman's ' Dunkirk'. To persist with the war analogy, he is born in an era when peace is secured and flamboyance is the ask from the human race. True not just for Cricket but for the global village at large, driven by rampant entrepreneurship in every sphere. This state of mind helped shape the T20 game and its protagonists, the body becoming a tool for exploration and not just a valuable protectorate.
Thus, the definition of valour changes quite significantly, from the blood-stained coliseum of Sabina Park to the gilt-edged arclights of Narendra Modi Stadium. Sixers and boundary hits are quite like Swiggy-Zomato delivery orders, indulgence is now a daily ritual in the happy wake of fluid pockets. Unlike the days when singles and twos were more valuable than gold with the larger hits resembling the limited dining-out experiences of Nehruvian times, precious by dint of being ridiculously hard-earned.
There is scant wisdom in judging the two eras as the non-negotiable foundations differ vastly, like any two contrasting periods in history. Exactly why Pujara and Vihari struggle to find customer currency, the former at least identifying refuge in a part of England that will be forever W G Grace. Those earning both money and fame in miniature editions must not be considered as fortunate inferior cadre, as the ability to be opportunistic is clearly the time-tested Viagra for civilisation. It is the era of instant gratification and if ballroom panache triumphs over textbook acumen, so be it.
Being blessed to watch both eras in my entire cognition, I do have one clear regret. Quite like the lovingly manicured peaks of music recitals, fours and sixes were milestones in the days of Test Cricket. Maybe 20 such instances in a day and the finest of which debated longingly over endless cups of soulful tea. Today, these are as routine as packets of potato crisps, assembly line highs that build short-term glee but disappear swiftly from choosy memory.
In the history of the great game, both eras will stand tall for their timely relevance, as will the two Gaekwads. Maybe in the foreseeable future version three will emerge, seconding the aspirations of a brand new generation. Cricket was designed by and for the British Empire but the sun thankfully shows no sign of setting.