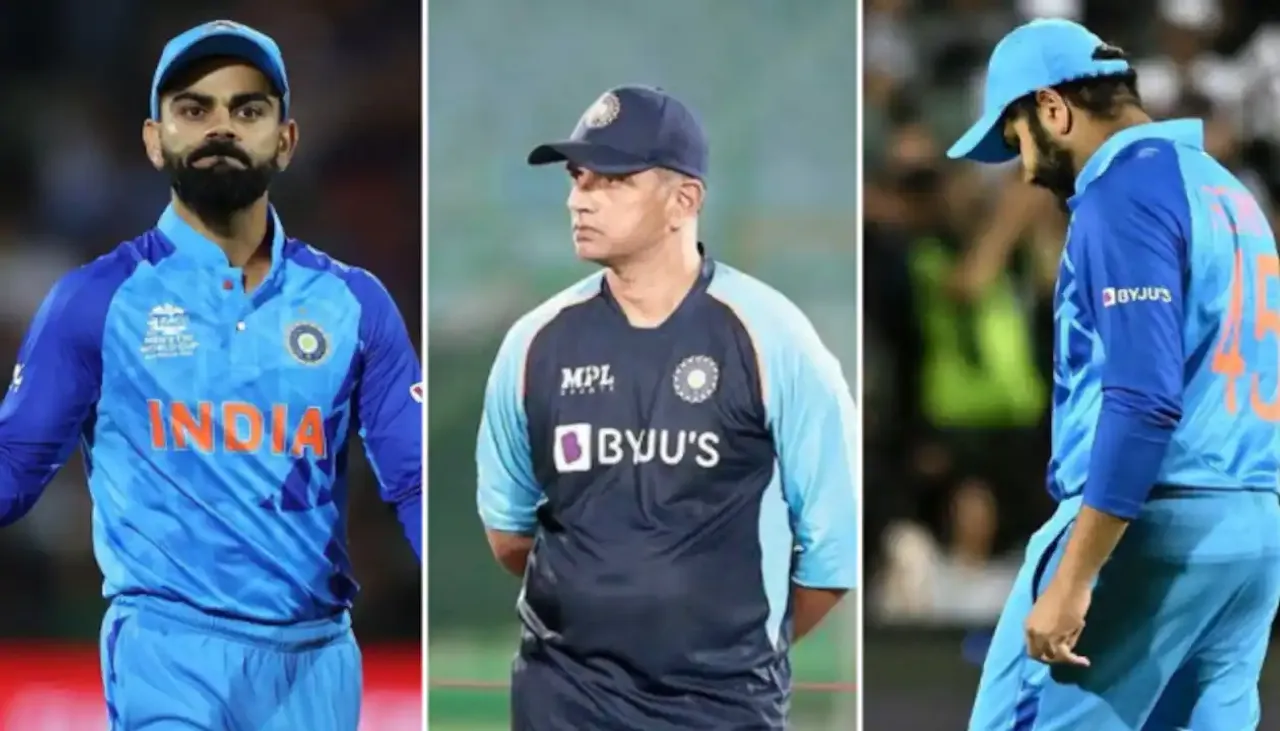 Kolkata: When the American political scientist Samuel P Huntingdon wrote about ' The clash of civilizations', cricket would certainly not be on the visible radar. But then the Brahmanical Rahul Dravid's alibi after India's destitution in Adelaide seemed to extend it seamlessly to this sport.
Firstly, to recap what the desperate head coach offered as evidence last evening - apparently, the exposure of the English batters to the BBL is a significant cause for their conquest of India. If he was living in Stalinist Russia or Saddam Hussain's Iraq, there would be a reception party at the airport escorting him to a suitable termination outpost. But he is fortunate to reside in democratic India, which means that he will be graciously indulged inspite of disgraceful felonies.
And, why do I say disgraceful? In terms of excuses this really is one for the ages, legendary both in terms of chutzpah and cowardice, a rare mixture. It's like an England soccer manager blaming the La Liga exposure of the Spanish players when they won both the European and World Championships in rapid succession, in spite of his home country possessing the coveted EPL.
We know by now that the IPL is the successor of county cricket in this era, and the queues of overseas players are sufficient evidence. The BBL is a relatively newer aspirant, high profile but way less competitive, and cannot be apportioned blame in this matter.
To suggest that our bowlers would have performed better if they played in the BBL is seriously undermining the magnificent test match victories in the Shastri Kohli regime, or even the sweeping triumphs in the 1985 World Championship of Cricket. Even Dravid himself, or Shubman Gill's imminent father-in-law for that matter, never played Sheffield Shield and this logic would not justify their radiating success down under.
Now then, for a moment dwelling on the fabled Australian conditions, made legendary by elements like the Freemantle Doctor, iconic at the WACA. Every novice follower of the game knows that Adelaide Oval is closest to home conditions, Bradman's home turf not quite pampering the speedy boys.
This probably explains why India won here in 2003, Azharuddin almost took us to victory in 1990-91 and there are adjunct elements of evidence. Dravid and his think tank chose to play the formula game and perished, so let's not blame conceptual devils for this decimation. Most certainly, the BBL exposure of Englishmen was certainly not a factor, so do give us all a deserving break.
Instead, it is necessary to do a valuable analysis as the jury is indeed out, and I am certain that the Board will do the due needful. Which will certainly include the hiring of fearless youngsters, with reputations to build and not just images to protect. But the answer certainly does not lie in our boys playing BBl, as in the T20 format diabolical ethnic conditions do not matter as significantly as tests or arguably ODIs.
On Rahul Dravid, this is my considered point of view and do choose to disagree. He was indeed a benchmark batsman and is clearly a first-class gentleman, and thus an inspirational role model for millions. But then he is not coach material and let me share a time-tested hypothesis.
Across sporting disciplines, the best players rarely turn up to be the finest coaches, and a Tendulkar anecdote around captaincy is pertinent to mentoring. He did say that as a leader he often assumed that every team member possessed his unique acumen, clearly not valid, and this seriously impaired his ability to assess or influence impact.
Even the successful Ravi Shastri, old-timers will recall, started life as a spinner and worked enormously hard to become a top-notch batsman, this journey assisting his empathy with the evolving team players. In football for instance the lesser-grade footballer Jackie Charlton became the magical manager while his legendary brother Bobby remains a playing hero.
Over the years,  I have strived to understand this pattern of why super-duper talents rarely become great coaches and a possible verdict is the following. That as a guide, you must constantly demonstrate empathy in the journey and if you are blessed with exceptional ability, one does underestimate the process as it has simply not been experienced. This probably explains why a character like Vikram Rathore, pulverized by Donald and Pollock in his thankfully solitary South Africa sojourn, persists as batting coach across contrasting regimes.
In the unfolding future, Dravid must be persuaded to superannuate and a John Wright equivalent, on pure merit, be assigned the management duties. Anybody who considers the BBL as a superior T20 format than the IPL deserves a holiday in Australia, which Jay Shah must sponsor given the man's sincere contribution to the sport.
In politics or in cricket, civilizations need not clash as that leads to unnecessary conflict. The BBL and the IPL are actually brothers lost in a mela, as they eventually unite to make this game way richer.