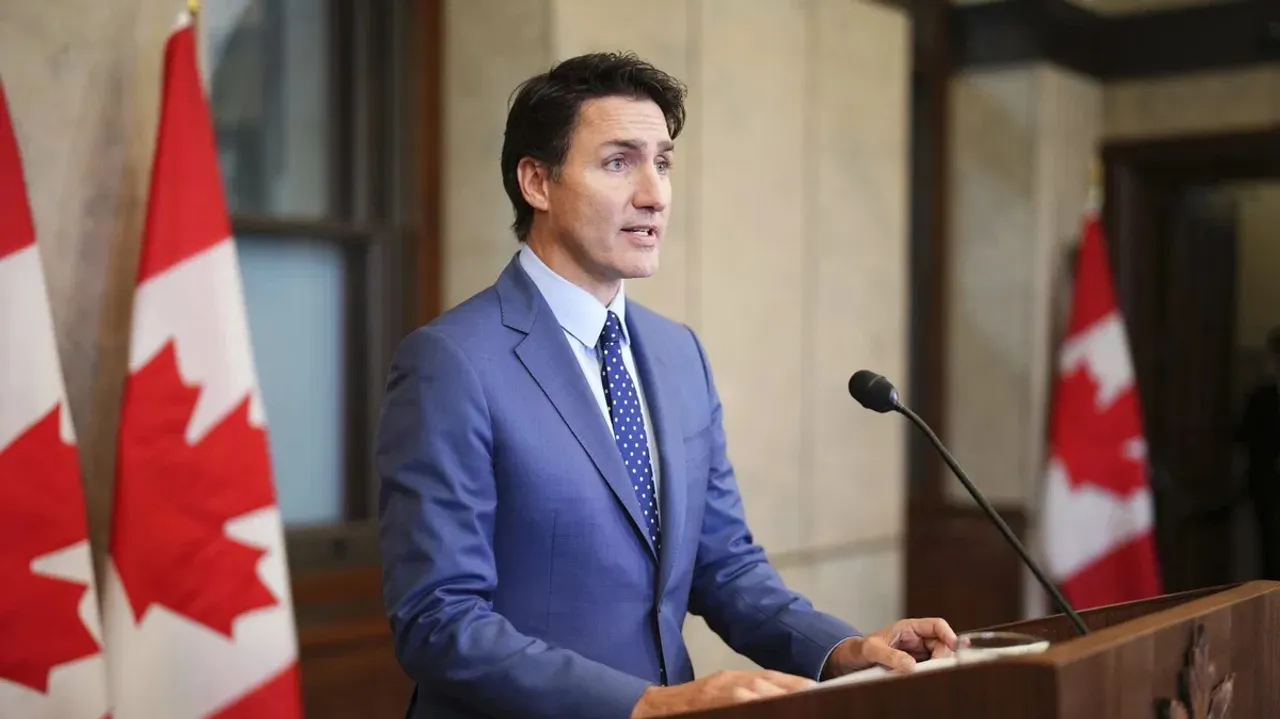 Brampton (Canada): The Khalistan movement aims to separate Punjab from India. Supporters of this movement aim to establish Khalistan, a separate sovereign state for Sikhs. Yes, this movement is very active in Canada. India has suppressed this movement until now. When supporters of this movement move to countries like Canada, they are free to carry out their movement.
If you've been to Brampton, you'll notice the activity. Who supports this movement? Most Sikh Punjabis won't support this movement. I've never seen a law-abiding Punjabi supporting this movement. Many supporters of this movement are Punjabi-Canadian drug lords. Gangs like the Ruffians, the Bothers Keepers Gang, the Punjabi Mafia, etc. They primarily engage in drug trafficking, money laundering, murder, weapon trafficking, illegal gambling, robbery, chop shop operations, assault, loan sharking, extortion, and kidnapping. They fund the Khalistan movement.
PM Justin Trudeau and the Liberals haven't been able to crack down on this movement because of the significant support from Punjabi Canadians. Liberals believe attacking this movement is similar to attacking Sikh sentiments. I disagree with that thought.
Why would a Punjabi-Canadian support militants and drug mafias? The government should promptly arrest and detain its members in Canada. Otherwise, they may become involved in terrorism soon. It could make Brampton and all of Ontario the crime capital of Canada.
Due to all this freedom, Canada has witnessed a concerning rise in the presence of terrorists and extremists within its borders. This alarming trend has raised significant questions about the nation's ability to effectively combat and prevent the infiltration of such individuals. As a result, it is imperative to examine the factors contributing to Canada's emergence as a safe haven for these dangerous elements. One of the key factors behind Canada.
Even the local government is providing support to these individuals. The actions exhibited by certain individuals are not only disgraceful but also have a detrimental impact on the Sikh community, both within India and beyond. One cannot overlook the reality that the Canadian Prime Minister has been subject to criticism, with claims of being uninformed and appeasing Khalistani elements for political advantage. In light of recent developments, it is imperative for the Government of India to adopt a more assertive approach towards the Canadian Government rather than resorting to piecemeal efforts.
The current deterioration of relations between India and Canada is a highly debated topic. It's "How Canada has become a haven for terrorists and extremists." Due to this, the troubled relations between Canada and India are not only impacting the governments but also having a significant impact on a large portion of the population in both countries.
In addition, the 'Five Eyes' group of countries, consisting of the United States, Australia, Britain, New Zealand, and Canada, is closely monitoring the entire situation. The term 'Five Eyes' refers to a group of countries that collaborate and share intelligence information with each other.
But with Canadian Prime Minister Justin Trudeau's statement, it's very clear now that Canada has become a haven for terrorists and extremists.
His allegations against India for killing Khalistan supporters are a foregone conclusion.
Their charges come months after the murder. Strong opposition to Canada's soft stance towards anti-Indian terrorists was vital.
India's latest move includes suspending visa services at the Indian High Commission in Canada until further notice.
From removing diplomats to stopping visas, India has given Trudeau three blows in three days. Indian citizens, students studying in Canada, and people planning to travel to Canada were advised to take precautions last week. While the daily increase in tensions between India and Canada is alarming, residents of both nations encounter various challenges.
Both countries' democratic systems afford them the opportunity to engage in such activities; however, it is imperative that they refrain from engaging in any form of violence or provocative actions that could potentially jeopardize the harmonious relationship between the two nations.
Both governments must implement stringent regulations on such activities.
Simultaneously, as previously mentioned, it is imperative for the governments of both nations to engage in diplomatic dialogue to address all bilateral issues, including the matter involving Hardeep Singh Nijjar.
It is crucial to refrain from adopting a policy of escalating tensions and conflicts and instead prioritize the pursuit of peaceful resolutions.
The implementation of various restrictions on individuals should be avoided altogether. The interests of both countries are aligned.
It is a very serious thing that, in spite of everything happening between the two countries, anti-Indian terrorists have directly threatened the Hindus living in Canada.
These terrorists trained in India's neighbourhood have Canada's hand behind their backs, so their speech has become aggressive. The attitude of PM Trudeau is not balanced and fair.
The Trudeau government should answer that when the fatal poster of 'Kill India' appeared in Canada, many cases were registered in India on Nijjar.
Despite India's repeated claims, Canada's soft stance towards him or other terrorists is reprehensible.
It is surprising that in an attempt to save some terrorists, the Canadian government is engaged in spoiling its relations with India, the country with the oldest culture in the world.
History is a witness to the fact that the countries that gave shelter to the terrorists had to pay the price later.
In the midst of this diplomatic dispute, Winnipeg, Canada, saw the murder of gangster Sukhdev Singh, also known as Sukha, who was one of the most wanted criminals in Punjab.
He was allegedly associated with pro-Khalistan organizations. According to sources, he was associated with Canada-based Khalistan operative Arshdeep Singh, alias Arsh Dala.
In the same year, before the killing of terrorist Hardeep Singh Nijhar, three notorious Khalistani terrorists had been killed abroad, May 6, 2023: Paramjit Singh Panjwar, the head of Khalistan Commando Force (KCF), was assassinated in Pakistan, On June 15, 2023, Khand, the chief of Waris Punjab De, was poisoned in Birmingham, UK, and on June 19, 2023, Nijjar, the chief of Khalistan Tiger Force, was gunned in Surrey, Canada.
All of this started just after a high-profile chase and nab of a key Khalistan leader, Amritpal Singh, in April 2023. But the noise was focused only on the killing of Hardeep Singh Nijjar in Surrey, Canada.
All three killings have occurred in three countries where pro-Khalistan organizations operate.
From the point of view of some experts and defense consultants involved in the matter, they believe that such incidents may be the result of an alliance between Khalistani organizations and gangsters.
A diligent individual is currently engaged in a thorough cleaning endeavour. In the event that the entity in question is an organization, it is imperative that it possess a widespread presence capable of executing its operations seamlessly across multiple locations on a global scale.
In considering the various potential actors involved in the given scenario, it is worth examining the potential roles of ISI (Pakistan), RAW (India), and Khalistan leader Pannu. These entities represent distinct possibilities that could influence the outcome, each with its own motivations and objectives. It is important to note that Pannu, in particular, has displayed a propensity for ensuring his own dominance and eliminating any potential threats to his leadership.
In Canada, there exists a profound sentiment among Sikhs, particularly within the current generation of Canadian Sikhs and British Sikhs, towards the concept of Khalistan, their envisioned independent state.
The Sikh community holds significant political influence, making them a crucial vote base in Canada. Consequently, there are instances where Canadian authorities have shown support for discussions surrounding the issue of Khalistan, which has raised concerns about potential implications for Indian sovereignty.
(Disclaimer: The opinions expressed in this article are those of the author. The facts and opinions appearing in the article do not reflect the views of NewsDrum.in and we do not assume any responsibility or liability for the same.)