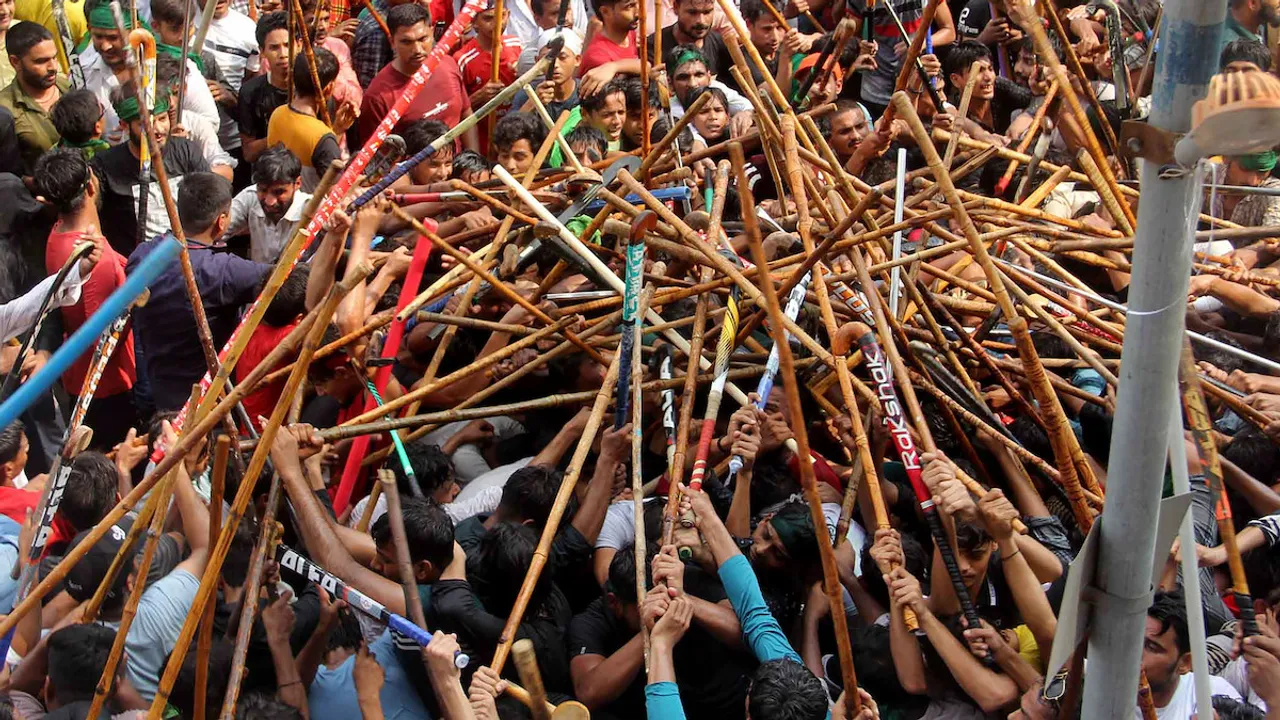 Kolkata: Today is the tenth day of the sacred month of Muharram when Shia Muslims grieve the tragic martyrdom of Husayn Ibn Ali, grandson of Prophet Muhammad. Anglo Indians are people of Eurasian origin, Indian and Western, who are thriving in India as well as many parts of the Commonwealth. So, how exactly does the twain get to meet?
The answer lies in the collaborative efforts of Colonel Henry Yule and A C Burnell, quaintly named  Hobson-Jobson. A historical dictionary of Anglo-Indian phrases and words inspired by Indian languages, a chunk of which is popular over time. 'Ya Hasan, Ya Husayn', the traditional chant during the Muharram procession, was phonetically interpreted by British soldiers as Hobson-Jobson, and thus the naming of this iconic collection. It contains more than 2000 entries and has been in enraptured circulation since 1886.
In case you are seeking a reference for easy discussion, here goes. Kedgeree ( Khichdi), Chilly, Tiffin, Verandah, Dungarees, Gymkhana, Pyjamas, Thug, Loot, Hullabaloo, Shampoo and Bangle are just some of the notable inclusions. Double-barrelled phrases like Naukar-Chakar, Writing-Shiting and Pudding-Shudding are quirky candidates and some of these rest in peace adjacent to Raj memorabilia. The 'Law of Hobson-Jobson' means the 'process of phonological change by which loanwords are adapted to the phonology of the new language', a prime example of which is the title itself.
Quite expectedly, this piece of work has its share of serious critics, who condemn it for condescending racism and this includes the writer Amitav Ghosh. While it cannot be denied that a significant chunk of modern Indian, and indeed World, History is represented timelessly by these quirky intrusions. Its effect lingered much longer and a fine example is the Hobson-Jobson version of the spinner Venkatraghavan when he played County Cricket for Derbyshire - 'Rent-a-wagon' would certainly have pleased Yule. Avatar is even more contemporary evidence, finding its place in the futuristic metaverse, a long way from its core Hindu entity.
In fact, the term 'Anglo Indian' has evolved since its original curation, at the time of the East India Company. Till about the early part of the 20th century, it referred to British people working in India but subsequently took the place of ' Eurasian', folks of mixed South Asian and European lineage. The integration started on a rather practical note, as there were simply not enough British ladies in India to partner with the legions of soldiers and administrators. Therefore, in line with the laws of nature, they married Indians and respectfully named both wives and children as legal heirs. Only when the Suez Canal opened in 1869 did travel time reduce to weeks from months and then eligible candidates ventured out to India. They were called the 'Fishing Fleet' and only the deeply unlucky went back home without a husband in tow.
There were certain ancillary factors which also encouraged British officers to marry Indians and predictably, affordability was the key. By the 1780s Lord Cornwallis had ensured that officers could no longer make a fortune from moonlighting, revenues from illicit trade replaced by fixed modest salaries. This meant that maintaining a British Lady as per her desired standards was rather difficult and Indians demanded and required a lot less. In many cases, children were born out of wedlock and were raised in orphanages in a rather organised manner, subsequently resettled in overseas climes. Dr Graham's Home in Kalimpong, which still exists as a school, was established for this very purpose and a bunch of children later moved to New Zealand, for fresh lives.
As famously recounted, some very famous Anglo Indians in showbiz, entertainment being a spontaneous forte, included the following. Cliff Richards, Engelbert Humperdinck, Vivien Leigh and  Merle Oberon are renowned the world over and there are many performers in India, including Pam Crain, who dazzled us with their brilliance. In popular culture, movies like '36, Chowringhee Lane' depicted their talents and travails rather brilliantly, as well as the iconic 'Rina Brown' performed by Suchitra Sen in Saptapadi. Notably, the contribution of this community to education is rather vast. Led by Dr. Frank Anthony and cohorts of teachers who continue to instil a ready-for-world value system in so many emerging minds.
There was also a time when the Indian Railways was a preferred hunting ground for employment, as depicted in the Hollywood classic Bhowani Junction. Those wishing to study the community even further may wish to read about Mccluskieganj,a dream township envisaged ( 1933) for the community in modern-day Jharkhand, now sadly in disrepair. Today, there are close to one lakh Anglo Indians in India alone and a strong representation in the UK, Canada and Australia.
While being totally unconnected otherwise, Hobson-Jobson is an undeniable adhesive for Muharram and Anglo Indians, albeit purely phonetic. Perhaps there is a timeless message in this association, way beyond just a paperback existence. The intuitive and effortless integration of diversity through means that are light-hearted yet endearing. A lesson, most certainly, for the turbo-charged kedgeree that we live in.