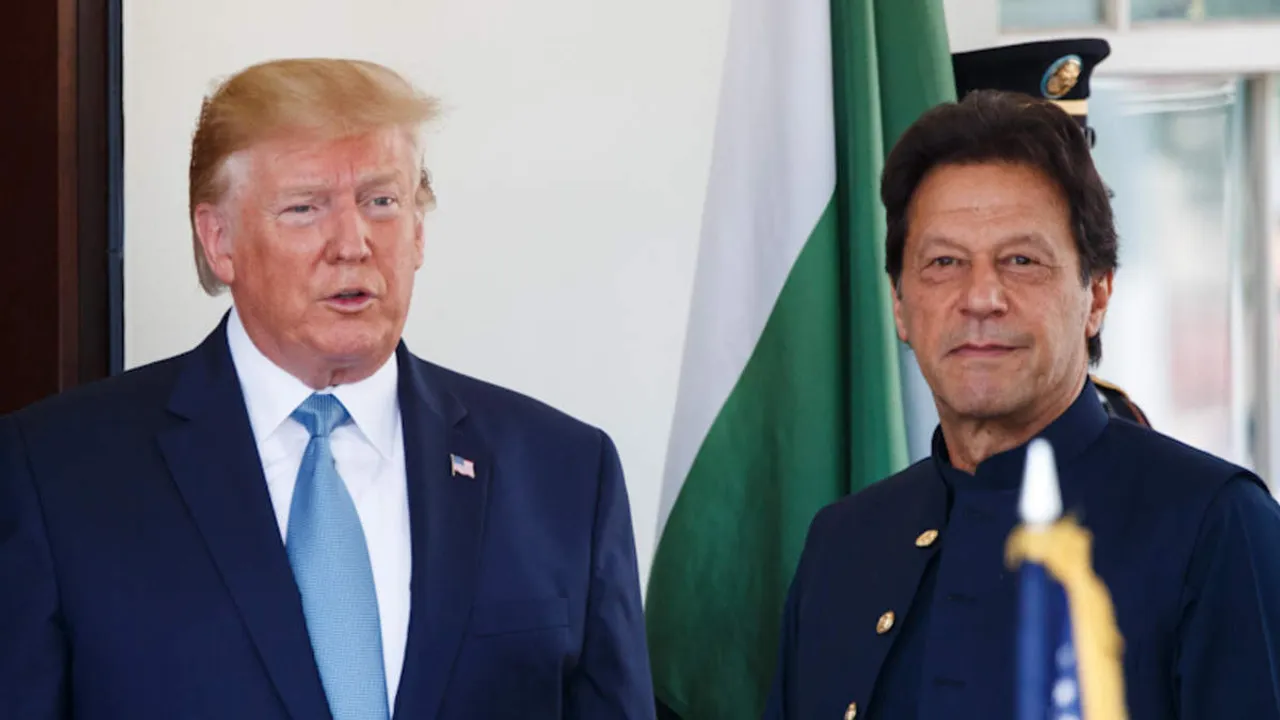 Kolkata: In a remarkable coincidence, the ex-bosses of Pakistan and the USA are being cornered for the same stately sin. That of personally benefiting from gifts received while holding official positions and thus breaking ethics, if not the law.
Before proceeding further, a quick look at the scorecard. Trump and family failed to disclose over 100 gifts worth over $250,000 during his presidential tenure, as per an official report. Of these, 17 were sent from India which reportedly cost nearly $50,000. They include a Taj Mahal replica worth $4,600 gifted by President Ram Nath Kovind, cufflinks worth $1,920 presented by PM Modi and a Makrana marble vase costing $8,500 given byYogi Adityanath.
Imran Khan, the fast-bowling playboy, was even more flamboyant in his excesses. He admitted to selling four gifts he had received as the PM, after purchasing them from the Toshakhana for Rs 21.56 million while earning Rs 58 million. This included Rolex and Graff Watches, cufflinks, a ring and an expensive pen. All the drama pertaining to his imminent arrest emanates from this self-confessed scandal.
What's most intriguing in these episodes is the privileged background of both these candidates - Imran not in the same league as Donald in terms of bucks but undeniably pedigreed and the one-time son-in-law of Sir James Goldsmith. 
Perhaps the illicit emotional perks of privilege best explain this curious conduct - the belief that self is way above position works occasionally in private dispositions but never in public office. A difficult act to follow for crossover politicians, unlike the more seasoned careerists who would either refrain or find smarter ways to claim benefits.
Yes Minister, in the episode 'The Moral Dimension' captures this self-same smartness with its typical cheeky elegance. While on an official visit to a Middle East sheikdom to finalise a major contract for a UK firm, James Hacker is presented with an expensive 17th-century antique bowl.  Mrs Hacker gets Bernard Woolley to get the object valued at less than £50 allowing her to keep the gift. When the Minister learns that bribes were likely paid to obtain the contract, he insists on a full public enquiry, only to be rebutted by a gentle reminder from Bernard.
Closer to reality, British MPs have defended taking gifts from the Qatari government as a corruption scandal in Brussels focussed on lobbying by the host ahead of the World Cup. 
Apparently, Doha has spent more than £260,000 in gifts, hospitality and travel on British MPs since 2021. 
In unrelated news, European Parliament President Roberta Metsola declared 142 gifts she received in an official public record that lawmakers rarely update. Her declarations broke with years of secrecy by former presidents of the Parliament, none of whom even revealed the hundreds of gifts showered by foreign dignitaries.
On a ridiculously unconnected plane, many from corporate universes can relate to this ambiguous territory of personal gifts while performing corporate roles and the jury is forever out. 
The deeply moralistic WPP Group, my employer for decades, was super strict about propriety in such issues but made an exception for sports tickets and entertainment. Possibly because they were perishable but for those winning splendid booty in corporate quizzes, the matter was more jurisdictional. Kind managers did ensure that not just TV sets and stereo systems but even cash awards were personal, even though the company had paid for the entry fees.
The grass was often bleaker on the other side as draconian HR bullies confiscated such goodies with glee, funds applied for community birthdays and electronics locked up in unmentionable warehouses. I am certain that many will have comparable tales to tell, culminating in squeamish delight or heartbreaking dismay. But then, while the corporate world can be discretionary, statecraft is historically rigid and the British Museum or similar institutions bear witness to the discipline of central depositories - whether lovingly gifted or forcibly seconded.
On Khan and Trump though, unlike Hacker, the truth is plainly legible as has been already suggested. They arrived at the high office as second innings, just as successful lawyers aspire for the judiciary, and thus were privy to the perks of a parallel, albeit robust universe. 
As a domineering business tycoon, Trump crafted his very own rule book and his recent brushes with lawmakers verify the chutzpah in his bearings. 
As landed gentry cum Oxbridge cum Greek God sports hero, Khan's assumption of personal autonomy is rooted in multiple dimensions, some earned and others usurped. 
As a common thread, they sincerely believe themselves to be lawmakers for self, not necessarily lawbreakers by intent but surely oblivious to rules for commoners.
There is a very high chance that both Imran Khan and Donald Trump may soon be behind bars, the comical botch-ups in Pakistan notwithstanding. Perhaps those currently in power may consider the gifting scandal as a convenient legal conduit to nab them, just as Al Capone was initially picked up for income tax evasion. Till then, the drama promises to surpass Netflix and no subscription is necessary.