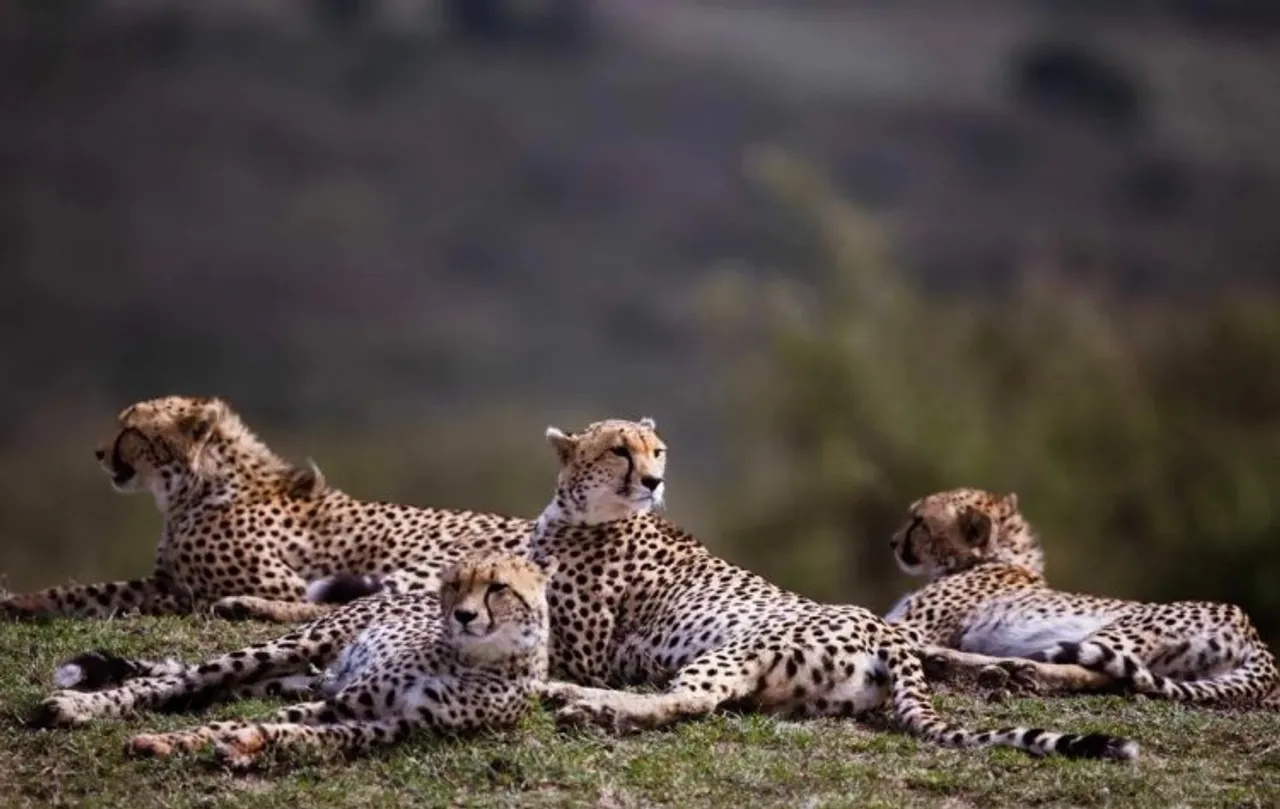 Kuno (Madhya Pradesh): A five square kilometer fence has been readied in Kuno Palpur wildlife sanctuary in Madhya Pradesh to welcome cheetahs from Namibia by end of this year, in a first trans-continental relocation of big cats. The enclosure having grassland and hilly terrain will test the ability of cheetah to survive in a climate where the temperatures in summer touch close to 45 degrees Celsius and in winter it can come down to 3-4 degrees Celsius.
An experiment to see whether African cheetahs can survive in an Asian landscape is unique as it would test the adaptability of the fastest animal on the planet to a new habitat. So far, tiger relocation within the same state --- Ranthambore to Sariska, both in Rajasthan and Kanha to Panna tiger reserve, both in Madhya Pradesh --- have been successful in India. However, the only inter-state relocation of tigers from Bandhavgarh in Madhya Pradesh to Satkosia wildlife sanctuary in Odisha has failed, primarily because of poor prey population management in Satkosia.
The Kuno Palpur wildlife sanctuary is, however, different from Satkosia as it has a good population of spotted deer, prey for cheetahs and a good flora and fauna for cheetahs to survive. Originally, developed to get lions from Gir National Park in Gujarat, Kuno has a vast span of plain grassland dotted with small hills and an abundant source of water, which could help the cheetahs from Africa to adapt to a new habitat.   
KC Verma, director of Kuno-Palpur Wildlife Sanctuary, said the park has a good population of leopards and spotted deer. Spotted deer could be prey for both leopards and cheetahs. He ruled out the possibility of conflict between leopard and cheetah saying the two can co-exist in the same habitat as the former is a shy animal and not as aggressive as cheetah. "There is enough prey population for both the cats," he said.
Many wildlife experts say the bigger conflict is because Kuno has also been a home for tigers who migrate from Ranthambore due to population pressure there. Ranthambore has 75 tigers, which more than the habitat, having a core area of 1,300 square kilometres, can hold. TC Verma, director of Ranthambore tiger reserve, said there are plans to relocate some tigers from Ranthambore to Kala Devi and Mukundra Hills wildlife sanctuaries, which the Rajasthan government is developing to accommodate excess tigers from Ranthambore. This may stop the migration of tigers from Ranthambore to Kuno for time being.
KC Verma does not see any threat from Ranthambore tigers for Kuno's cheetah project saying that no tiger has migrated since 2016 to Kuno and even if they come, tigers and cheetahs can co-live with them. "Historically, all four big cats (lion, tiger, leopard and cheetah) were found in Kuno, like some other wildlife habitats in the country," he said, adding that tigers have primarily confined themselves to the outskirts of Kuno, which is close to Sawai Madhopur in Rajasthan, and not entered the core where cheetahs would be kept.
The Madhya Pradesh forest department has prepared 500 hectares as an enclosure, where cheetahs from Namibia will be released. The enclosure is covered with mesh wires and has solar fencing to prevent unwarranted animals to enter. The enclosure has been divided into five compartments for the initial release of cheetahs, where they would be monitored through CCTV cameras around the clock. Watchtowers have also been constructed to keep a manual watch on them. "All cheetahs would be geo-tagged to study how they are adapting to the new habitat. A team of wildlife experts from India and abroad will monitor cheetahs," Verma said.
Notwithstanding the enthusiasm of the Madhya Pradesh forest department, there are critics of the project who say that by bringing cheetah to Kuno the state government has abandoned the longtime lion relocation project. They also say that releasing cheetah into the wild from enclosure would be difficult as cheetah would become habitual of easy availability of prey. The forest department plans to trap prey and release them in the enclosure. "In fact, this project is of bringing cheetah from wildlife and keeping him in a zoo," said a wildlife expert working with Delhi University.
The cheetah relocation project is important as it would help conservationists to understand the behaviour of cheetahs in a new habitat and also rekindle the hope of cheetah returning to India's forest also 60 years after it was hunted to extinction from the country. The project may fail. But, failure cannot be a reason for not conducting an experiment.