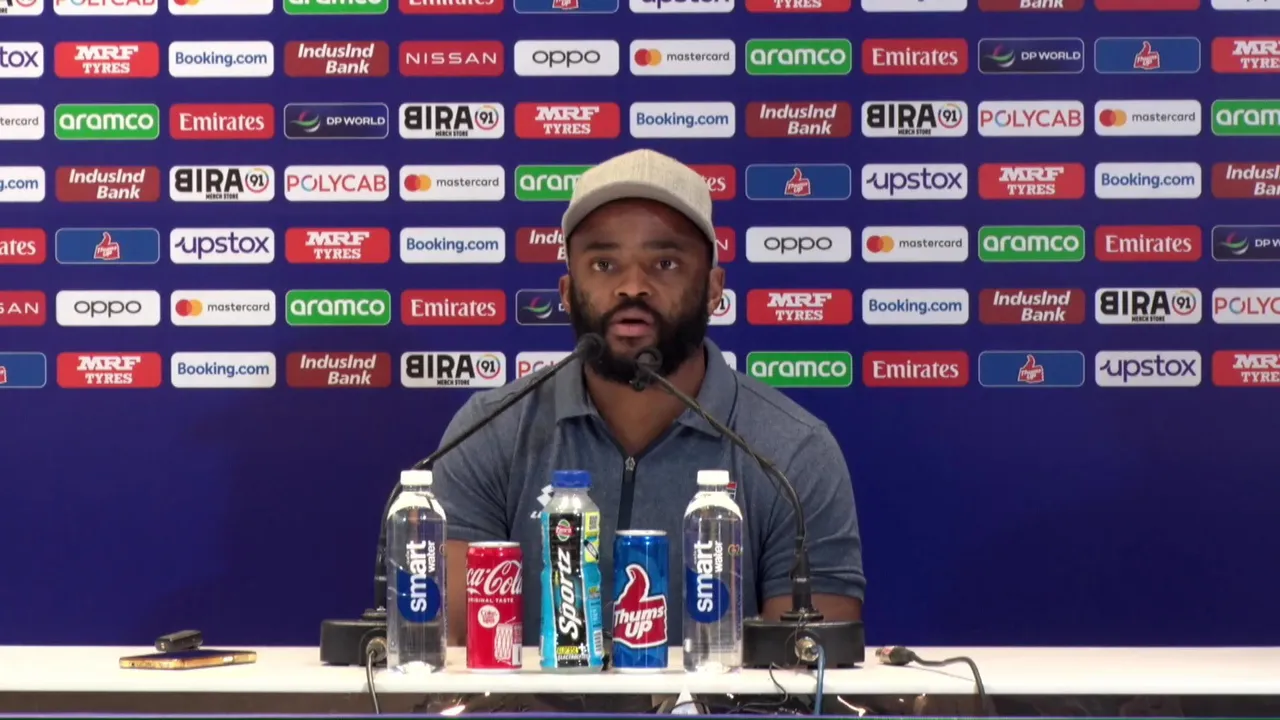 Kolkata: Temba Bavuma was aware that Australia are not a "Mickey Mouse" team, but the South African captain on Wednesday sounded confident of his side's ability to defeat the five-time champions and end the Proteas' World Cup semifinals jinx.
Ahead of the last-four match here on Thursday, history is heavily stacked against the SA who have lost in the semifinals of the showpiece four times, with two of them coming against the Aussies.
"You know, we're not coming up against a Mickey Mouse team. Australia have a lot of experience and confidence in knockout games, so we've got to respect that," Bavuma said.
Backed by some powerful batting performances, South Africa have been impressive in the league phase, but Bavuma said the semifinal would be a different ball game.
"I'd hate to say that we deserve to go through because of the way we played our cricket. I don't think that's the way things go.
"But I think from our performances, from the processes that we've followed to get to this point, we'll continue to lean on that and we believe that will take care of the result in itself," he said.
However, that self-belief has not given way to overconfidence.
"A lot of people believe that this could be the year that we see ourselves within the final. As a team, individually we'd like nothing better than that. But we also respect the game of cricket," he said.
Bavuma said there is a sense of calmness in the dressing room unaffected by the adversities of 1992, 1996, 2007 and 2015 when they had endured semifinal heartbreaks.
"I guess they're all important in the semifinals. I think like you say with the way we've performed as a team it's obviously created a lot of positive sentiment but obviously high expectation," he said.
"There's a sense of calmness within the team and obviously the normal level of anxiety that you would expect of going into the game tomorrow. But I think we'll take a lot of confidence with our performances up until this point," he said.
Personally, Bavuma was excited to play in a World Cup semifinal.
"You want to treat it as just another game. But I guess you're forcing me to acknowledge that occasion. With that opportunity, I know it will mean a lot for the family and people back home.
"It would be nice to have another press conference with you guys on the 18th of November (ahead of final) -- but yeah try not to get too much into those emotions," he said.
Not 100% fit but confident of playing
Bavuma had a hamstring issue during their last match against Afghanistan and the skipper said he's still not 100 percent fit for the semifinal.
"Physically, I feel alright, obviously not 100 per cent. I can't tell you medically, but I think for me from a feeling point of view, that's what I can attest to," he said.
Bavuma, however, said he's confident of making the playing 11.
"I'm quite confident, but I mean, it's not a unilateral decision that will be made. In a state of mind, obviously a bit nervous about the game," he said.
Talking about his mediocre form in the event, Bavuma said he would take confidence from the good starts he had given with Quinton De Kock a couple of times.
"Yes, I haven't scored the bulk of the runs within the team. Got it in quite a couple of times, haven't converted." "So, I guess from that point of view, also knowing that I play a key role with Quinton up top in terms of our partnership, we've been involved in a couple of 50 plus partnerships, so I take a lot of confidence in that.
"I guess tomorrow my focus will be a lot on that, making sure that if we're batting first, we make sure we take care of that first 10 overs. And then generally after that, it's about me personally as a batter and if I can be ruthless." Bavuma played down the pressure factor.
"The pressure will always be there. I think even if at this point, I was averaging 50 or whatever, I'd still feel pressure. But you have to go out there and deal with it."
Two-spin ploy
Bavuma said he would go with two spinners -- Keshav Maharaj and Tabraiz Shamsi -- the combination he preferred against India in their last match here.
"We feel that it potentially could be a wicket that assists the spinners a lot more. So, I guess naturally, so there will be a focus on our spin.
"If it is up to me, I'm definitely playing our two front line spinners. Keshav (Maharaj) and (Tabraiz) Shamsi. We obviously have Aiden (Markram) as well, who also gives us an option there," he said.
Their batting suffered a meltdown against India and were shot out for 83 with Ravindra Jadeja and Kuldeep Yadav sharing seven wickets between them in a group match here on November 5.
But Bavuma said their batters don't have any insecurity complex.
"I don't think there's an insecurity or anything like that within our spin play as a team. We know we've played spin quite well from whatever angle you look at it statistically or whatever," he added.