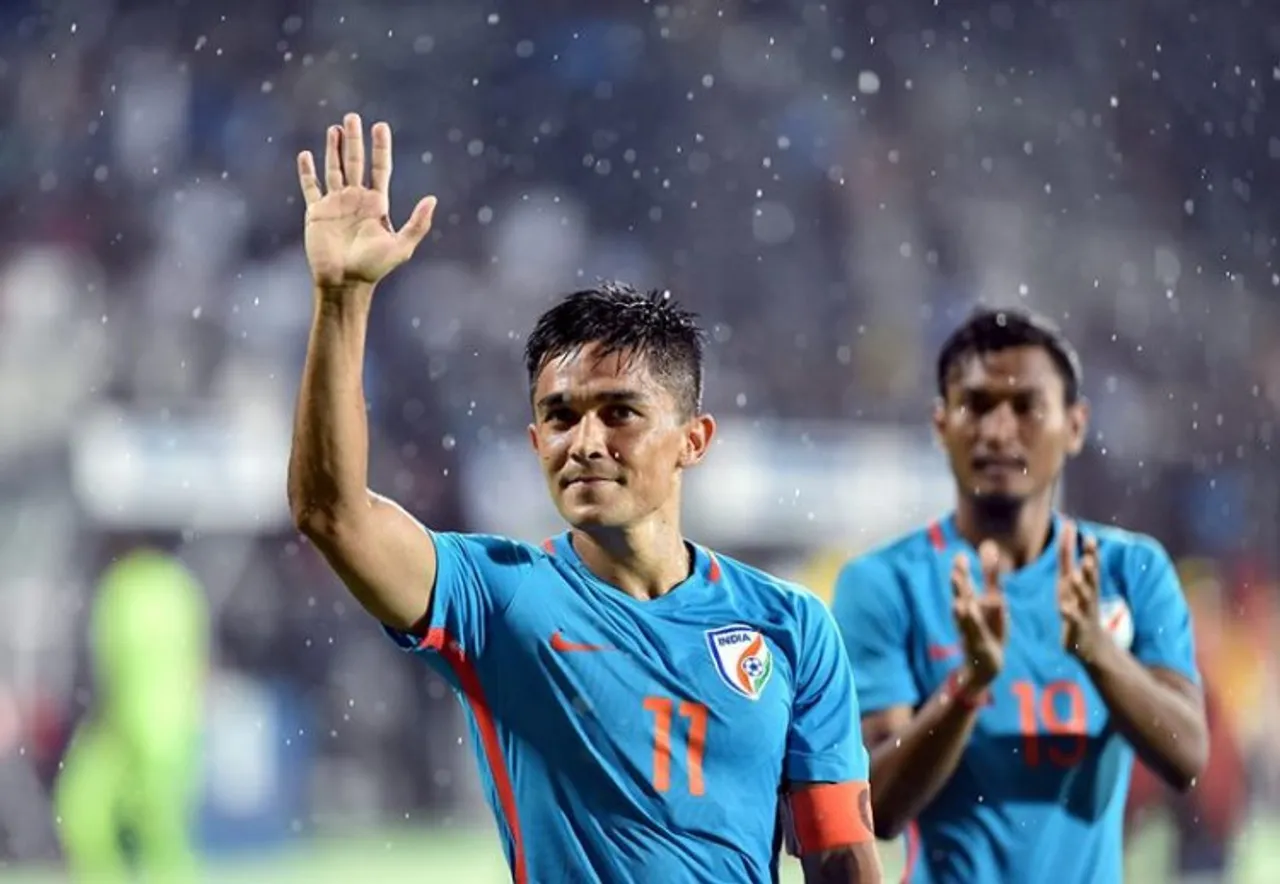 New Delhi: By his own admission, Indian football talisman Sunil Chhetri is in the "bonus period" of his illustrious career but he has not set any retirement date.
One thing is, however, certain that the 39-year-old Chhetri will not be playing in 2026 when the football World Cup happens.
"I'm just happy that I'm here. This is the bonus period, I'm just enjoying it, I don't know when it's going to end. I just want to enjoy it," Chhetri said ahead of India's 2026 World Cup second round qualifiers matches later this month.
"Because I'm 39, I don't have long-term targets as far as me being on the pitch is concerned. I think about the next three months, and then the next three months, and then we see how it goes," he was quoted as saying by fifa.com.
India have been drawn in Group A along with Qatar, Kuwait and Afghanistan. They play Kuwait in an away match on November 16 before taking on Qatar on Bhubaneswar on November 21.
The group winners and runners-up from each of the nine groups advance to the third round of the 2026 World Cup qualifiers. The 18 teams will be divided into three groups of six teams in the third round.
The top two teams of each group qualify directly for the 2026 World Cup, while the third and fourth-placed teams advance to the fourth round, which will decide two more Asian qualifiers for the showpiece.
Chhetri will be less than two months short of his 42nd birthday when the next FIFA World Cup happens in June 2026, and he is realistic enough to accept that playing at the global showpiece may be beyond him.
"When I dream, I dream more as an Indian, more as a fan. Me being there in any capacity, it doesn't matter, because I know I'll be a fan. I'll be watching every game that India plays and rooting for my country.
"Right now, I feel really good physically. I can see that I do contribute to the team, both for my country and my club. As long as I'm enjoying it, I will be here.
"I don't know how many days, how many months, how many years that will be. The day I stop enjoying, and the day I can't contribute, I will be done." Chhetri has played for India 143 times since making his debut in 2005 and has scored 93 goals, the most by an Indian. He is currently the third most prolific scorer in international football among active players, behind Cristiano Ronaldo and Lionel Messi.
He said the national team has grown under head coach Igor Stimac, who took charge in 2019.
"If you see our performances, four years back and now, anyone will tell you there is a good jump. And that is something that has happened because of Igor Stimac and the entire team. Everyone has chipped in together, and everyone has pulled each other up.
"He (Stimac) is more than a coach, he is more like a father figure – or an elder brother for people like me who are fossils – to everyone. He understands and takes that part of his coaching job very seriously.
"He knows the psyche, he understands what a player is going through, what he needs. That is why you will see all the players are very happy with him," said Chhetri about Stimac who helped Croatia finish third in the 1998 World Cup.
Away from the football field, Chhetri and his wife Sonam Bhattacharya were blessed with their son Dhruv in August. Chhetri said that has changed his perspective on life.
"For the first five days, I didn't sleep because of excitement. I was awake the whole night just looking at him and talking to him. On the sixth day, my wife told me I had to sleep in a different room as she was worried I was too tired and was going to get injured.
"It's such an experience which can only be felt. Once you hold your baby, it is unbelievable. When I held my son for the first time, everything about you changes, the way you think about life changes.
"I just want to go back home wherever I am. Whenever I am going for an away trip, I just want to finish the games and go back home." India is unlikely to qualify for the 2026 World Cup despite 48 teams competing with Asia getting eight direct slots, but Chhetri said it will be a humongous achievement if it happens.
"When that happens, the country will go mad. As an Indian, it's going to be one of the best days of my life. I have so many dreams about that day. It is going to be humongous.
"The anticipation, the hope that it will bring to the complete nation is something that I know I will never forget in my life. There are so many people like me who can't wait to see that day, and I just hope it comes soon for us."