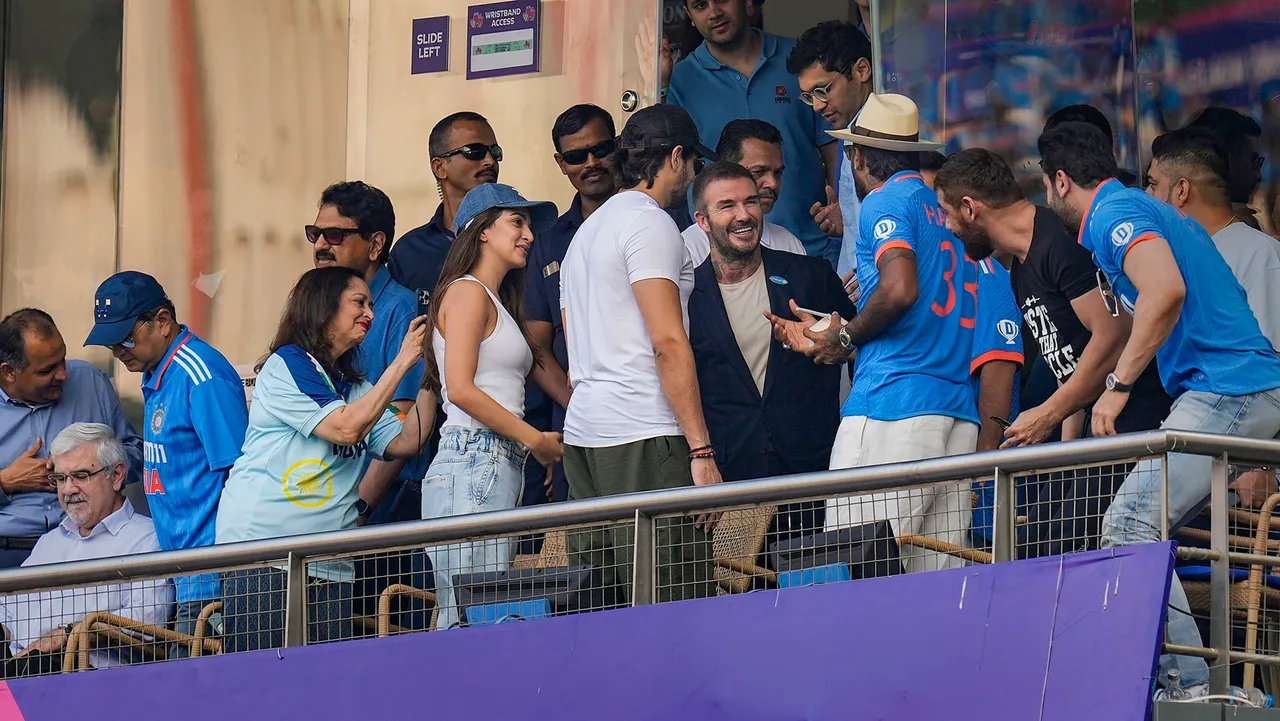 Mumbai: He came, he saw and he left, mesmerised by the electric atmosphere at the Wankhede Stadium, where Rohit Sharma and his men crushed New Zealand to enter the World Cup final.
Football great David Beckham watched the iconic Virat Kohli smash a record-breaking 50th ODI century and Mohammed Shami take seven wickets to break the Blackcaps' resistance.
He was the toast of the crowd when he entered the hallowed ground accompanied by Sachin Tendulkar and cheered by thousands of spectators in the stands.
"Electric, passionate, incredible," is how Beckham described the atmosphere at the Wankhede, which left him unable to decide whether football or cricket fans were louder.
"You know what? I would always say, football fans. But being here today, I'm not so sure. The atmosphere is incredible. The fans are creating an electric atmosphere and they're very loud, so I'm not so sure," Beckham said in a video posted by BCCI on Thursday.
Answer it like David Beckham 😎

From witnessing an electrifying atmosphere at Wankhede ⚡️to meeting the legendary Sachin Tendulkar 🤝

David Beckham describes it all 👌👌 - By @28anand

WATCH 🎥🔽 #TeamIndia | #CWC23 | #MenInBlue | #INDvNZ https://t.co/fdmjGFcnsI

— BCCI (@BCCI) November 16, 2023
Beckham, the Manchester United and Real Madrid icon known for his free-kicks, said the Wankhede experience had left him with goosebumps.
"I think, it's nice to step into a stadium and get goosebumps, and I felt that as soon as I walked into this stadium. There's something about it that maybe because I was walking with Sachin, maybe that made it feel even more special.
"But you can feel the energy within the stadium even when there wasn't that many people in at the start, you feel the energy," he said.
Beckham is in India as UNICEF's goodwill ambassador -- a role which he took up in 2005.
On how it felt meeting Tendulkar and being introduced to Team India, Beckham said it was "very special".
"I met Sachin for the first time at Wimbledon one time, and it was special to meet him then. But, firstly, he's the best. He's the best, but as a person, he's also even better.
"So for me to spend some time with him in his house was very special and to meet all of the players as well.
"They're going into a very important game, so it was nice that they was (were) able to come over and say hello, and it was a pleasure to meet them all," added Beckham, who was also pictured having a conversation with Kohli at the stadium on Wednesday.
The co-owner of Major League Soccer (MLS) club Inter Miami when asked if given an option in cricket what would he have chosen -- bat or ball -- he replied, "I used to play cricket when I was a young kid at school and I always liked being the batter, but I also like to bowl and I also like to field.
"So, maybe, I'm also an all-rounder, but I see myself more as a batter." Describing his first experience in India he said it's being incredible and wished why didn't he visit the country before.
"You know, it's my first time in India and it's been an incredible experience. I can't believe it's taken me so long to come to India. But now I'm finally here, I can't wait to come back. I suppose all of the stuff that I've been doing with UNICEF, meeting incredible young children, inspiring young children, especially some young girls, that were truly inspiring.
"Everything that they were saying and they want to believe in and change, but I think the whole experience from the people, the children, the food, the energy here in the stadium and being here for Diwali and the New Year and the cricket World Cup, it couldn't have been any more perfect," he added.