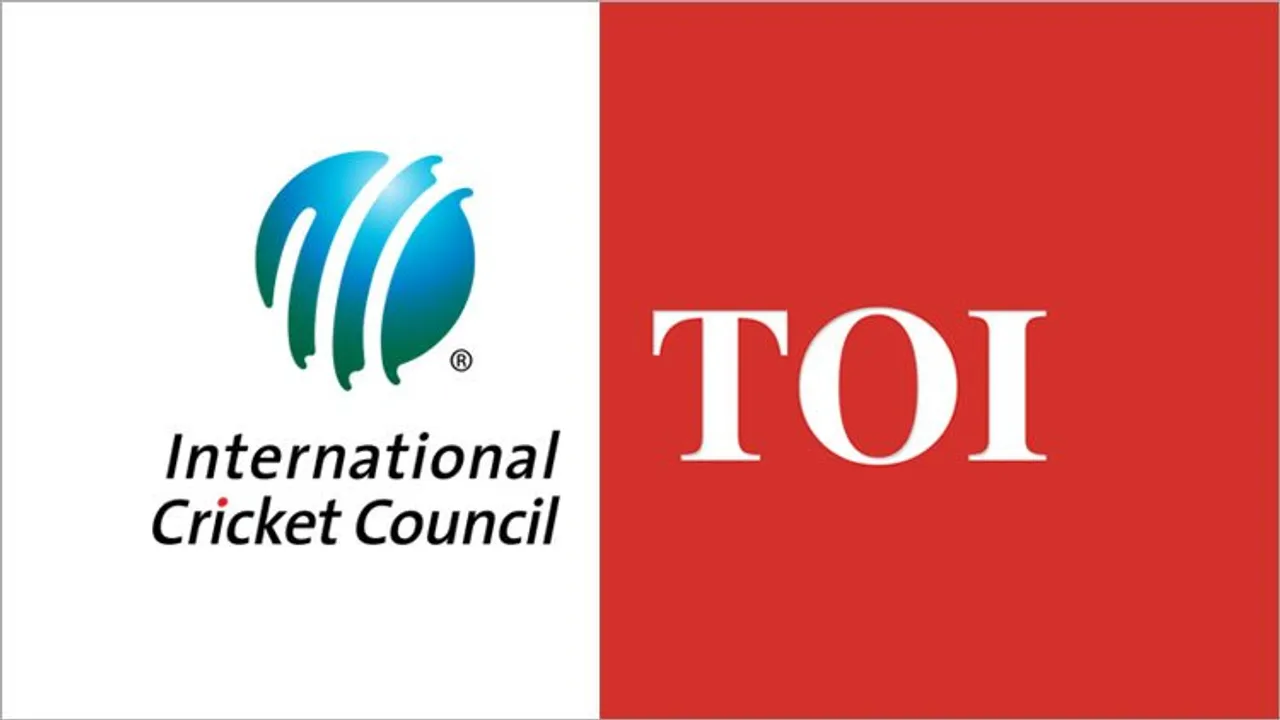 New Delhi: International Cricket Council (ICC) has had to tender an apology to India's leading national daily The Times  of India for labelling one of its senior editors as a corrupt journalist during a live ZOOM press conference in July. 
Surprisingly, the newspaper silently and 'graciously' accepted the 200-word apology by Claire Furlong, General Manager - Marketing and Communications.
Also read: Airbags of Cyrus Mistry's Mercedes-Benz GLC SUV worked; not wearing seat belt cost his life
Even more interesting is the content of apology e-mail wherein ICC can be seen promising indirect favours to 'compensate' TOI for its bizarre comedy of error and gold standard stupidity involving Claire Furlong herself in the presence of Greg Barclay, Chairman ICC and Geoff Allardice CEO, ICC.
The apology followed a comedy of errors at a virtual press conference arranged by the ICC but was also for an earlier tit-for-tat between the two parties.
Following the ICC Board meeting in July, ICC arranged a virtual press conference attended by Journalists from worldwide. 
After the briefing was over, ICC forgot to mute its mike which caught Furlong suggesting that K Shriniwas Rao of TOI was corrupt while she was talking formally to her bosses, Barclay and Allardice. As all three were heard discussing Indian journalists during the conversation, their laughing and chuckling are very much audible. 
She also referred to another senior journalist who works for a cricket website as "weird". 
All this does not augur well for the ICC, ahead of the next ICC Men's and Women's World Cups to be held in India over the next few years. 
Later, ICC itself distributed audio of that PC containing a formal chat between Furlong, Barclay and Allardice.
Realizing the embarrassing situation, Furlong's office called the Journalists who joined the PC and requested them to ignore and not to make public the last part of the audio.
Rao, who was discussed about, was not even present in that PC.
"As you know during the very challenging period for the ICC, a formal complaint was made by the ICC about Mr. Rao reporting," Furlong wrote in the mail addressed to all top editors of the newspaper, a copy of which is with NewsDrum. 
"This happened for a variety of reasons, and everything was in my control. However, I want to take this opportunity to apologise to Mr Rao and you all because I don't believe I conduct myself appropriately and could have operated in a very different way despite the immensely difficult circumstances and as such would like to withdraw my comments made with you." 
Rao refused to offer any comment.
Furlong, a British, is allegedly known for her soft tilt toward white block and her default vocabulary for journalists from other countries. However, there is no official complaint by any journalist against Furlong in this regard visible in the public domain.
Even during the T-20 world cup in UAE last year, one of the officials from the Emirate Cricket accused her for 'colour discrimination' in full public view but he never filed any complaint in favour of his allegation.
ICC had not only filed a complaint against the journalist but also sent him legal notices for his reports against ICC for three years. But ICC's apology now wishes to see a happy ending.
NewsDrum sent three emails for clarification about the incident and such perception about her in two weeks but Furlong did not respond.
Furlong further wrote in her apology email to TOI, "I spoken to Mr Rao about this and my desire to work more closely with him and accept it will take time to rebuild the positive relationship once we enjoyed- A responsibility that is mine alone. He has been gracious in accepting my apology for which I am grateful."
Furlong finished her apology letter by saying, "I hope as we build toward the ICC men's cricket world cup 2023, we can work closely with The Times  of India editorially and in our 'promotion and marketing' of the event."
Here is the full audio of the press conference. Jump to 16:00 minutes onwards to listen to the off camera remarks against Rao: