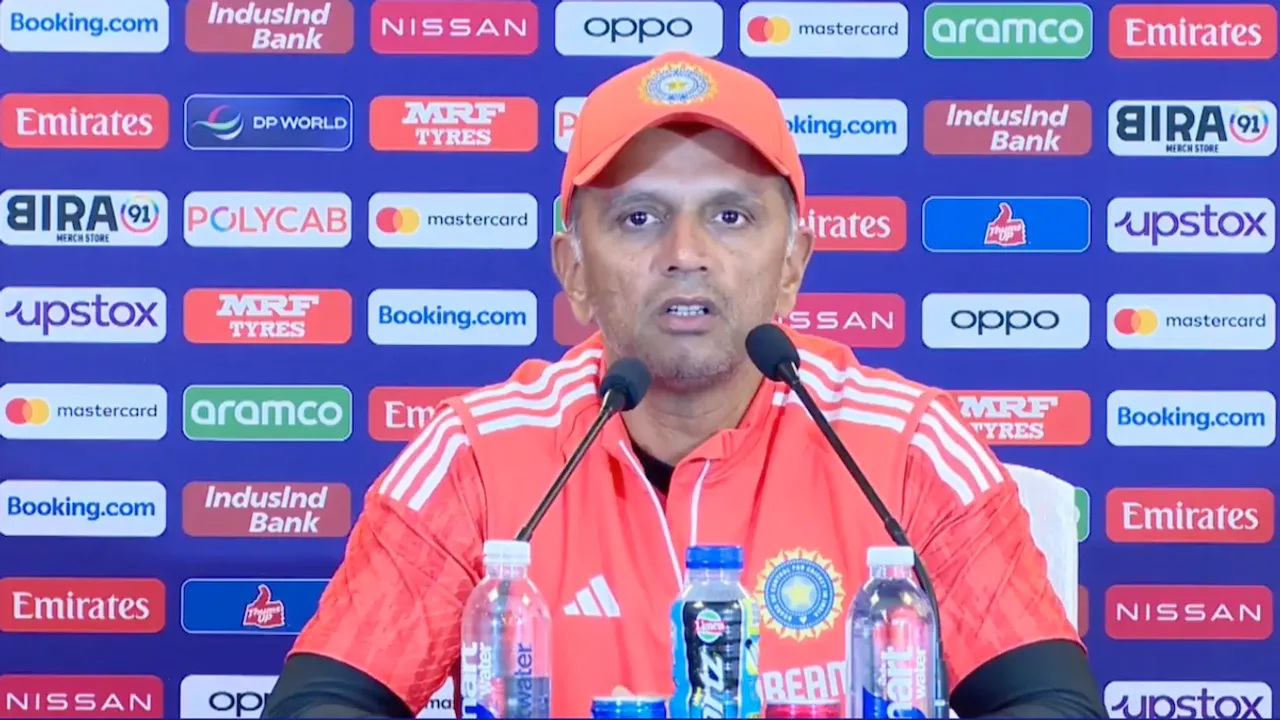 Bengaluru: There was a hint of concern surrounding the Indian middle-order, particularly around KL Rahul and Shreyas Iyer ahead of the World Cup, but head coach Rahul Dravid on Saturday expressed his delight over the manner in which they responded to the task at the showpiece.
Rahul returned from a tendon injury during the recent Asia Cup while Iyer had to battle against a back spasm before getting fit just in time for the marquee event.
While they have not set the stage ablaze, Rahul's tally of 245 runs andIyer's 293 runs have allowed India a good degree of batting solidity in the tournament.
"How well your middle-order performs in challenging situations under pressure, is going to probably decide how well you do. While our top order batters performed exceptionally well, I think our middle-order played very critical roles," Dravid said.
Dravid was not worried about the fact that the numbers of players like Rahul and Iyer were not as glossy as some other batters in the side.
"You can't judge them by numbers. It only gives you half of the picture, but it's actually some of those 30s, 40s, critical knocks. I can look back at the contributions of our middle-order and they'll come only in sort of spurts -- a Shreyas (Iyer), or a KL (Rahul), or a Surya (Suryakumar Yadav), and Jaddu's (Ravindra Jadeja) important knock in Dharamsala. These small things actually what really gives you those ticks," said Dravid.
The former Indian captain was impressed the way Iyer made his comeback into the side after his injury to make some vital contributions.
"He brings temperament -- one of the things Shreyas has shown us from the time I have seen him at India A -- the way he handles success and failure. He's able to bring the best out of himself under those pressure situations," said Dravid.
"Guys like that who have incredible temperament and strength of mind, and I think that's what has held him in really good stead. He's terrific temperamentally. So, when someone like him does well, you know he's going to make big contribution," he added.
Apart from Rahul and Iyer, India also had injury worries over pacer Jasprit Bumrah and left-arm spinner Jadeja in the run-up to the World Cup.
But both the players recovered well in time to play in the quadrennial big bash, and made a telling impact.
Bumrah's spells -- in the Power Play or at the death -- have given India an undeniable edge, and the 29-year-old so far has taken 15 wickets from eight matches.
Dravid acknowledged the effort these players have put in to make a comeback and also credited the National Cricket Academy and team support staff for helping them recover efficiently.
"Obviously, a lot of thought and planning have gone into it. You need a little bit of luck as well. I think it's been great for us to have those guys back fit and ready just in time for this tournament. Our margins were tight," he said.
"We knew that some of them would be coming in just at the Asia Cup and prior to this tournament. So, we had to make some contingency plans.
"But the fact that they were able to come into this tournament is a tribute and to their own hard work, the efforts of the NCA, the physios, the trainers for ensuring that, we stuck to those timelines," he said.
Dravid said the Indian side responded nicely to the challenges despite losing left-arm spinner Axar Patel ahead of the tournament and all-rounder Hardik Pandya during the event to injuries.
"At the World Test Championship, we missed a couple of guys. Even here we have missed a couple of guys, one before the tournament and one during the tournament. But we've been able to respond really well so far.
"It's not easy. Sometimes people think, oh, it's easy to get injured players playing. It's not that simple. You know, when you have an injury in normal life and getting back to normal office work is easy, but getting back to people to professional sport is not easy. So, well done to everyone so far," he said. Dravid was also impressed with the way India managed to adapt to conditions across different venues during this tournament.
India have played all their eight matches so far at different stadiums and Bengaluru will be their ninth in as many games.
"I think we've maintained some really high standards -- in terms of our execution and intensity. I think we've travelled the length and breadth of this country and played in eight venues. This is our ninth venue. We know we have nine boxes to tick, and we've ticked eight," he concluded.