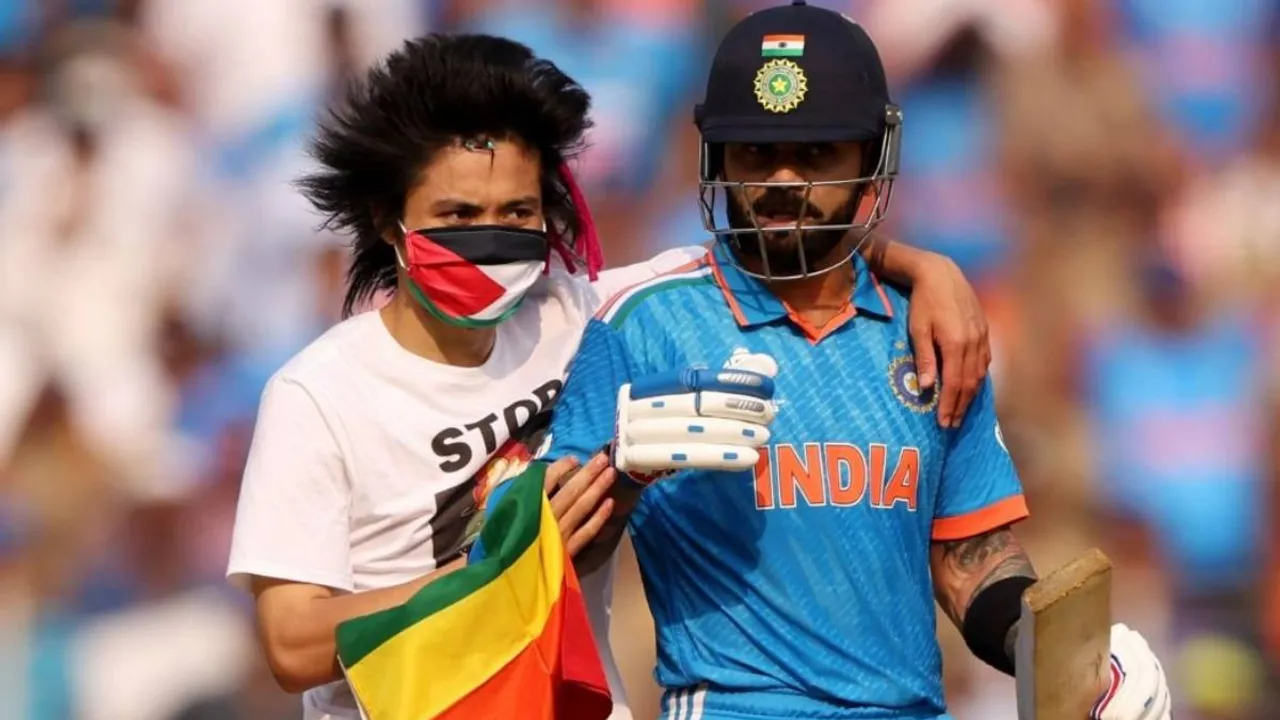 Ahmedabad: A pro-Palestine fan breached a tight security cordon to enter the field of play in a desperate attempt to hug Virat Kohli during the World Cup final between India and Australia here on Sunday.
City police have booked the 24-year-old fan, identified as Wen Johnson, on the charges of trespassing and obstructing public servants in the discharge of duty. He has been detained and taken to Chandkheda police station.
The incident happened before the first drinks break.
The security personnel immediately apprehended the man.
"The Australian national, identified as Wen Johnson, has been detained and booked on the charges of trespassing and obstructing public servants in discharge of duty," said Viraj Jadeja, inspector, Chandkheda police station.
Johnson wore a face mask bearing the design of a Palestine flag and a T-shirt with slogans- 'Stop bombing Palestine' and 'Save Palestine'- written on the front and back sides, respectively.
The ICC doesn't allow any political sloganeering during events organised by the global governing body of cricket and any such act is also not allowed in India.
A preliminary probe has revealed that Johnson is a habitual offender and was booked in his country for invading sports fields in the past, said Jadeja.
"Johnson told us that he is a fan of Virat Kohli and wanted to meet him during the match. He wore the pro-Palestine T-shirt just for the sake of it. Otherwise, his main aim was to meet Kohli," the police officer said.
Johnson was detained after the registration of FIR in the evening.
In some of the videos and photos he has shared on his Instagram handle 'pyjamamann', Johnson can be seen invading fields during football games and being taken away by security personnel.
In one such photo, Johnson can be seen wearing a T-shirt saying "Free Ukraine" as he intruded a pitch.
Johnson put on a normal T-shirt over the one with pro-Palestine slogans to enter the stadium. He then removed the outer T-shirt before running towards Kohli, who was batting at that time, Jadeja said.
When asked about his motive, Johnson told reporters at the police station that he wanted to meet Kohli and that he was wearing the T-shirt with the slogans because he supports Palestine.
Israel and Palestine militant group Hamas have been engaged in a war since October 7.