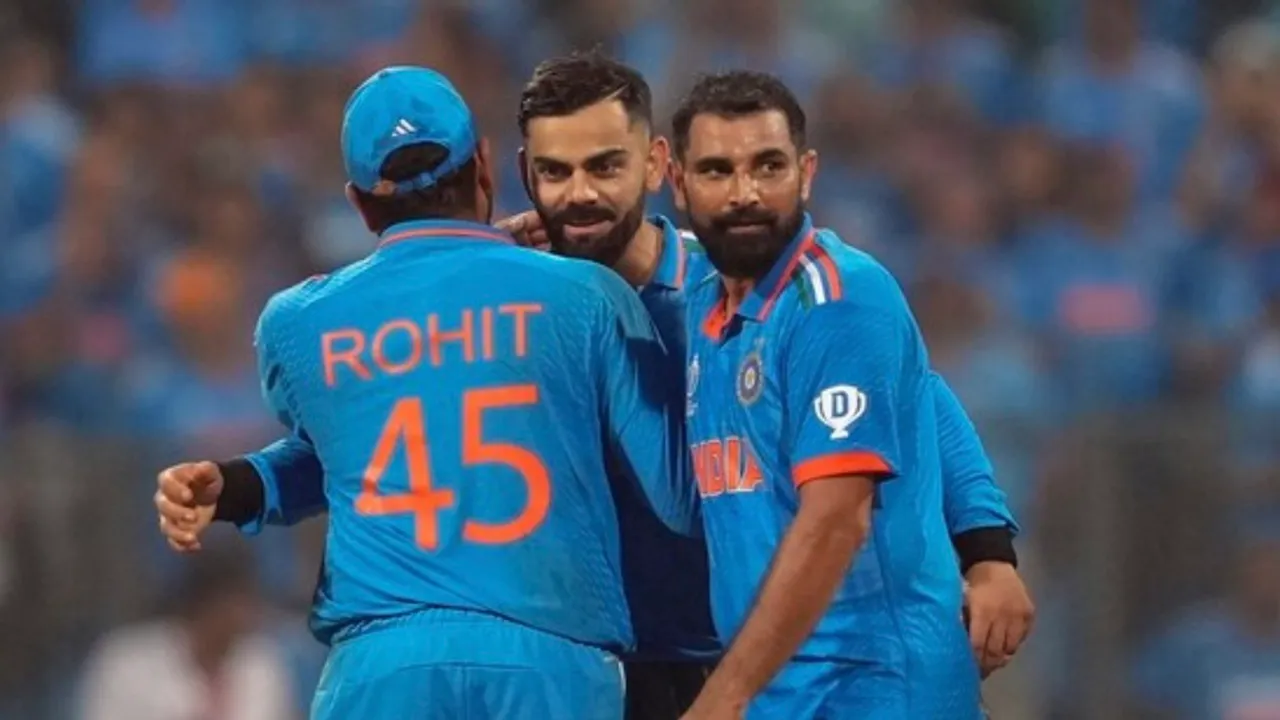 Ahmedabad: Rohit Sharma of Borivali, Virat Kohli of Paschim Vihar and Mohmamed Shaami of Amroha are all bound by a common thread.
They didn't get anything on platter and know the value of standing on top of the world after years of blood, sweat and hard work.
On Sunday, for all practical purposes, it will be one 'last dance' as the legendary Michael Jordan would have put it, for the terrific trio.
It won't be wrong to call them 'concord trio' as terrific is too cliched for their comfort.
Concord means- agreement and harmony between people and groups.
A 13-year-old Rohit couldn't afford Rs 275 per month tuition fees which would have got him admission to Vivekananda Public School, which had a good cricket team and fine coach named Dinesh Lad.
Kohli as 15-year-old had to endure heart-break when notorious officials of erstwhile Delhi & Districts Cricket Association discarded him after U-15 state team trials.
Shami, a naturally gifted fast bowler travelled all the way from his Sahaspur village to metro city Kolkata, stayed in club mess, bowled on unresponsive tracks and burst into horizon without a Godfather and despite not playing age group cricket.
Today, Rohit can intimidate fastest bowlers, Virat's giant stature in international cricket is visible even from a mile and Shami's passionate love for an upright seam position is bringing the right results.
Rohit and Kohli – the two senior-most statesmen of this team have spent 16 and 15 years respectively in that Indian dressing room and do know how it feels to be a World Champion.
But even they would admit that 2023 would mean a lot. They took the centre-stage in the showpiece, showed the world what they are made of and walked away from the global meet with honour and distinction.
Shami, a champion bowler has played two World Cup semi-finals, has never tasted the sweet success of a global trophy.
"I don't believe in auras and stuff. You have to land up and play good cricket. If you make mistakes tomorrow, all the good work of 10 games will be wasted. Past and future aren't things we fret about, and we have focused on the present. What happened in 2003 is something I am not thinking about," Rohit said before the biggest day of his cricketing career.
He has six IPL titles including five as skipper, 2 Asia Cups as skipper, one T20 World Cup as a player but that 2011 snub is somewhere embedded at corner of his heart.
"I don't want to go back there. It was a very emotional period. I think I'm sure everyone knows about it. It was a very hard time," he said, his eyes not showing any emotion.
Opening the batting changed a lot of things and last 10 years is the best of Rohit that we have seen.
For Kohli, it has been a journey of two parts – one that ended with 2019 semi-final heartbreak and the other that started on that 'starry' night at MCG when Harris Rauf was hit for a straight six.
In between, there was a period of lull, no centuries in any format and India's most followed sporting icon dealing with the demons in his mind.
"I thought about it and I came to the realisation that I was trying to fake my intensity a bit recently. You are convincing yourself that you can do it and you have the intensity, but your body is telling you to stop. Your mind is telling you to just take a break and step back," Kohli had said a year back, admitting that he was losing a bit of love for something he has done for 20 plus years since age of 10.
"I was experiencing that I was not excited to train, I wasn't excited to practice, and that really disturbed me because this is not who I am, and I literally needed to step away from that environment," Kohli admitted.
There are times when one just needs to intentionally drift away from the thing one loves the most. Kohli stayed away from his love only to feel that drive and urge once again.
Then the Rauf six happens and 'King Kohli' was back where he belonged. The rhythm and the flow started coming back and the result was 50th ODI hundred.
For Shami, the darkest hour was when Committee of Administrators (COA) strangely kept him out of team after his personal life came into prominence for all the wrong reasons.
He was literally in hiding from public for some time, police cases filed and from there the journey to the top started.
In that disturbing phase, he could have easily been broken and fell apart but instead we saw Shami 2.0. The perfect seam position, slight tweak in run-up, changed diet and ready to do what the team needed him.
They call him 'Lala' and ask any player, facing Lala in the nets isn't a great experience. He doesn't want to stop before someone gets out.
"You don't need to feel guilty or bad if you aren't playing," he had said after getting five wickets in an ODI in Mohali.
He knew that he was playing that game as team's second choice pacer Mohammed Siraj was rested after a brilliant show in the Asia Cup final.
One feels bad for Hardik Pandya's bruised ankle but had it not been torn, we wouldn't have seen the best of Shami.
Rohit, Kohli and Shami have actually given India this aura of invincibility. It's one more step for them, a chance for 'last dance' because they may not be around when the next ODI World Cup comes.