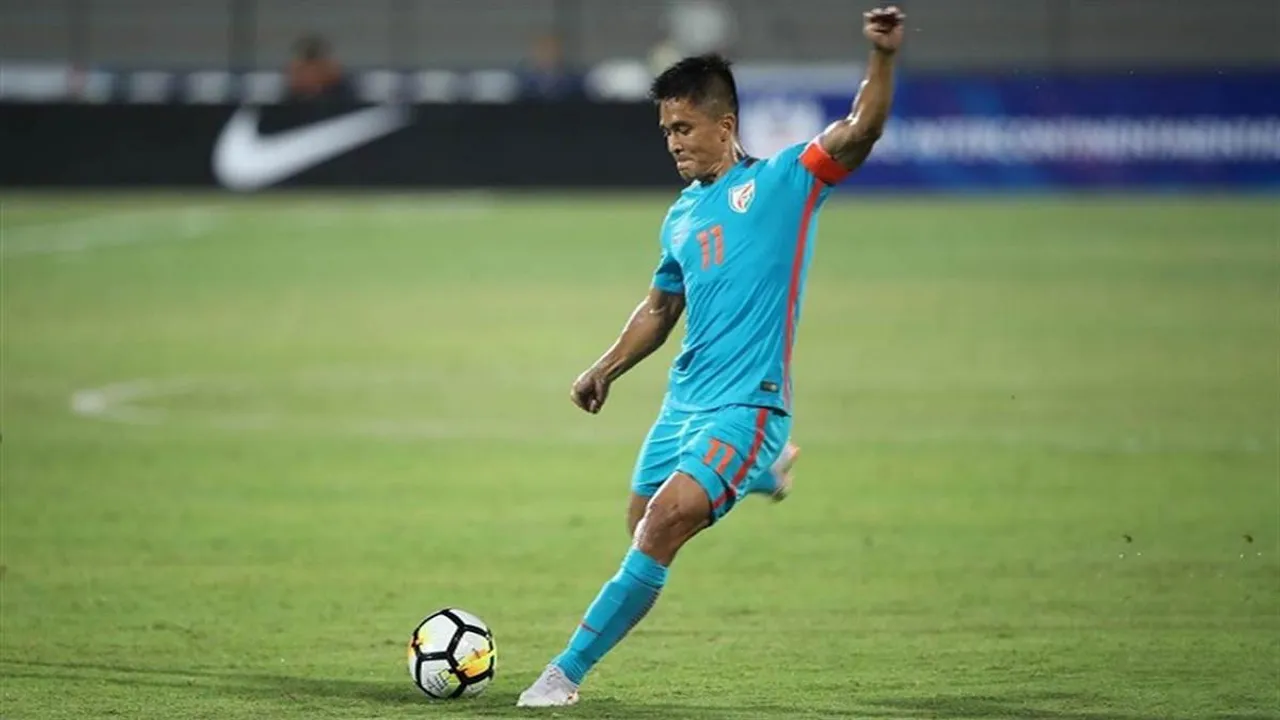 New Delhi: Sunil Chettri was a 'backbencher and prankster' who made fun of senior players during the early days of his international career, but all that changed after he was made captain in 2011 as he realised that he needed to set examples for the team.
After the legendary Bhaichung Bhutia's retirement in the 2011 Asian Cup, then coach Bob Houghton elevated Chhetri to captaincy to lead a young side in the AFC Challenge Cup Qualifiers in Malaysia two months later.
"The day I was given the armband, it was in Malaysia by Bob Houghton, there was an instant pressure because of what I was -- a backbencher," Chhetri said on an episode of 'Let There Be Sports' streaming on Disney Plus Hotstar.
"Myself, Steven (Dias) and (NP) Pradeep made fun of the senior players, that was me. Everything was a prank and I was mischievous.
"But when I wore the armband, for the initial three-four games I started sitting ahead," added the 38-year-old, whose last major tournament for India could be the Asian Cup 2024 in Doha.
"That was me taking the pressure that I have become captain now. It's not these things but doing the right stuff that you were doing before and being a little more thoughtful. It's not only you, it's the team now," he added.
Senior players like Renedy Singh, Climax Lawrence and Mahesh Gawli played their last India matches in the latter part of 2011.
Chhetri made his international debut for India in 2005 in a friendly match against Pakistan in Quetta. He scored on his debut in a 1-1 draw. Sukhwinder Singh was the Indian team coach then.
Chhetri said he changed his approach to the game after taking charge as captain as he needed to lead the team by example.
"Before there was this mindset that I am Sunil Chhetri -- my dribble, my pass, my crossing, my goal. I would raise my hands and go home. Even if I received abuse, I would take them and go home.
"But now you are thinking about yourself as well, but also about the team on and off the pitch.
"And when I forced myself to think this way earlier, I was scared. I told myself to relax, the job is still the same. Be a good example on the pitch and off the pitch," he explained.
Chhetri, the third most prolific scorer among active international players with goals only behind Cristiano Ronaldo and Lionel Messi, said he made it a point to take the blame for the team's failures.
"More importantly, when there is a mistake, raise your hand and apologise. Because when the responsibilities come and you become a senior player, it becomes more difficult to say it was my mistake.
"That was what I learned when I became a leader, that it's okay, you are going to make a mistake. All the big ones have made it. And when the captain gets up and takes the blame, the whole morale (of the dressing room) changes," he added.
The veteran striker, who currently plays for Bengaluru FC in the top-tier Indian Super League, has won several titles and accolades during his professional career, but revealed that defeats taught him to stay grounded.
"It's a blessing to be Sunil Chhetri, very honestly. But to take losses in life is something that sports teaches you and that's what I take from football. Every now and then, even now, when I am who I am, a phase or a loss will come which will tell you that you are nothing," he said.