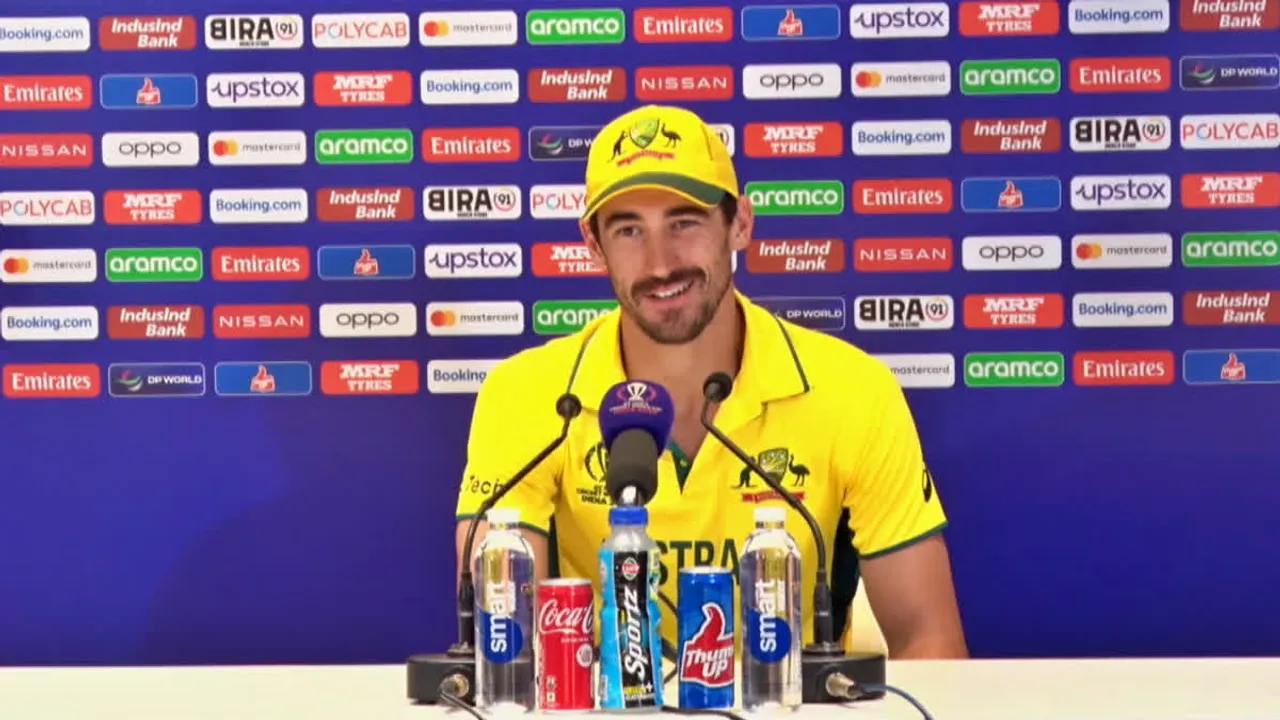 Kolkata: "We want to take on the best," Mitchell Starc asserted after five-time champions Australia set up a mouth-watering World Cup summit showdown with tournament hosts India.
Heading into the final with a perfect 10 wins, India have been the team to beat in the World Cup, and Australia are relishing the challenge of crossing swords with the formidable home side.
Australia on Thursday prevailed over South Africa by three wickets in a see-saw contest at Eden Gardens.
"We want to take on the best," Starc said at the post-match media interaction.
"They've been the best in the tournament so far and we both find ourselves in the finals. So that's what World Cups are about. It's why we play the game.
"We certainly come up against a team that have obviously led from the front through the tournament and they're undefeated," Starc said.
Both teams had crossed swords in their opening fixture of the tournament in what turned out be a one-sided affair with India winning by six wickets after bowling them out for a paltry 199 in Chennai.
"We played them in the first game of the tournament, now we get to take them on in the last. So yeah, what a place to be at the end of a World Cup," he added.
Chasing 213 against South Africa, their batters faltered against the South African spinners to make it a nervy win in the end.
Asked whether they would be wary of facing India's spinners at Ahmedabad, he said: "I guess we'll find out when we get to Ahmedabad tomorrow and see if it's a fresh wicket or an old wicket." The last time India played Australia in the World Cup final was back in 2003, when Starc was a sprightly 13-year-old boy.
"Apart from Australia winning, I don't know what happened in that game," he said.
He further said both teams are aware of each other's strengths and weaknesses and he's looking forward to the "spectacle" of facing India in front of a packed 130,000 crowd at Narendra Modi Stadium.
"It's a big occasion, it's a World Cup final. Certainly, guys in both changing rooms have been there before at different formats.
"Both teams played each other in the (World Test Championship) Final earlier in the year. I don't think either changing room is new to big occasions.
"It's going to be loud. There's going to be a lot of passion there and no doubt there's going to be different amounts of pressure at different times on both teams.
"It's just going to be a great spectacle of cricket. And certainly, everyone in our changing room is looking forward to the occasion," he said.
Nice to step up
By his standards, the left-arm quick has had a quiet World Cup taking just 10 wickets from eight matches before the semi-final.
But under overcast conditions, Starc with his new ball partner Josh Hazlewood ripped apart the South African top-order, taking four wickets inside 12 overs.
"Yeah, that's probably not been the tournament I would have liked from the get go but nice to step up in a big game. And I think our power-play was probably what got us on our way.
"There were other key moments throughout the day with bat and ball, but to start the game like that with Joshie (Hazelwood) and I, was great.
"Looking at Josh's pitch map -- that's what he does so well in Test match bowling. The way we run off each other to have that power-play that we did, and carry some momentum through to the middle overs was how we want to start matches.
"Power-play wickets have probably not been our strong suit throughout the tournament, so it's nice to have a power play, of two for 18 or something like that.
"I think a lot of guys in the field as well, the way Davey stepped up in the field and led by example. You could probably name everyone at different circumstances through the day to really step up in a big game," said Starc.
He also hailed opener Travis Head's 62 off 48 balls as Australia got off the blocks quickly, which proved handy in a tense chase.
Australia raced to 60 in six overs, as David Warner struck 29 off 18 balls.
"I think the way not only Trav but also Davey batted put the pressure straight on South Africa there in the first 10 overs.
"We've seen throughout the tournament how tough the first 10 overs can be at certain times of the day, with the hard new balls.
"When you're willing to take the game on like that and sometimes you take a little bit of luck with you, but the guys were fantastic in that opening partnership," Starc added.