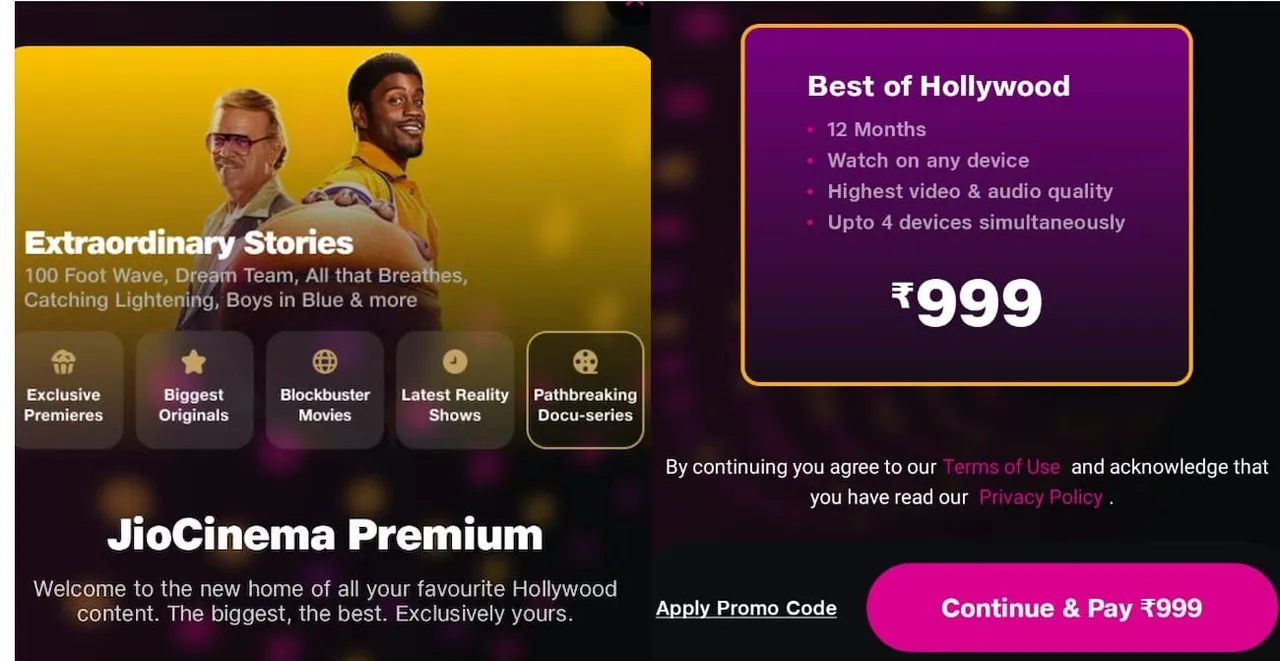 New Delhi: JioCinema OTT app has announced an annual subscription pack of INR 999 for HBO/Warner Bros content on the platform while IPL and other content continues to be available free.
Compared with the likes of Hotstar, Amazon and Netflix, whose pricing is in the range of INR 1000-2000 for an annul plan, JioCinema' pricing is at the lower end.
However, Elara Capital's Karan Taurani doesn't see a large scale paid subscriber base due to this as Indian audience is value driven and may not pay this price only for HBO/Warner Bros content.
"We don't foresee a large scale paid subscriber base for JioCinema only for HBO/Warner Bros content unless the platform offers more (new films direct OTT or any other global content) at this price," Taurani said.
However, it is understood that JioCinema is in the process of merging Viacom18's Voot into its offering.
"Consumers using global content definitely don't want to watch ads and hence Netflix, Amazon, Disney+ and other global giants have an ad free offering, which JioCinema is trying to target. IPL being offered free is actually to gain traction from the masses for JioCinema, but an ad free SVOD model with HBO/Warner Bros content will also help target the premium households," he added.
JioCinema may also bundle the HBO/Warner Bros content free for their premium Jio fibre subcribers or postpaid mobile subscribers, which have a higher ARPU, as they have the best control at list mile due to a large 4G subscriber base and may not need to tie up with a third party OEM or mobile operator. 
Taurani believes that this move by JioCinema will offer respite to India SVOD revenue and ARPU hike proposition, if extended to other content offerings. It also goes to show that pure play AVOD monetisation isn't a sustainable model for expensive content like IPL, HBO, web series and films. 
"Indian digital video market remains to be dominated by aggregators like YouTube (15% share of digital advertising) and only 8-10% of digital advertising revenue are from all other OTT platforms, which means it is indeed tough to scale pure AVOD revenues for OTT platforms due to presence of aggregators/social media. This move may allow other OTT platforms also to raise prices over medium term," he added.
According to Taurani, the issue of SVOD growth in india will be addressed by creation of bundled SVOD offerings basis factors such as 1) password sharing, 2) quality of content (HD, 4K), 3) number of devices/users, 4) some part of content ad free (HBO or IpL or any other offering), 5) TVOD, 6) value added offerings like gaming and 7) mobile only plans. 
"Adoption of SVOD bundles is a high likelihood, as raising blanket ARPU for OTT has a negative impact on subscribers growth in a market like India where 1) TV offers a large variety of content at cheap prices and 2) piracy through social media is a big challenge," he said. 
Taurani said that Jio Cinema will need to invest aggressively on user experience front too as all other major SVOD platforms are very seamless in their user experience, which is also a factor for customer retention apart from pure content.