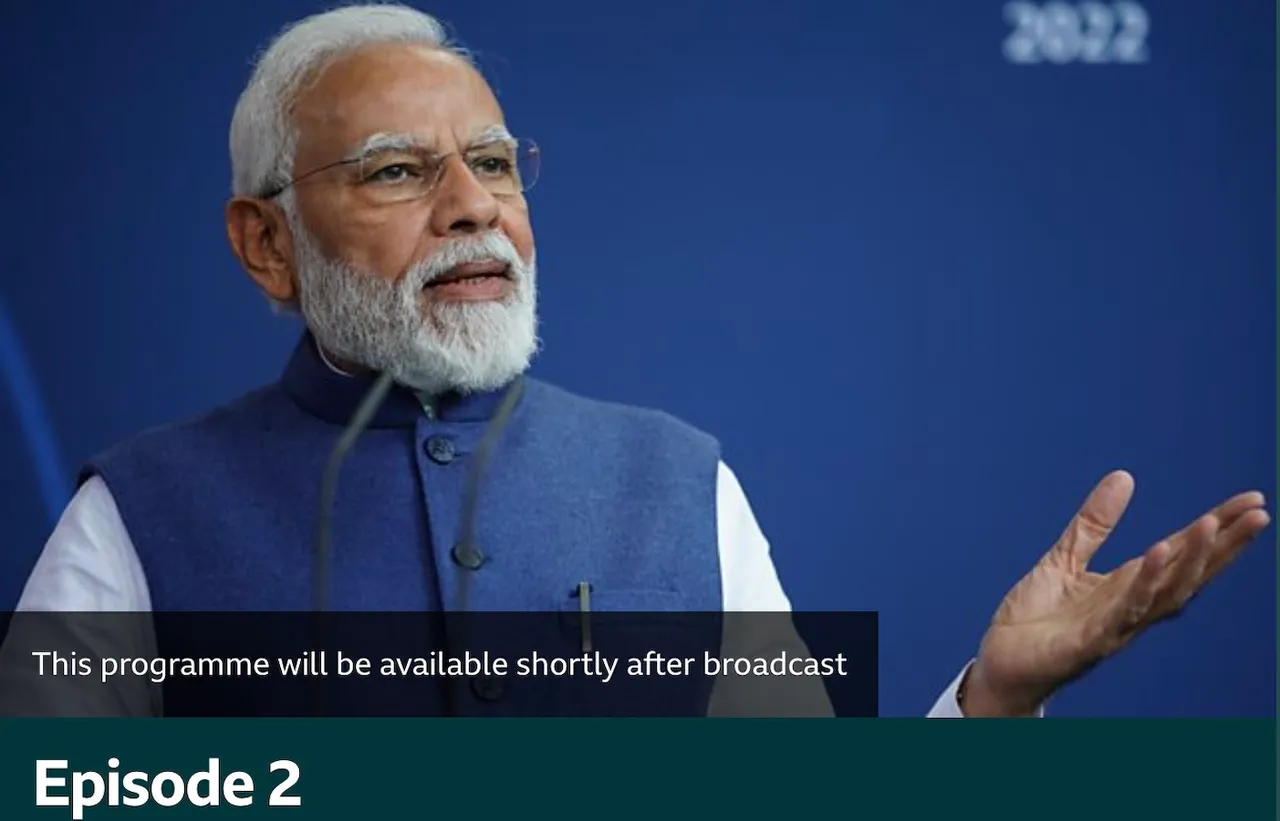 New Delhi: After raising the heat in Indian politics with its first of the two-part documentary on PM Modi, UK tax-payer-funded broadcaster BBC will broadcast the second part tonight at 9 pm (GMT), which is 2.30 am (India time) on Wednesday.
Part-1 of the documentary "India: The Modi Question" was categorised by BBC Two as "a look at the tensions between Indian PM Narendra Modi and India's Muslim minority, investigating claims about his role in 2002 riots that left over a thousand dead".
The second part of this series, scheduled to be aired on Tuesday, is pegged as a "look at the troubled relationship between Indian PM Narendra Modi's government and India's Muslim minority following his re-election in 2019".
According to the details available on BBC Two website, the second episode examines the track record of Narendra Modi's government following his re-election in 2019.
"A series of controversial policies – the removal of Kashmir's special status guaranteed under Article 370 of the Indian constitution and a citizenship law that many said treated Muslims unfairly – has been accompanied by reports of violent attacks on Muslims by Hindus," says BBC.
What is common in both episodes is the role of Amnesty International and its India chair Aakar Patel. Amnesty International and its activities were banned by the Modi government for alleged 'anti-India activities'.
Also read: BBC Documentary on PM Modi: What Indians need to know from the British
Describing the second part, BBC said that Modi and his government reject any suggestion that their policies reflect any prejudice towards Muslims, but these policies have been repeatedly criticised by human rights organisations such as Amnesty International.
"That organisation has now closed its offices in Delhi following the freezing of its bank accounts in connection with an investigation into financial irregularities, according to the Indian government, a charge rejected by Amnesty," the broadcaster said.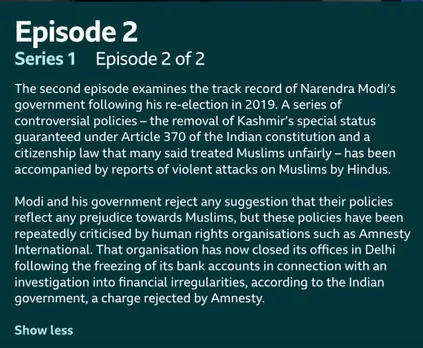 BBC's excessive concerns about Amnesty in the details of the part-2 of the documentary establish the Indian government's charges that the BBC documentary on PM Modi is a "propaganda piece" with a questionable agenda behind it.
However, it is not clear if the government was referring to the agenda pushed by Amnesty International and its India chief Aakar Patel.
"We think that this is a propaganda piece, designed to push a particular discredited narrative. The bias, lack of objectivity and continuing colonial mindset is blatantly visible," MEA spokesperson Arindam Bagchi said previously.
It is worth noting that Amnesty has been on the Modi government's radar for its alleged 'anti-India activities' for quite a long time.
In April 2022, the Centre gave the go-ahead to the CBI to prosecute Amnesty International India and its former chief Aakar Patel for alleged violations of the Foreign Contribution Regulation Act (FCRA), paving way for a special court to take cognisance of its charge sheet filed on December 31, 2021.
Following the charge sheet, the agency issued a Look Out Circular against Amnesty International India Chair Patel on the basis of which he was stopped from leaving Bengaluru Airport for the US where he was scheduled to deliver academic lectures in various universities.  
A magistrate court had allowed the withdrawal of the LOC but the order was overturned last Friday by a Special Judge who had asked Patel to not leave the country without its permission.  
The case was registered against Amnesty International India Pvt Ltd (AIIPL), Indians For Amnesty International Trust (IAIT), Amnesty International India Foundation Trust (AIIFT), Amnesty International South Asia Foundation (AISAF) and others in November 2019.
After the searches that took place post-FIR, Amnesty International India alleged that over the past year, a pattern of "harassment" has emerged every time Amnesty International India stands up and speaks out against "human rights violations" in India.
Though many in the country argue that non-government organisations (NGOs) started facing heat after the Narendra Modi-led BJP government came to power but the tightening of screws on foreign funding of NGOs had started when Manmohan Singh was Prime Minister.
In February 2012, PM Singh openly accused NGOs which had received funds from the US were trying to stall India's atomic energy programme.
The Manmohan government had faced stiff resistance from protestors over Kudankulam nuclear power project in Tamil Nadu.
Suddenly NGOs found that the Union Home Ministry was seeking more clarity and transparency in their funding. Started by the Manmohan government, the process continued at a faster pace when the Modi-led NDA government came into power in 2014.
All NGOs that receive foreign funding need to be registered with the Union Home Ministry under Foreign Contribution Regulation Act (FCRA).
In the NDA era, thousands of NGOs have lost their clearance to get foreign funding.
In this context, Amnesty India adopted a novel strategy to deal with funding issues. Amnesty started taking consultancy work for foreign entities and got paid for the work. Amnesty also put emphasis on domestic funding in order to keep away from foreign funds.
As things stand today, Aakar Patel can be found trolling the Modi government on Twitter every now and then.
image widget