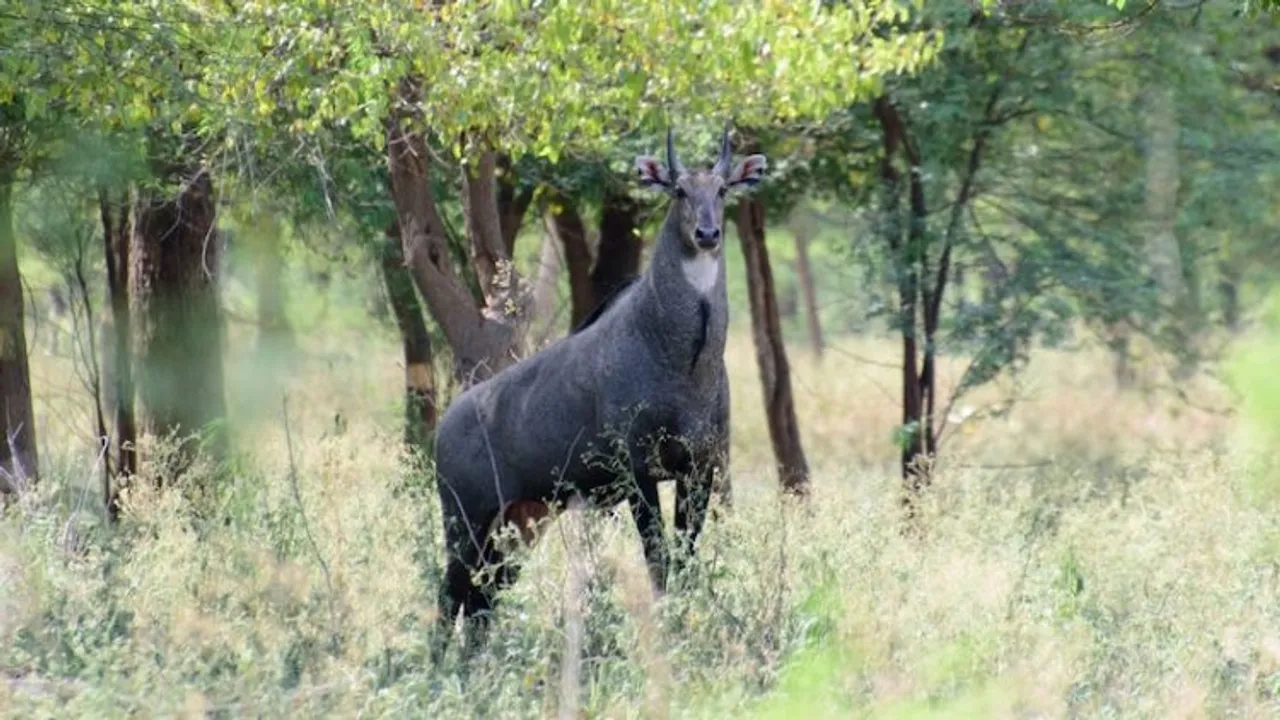 Chandigarh: In July 2020, Harpal Cheema, state finance minister in Bhagwant Mann-led Aam Aadmi Party in Punjab, slammed the then Congress government for approving a textile project in the vicinity of Mattewara forest and Sutlej River in Ludhiana district. 
Out of 955.6 acres earmarked for the project, 492 acres were already in government possession. The remaining land was to be added by purchasing shamlat (Common area) land of three villages of which biggest chunk of 416 acres was of Sekhowal panchayat.
It was in this Sekhowal village that Cheema, the then leader of the opposition, joined the public protest and went on to allege that the project was conceived to benefit the "land mafia". 
"AAP will not let this happen and strongly oppose the project in assembly," Cheema declared. 
He was not the only AAP leader to visit Mattewara. Kultar Singh Sandhwan, a two-time MLA from Kotkapura and the current speaker of Punjab Vidhan Sabha, was the strongest critic of this project.
Even AAP's two-time MLA Sarvjit Kaur Manuke from Jagraon (Ludhiana district) participated in public protest against the project and strongly demanded to scrap the project.
The then AAP state president Bhagwant Mann and now Punjab chief Minister too issued a statement, alleging that the Congress government was not bothered about the environment.
After the Congress government was badly defeated, Punjab's environment activists, locals of Ludhiana district and several other affected stakeholders were hopeful that the new AAP government would reverse the wrongdoings of the previous government.
This was the reason AAP managed to get such a huge mandate in the history of Punjab assembly elections when it won 92 out of 117 assembly segments.
But all were left shocked when Bhagwant Mann, during his government's first state budget last month, announced a mega integrated textile region and Apparel Park under the centre's PM-Mitra scheme on the same land that the previous Congress government identified for a similar textile project. 
"We will make sure that not even a drop of Sutlej gets polluted due to this textile park. All environment clearances will have to be taken and the pollution control board will regularly monitor the area." 
Mann had responded to his own party MLA Hardeep Singh Mundian, on whose constituency, Sahnewal, this project falls.
"Height of hypocrisy and double standards"
Jaskirat Walia, a member of the Public Action Committee (PAC), a group of Ludhiana residents and environment activists fighting against the project, told NewsDrum that it was never expected from AAP leaders that they would change their stand after forming the government.
He remembered AAP leaders like Kultar Singh Sandhwan were shoulder to shoulder with us to get the project scrapped.  But they changed their stance soon after coming to power.
Calling it a height of "hypocrisy", "double-standard" and "backstabbing" with the public, he said this was all drama when Mann said on the floor of the Punjab assembly that they would not let the environment degrade with this project. He said once this project is set up, there would be hundreds of axillary units of dying, clothing, and other pollutants used heavily in the textile industry. 
"The two sides of the project are adjacent to Mattewara forest, which, I would say, is lungs of already polluted Ludhiana, while one side touches the Sutlej River. One can imagine the level of destruction for the forest and the river if this project is allowed to be set up here," said Walia.  
"Plus, thousands of labourers would work here day and night. This project will ruin everything," he added
PAC recently held a press conference and revealed that the proposed Mattewara Industrial Park was renamed as 'Koom Kalan Industrial Park', to mislead people.
It is being set up in the centre of Sutlej and forest, rich in biodiversity. This park has the potential to poison Sutlej and destroy Mattewara forests entirely, it added.
As per the state forest department's website, the Mattewara Forest, spread over 2,300 acres, is home to many birds, monkeys, deer, sambar, antelopes, wild boar, Nilgai, and peacocks.
The Botanical & Butterfly Garden is one of the finest and fastest developing gardens being maintained by the Forest Division of Ludhiana. The Mattewara forest is also part of natural corridors for big cats. For instance, leopards passing through the jungles of Anandpur Sahib and the Ropar area can be spotted at the Mattewara.
Opposition to the project gains momentum
Even since Mann's announcement, PAC along with half a dozen other NGOs have been working overnight to gather public support against the project. They have planned a huge rally on the Mattewara itself on July 10 to send a clear message to the AAP government that they will not allow this project at any cost. Social media in Punjab is already active and is exposing AAP's "double-speak".
In one such tweet by popular Tractor2twitr_P on July 4, it wrote while referring to AAP's national convener and Delhi chief minister Arvind Kejriwal that his party unit in Maharashtra is protesting to save Aarey Forests in Mumbai. But the same party is justifying the devastation of Mattewara forests and the Sutlej River to set up an industrial park in Punjab.
"Why do forests in Punjab don't matter for AAP Punjab," it asked.
Aarey forest was back in the news after the new BJP-Shinde government revived the metro car shed project there.
Villagers of Sekhowal Panchayat whose 416 acres of common land was purchased for the project during the previous Congress government have also jumped in to protest.
Public meeting in Sekhowal village against the project
Kashmir Singh, a villager, said that they have heard the AAP government claiming that villagers of Sekhowal village had no objection to the project and they were already paid compensation for the land.
"But it is very well a public knowledge that the gram sabha of Sekhowal village had passed a resolution against the project but the then Congress government forcefully purchased our land for which our case of scrapping sale deed is already pending in district court as well as Punjab and Haryana High Court.
"It was never expected from AAP to revive the project. All Dalit families in Sekhowal earn their livelihood by cultivating the shamlat land. If it is taken away from us, we will be ruined," he added
Speaking to NewsDrum, Amandeep Bains, another member of PAC alleged that Punjab is paying for AAP's dreams to expand their national footprints. There may be some vested interest within the government. Otherwise what was the need to put the project on the fast track? 
"For AAP's expansion plans, our natural resources are on the verge of collapse. Our losses will be irreparable if this project is allowed to be set up," he added
Congress came in support of protesters, AAP govt unfazed
Congress leaders, who remained silent during their government, came in support of the 'Save Sutlej-Mattewara Campaign'.
Congress legislative party leader Partap Singh Bajwa recently held a media conference and flayed the AAP government on the project.
"Mattewara forest is adjacent to the city of Ludhiana, which is reportedly one of the four most polluted cities in the world. The industrial pollution of the city, such as toxic sludge from electroplating units, had been released into the Buddha Nullah. The untreated sewage had negative consequences on the quality of life in the city of Ludhiana. The new project would multiply the project," he added. 
Another Congress leader Pargat Singh said the project was ill-conceived and had serious environmental issues, therefore it must be immediately scrapped.
AAP government on the other hand appears unfazed by the criticism. AAP Punjab spokesperson Malvinder Singh Kang told NewsDrum that his statement was the same as that of the chief minister that this project was important to generate employment and promote industrial growth in the city.
"Mann saab has already clarified that we will not let ecology suffer because of this project," he added
When questioned on the allegations of the party's double standards, saying something else when in opposition and doing something when in power, Kang replied that it was political propaganda.
"We are very much concerned about Punjab's environment. No other political party except AAP sent environmentalist Balbir Singh Seechewal to Rajya Sabha from Punjab. This speaks volumes of our commitment," he added
Meanwhile, chief minister Bhagwant Mann recently revealed that while 463 acres of government land in the villages Ghari Fazal, Haider Nagar and Garcha have been transferred to Punjab Urban Development Authority (agency executing the project), another 493.99 acres of panchayat land in villages Sekhowal, Sailkiana and Salempur has also been acquired after paying due compensation.
All eyes on the NGT hearing on July 11
Project site inside Mattewara forest
Punjab's environmentalists have their eyes on July 11 hearing in National Green Tribunal (NGT) in response to a petition by PAC members against the project.
Kapil Arora, one of the petitioners on behalf of PAC, told NewsDrum that their major challenge to the project comes from the fact that the government has planned this project on the flood plain area.
There are several Supreme Court judgements highlighting the importance of flood plain areas to protect the rivers and their overall biodiversity.
"Earlier the area where the project was planned was a non-manufacturing zone. But the state government modified the Ludhiana master plan to allow manufacturing here, a notification that we have challenged in NGT, he added
Arora further informed that NGT, during its last hearing on April 8, 2022, constituted a joint committee comprising officials from Punjab Pollution Control Board (PPCB), Greater Ludhiana Area Development Authority (GLADA), district magistrate, Ludhiana and Divisional Forest Officer and asked for a "factual report within two months".
NGT, he informed, had also stated in its order that there should not be any damage to the flood plain zone of the river.
Arora said June 15 was the deadline for the committee to submit the report, which "we fear is yet not submitted."
"Let's how NGT takes cognisance of the matter in the coming hearing on July 11," he added.