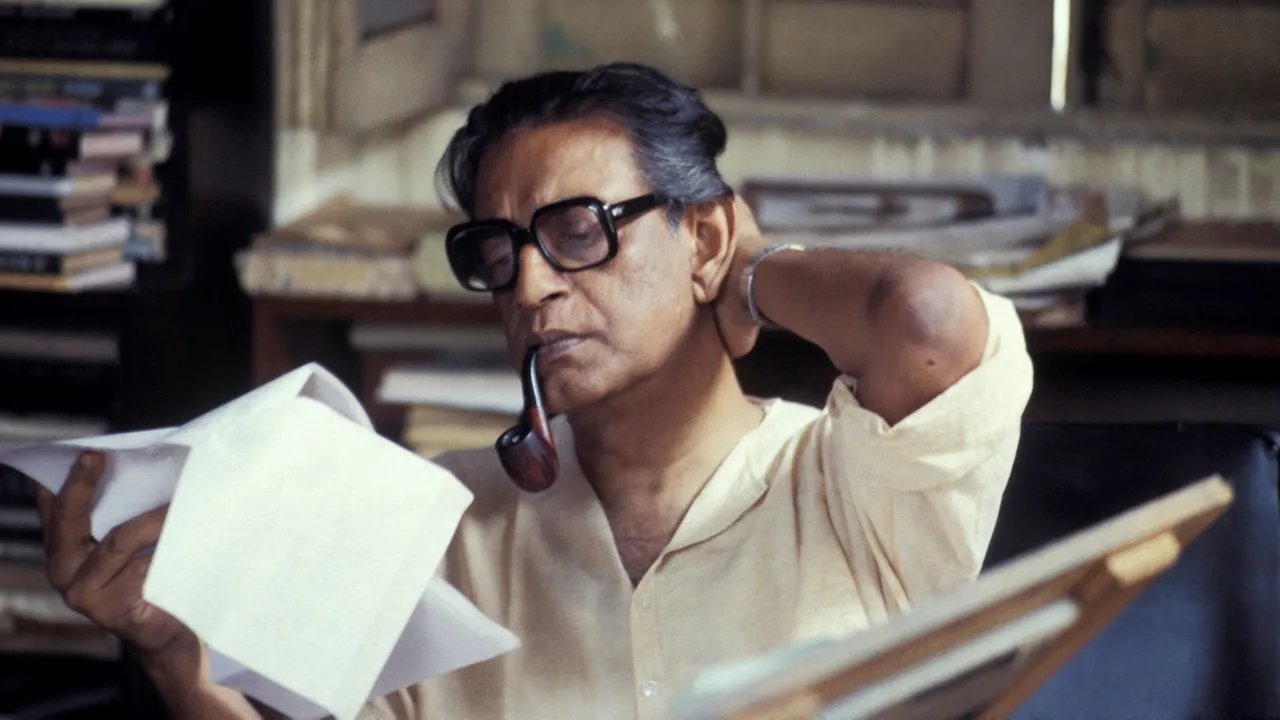 New Delhi: Greatness has the habit of resting clearly in either bracket - as a working inspiration for the future or as a point-in-time celebration of mastery. Satyajit Ray, whose birthday is today, needs to make the shift from the latter to the former, with a little help from his followers.
More than thirty years after his passing, Ray still resides in a seemingly unsurpassable cocoon, a non-mortal icon. Therefore, the attempt of most creative folks is to worship his work by deriving fresher meaning or to faithfully replicate, whether anecdotal cinematic nuggets or the endless variants of the Feluda series. Making matters clearly worse is the cinematic monopoly of his son Sandip - in terms of sheer talent comparable to Arjun Tendulkar vis-a-vis their illustrious fathers.
Perhaps a diversion to Sachin and sundry sporting heroes is necessary to drive home the point about legacy, where greatness is a living template which begs to be challenged. Clearly Sachin is unique but it can be justifiably claimed that Virat is an outcome of his exceptional benchmarking, rendered splendidly in a differing execution style. Just as Gavaskar took on the Bradman mantle and there are clearly many such instances of spontaneous lineage, derived from a celestial role model but rendered with sufficient originality and success. The universe of music and performing arts offer many such candidates - Elvis Presley, Baba Alauddin Khan and others acting as genius adhesives.
This is exactly where the Ray story comes to a screeching halt, as nothing frankly has moved since he moved on. His son still insists on making sub-par Feluda films, not a patch on his father's cinematic twosome, while dilettante versions by Srijit Mukherjee and now Arindam Sil ( to be released) qualify as guarded interpretations. Guarded because even the bravest executor will think twice about tampering with the associative imagery, in fear of offending both the maestro and the market. Professor Shonku, his sci-fi creation was brought to the screens bravely by Junior Ray but a whole host of other classics seek 70 MM fulfilment.
Continuing on films, the problems actually multiply. His pop-culture versions, as mentioned above and including the 'Gupi Bagha' series, do not enjoy a national audience and this is truly unforgivable. Regional nuances cannot be an excuse as proven by Byomkesh Bakshi and so many South India - Bollywood collaborations, as thoughtful screenplays can pack the dialectical essence. Even his artistic classics like the Calcutta trilogy for instance can easily be amplified for Non-Bengali India, if only a director dares to bite the brief. On-screen, he mostly remains a Bengali superhero with a global pawprint of appreciation, which is a serious roadblock to legacyhood.
If the film scenario is still so static, his indelible genre of writing will soon struggle to find new readers, as middle-class Bengali children rarely read the mother tongue and obviously, a national audience has not been established, in spite of the odd English translation. What is surprising is that his schools of writing (detective, sci-fi and Hitchcockian fiction) have not been sufficiently inspirational even for home tongue creators - even the odd Eken Babu had to be seen on screen to become popular unlike the Ray diffusion of adoption. Unlike, say, Virat's interpretation of Sachin, nobody has ventured to resurrect this level of quality, rooted in strong reader insights and societal traits, timely yet timeless.
Perhaps, fear is a barrier for the awesome talent that floats in our DNA pool as folks are comfortable emulating or borrowing, but sans the chutzpah to surpass. Without actually realising that the legacy game is about attempting a benchmark destination, but through a totally customised route map. This is easily visible in sporting and musical arenas and a fine illustration is the departed Rituparno Ghosh, who could render effortless gravitas in an invitational flow, inclusive and not arty, just like Ray. There are others in the modern era who are thoroughly accomplished and perhaps, a few more stories may emerge.
I already spoke about the barrier of fear and it is important to dwell on the 'Genius Ceiling' that thwarts creators in Bengal and beyond, when referring to Ray or Tagore. Apart from the modern folk song movement, no significant school of popular music has emerged in Bengal since Tagore and everybody seems busy trying to value-add or innovate, in renditions clearly. This is the pattern for Ray as well and modern worthies must learn to identify the genuine source of inspiration - the immaculate stretch of an artistic sinew as process versus the unreplicable creative product as an outcome. The latter must not be photocopied while the former is Aviation Turbine Fuel for the creator's originality.
As we live, Ray is in imminent danger of becoming an exceptional memory, in the hiraeth zone, and not the throbbing legacy that he deserves to be. You don't need Feluda's brains to figure out the truthful culprit and the right answer is a disabling mindset block. Which keeps us chained when wings are what we possess.