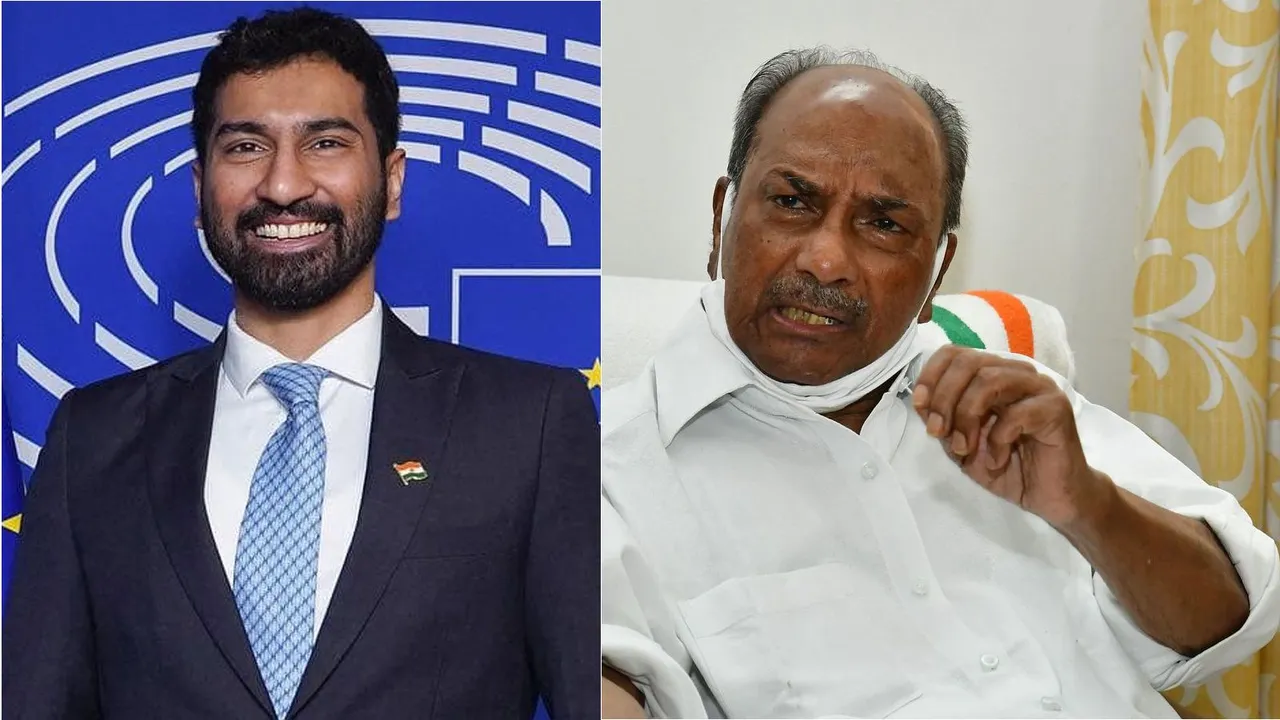 New Delhi: Years after AK Antony raised concern over the party's minority appeasement policy, his son Anil Antony has resigned from all party posts in view of intolerant calls to retract a tweet in which he had called the BBC documentary on Prime Minister Narendra Modi "India: The Modi Question" a dangerous precedent. 
Anil Antony, who headed the IT wing of the Kerala Congress, had called the BBC (British Broadcasting Corporation) a state-sponsored channel with a long history of prejudices against India.
"Despite large differences with BJP, I think those in India placing views of BBC, a (UK) state-sponsored broadcaster with a long history of India prejudices, and of Jack Straw, the brain behind the Iraq war, over Indian institutions is setting a dangerous precedence, will undermine our sovereignty," he had tweeted on Tuesday.
A day later, he resigned from all party posts. 
"A lot of things that happened in the last 24 hours, especially from certain corners of Congress have hurt me a lot. After my tweet, I was getting threat calls and hate messages all through the night," he claimed.
Anil Antony shared his resignation letter on Twitter and cited abuses by ones supporting a trek to promote love in an apparent reference to Rahul Gandhi's Bharat Jodo Yatra.
Rahul Gandhi had already spoken on the issue, alleging that the central government was suppressing the truth. Addressing a news conference in Jammu on Tuesday, he had said: "The truth always comes out. No amount of banning the press and using institutions like ED and CBI against people can suppress the truth from coming out."
Also read: Does part-2 of BBC documentary on PM Modi establish Amnesty's agenda?
In 2014, Anil Antony's father and former defence minister AK Antony had zeroed in on the factors responsible for the Congress party's humiliating defeat in the Lok Sabha elections that year.
In his report to the then Congress president Sonia Gandhi, he had listed the strategy of pitching the Lok Sabha polls as secularism versus communalism battle, and the perceived minority appeasement by the Congress as the main reasons for the party's debacle.
The report claimed that fighting the polls on a 'secularism versus communalism' plank hurt the Congress which was identified as pro-minority, resulting in substantial electoral gains for the BJP.  
While the Congress also failed to drive home the point that minority and majority communalism were equally dangerous for the country, the party's minority-appeasement policy also proved counter-productive.  
Frequent statements by some Congress leaders on the Muslim quota had antagonised and alienated the majority community, the report said and added that the minority community, too, doubted the grand old party's intentions, arguing that there was a huge gap between programmes announced by the UPA government and their actual delivery on the ground.
A few years down the line, his son resigned almost on the same ground.