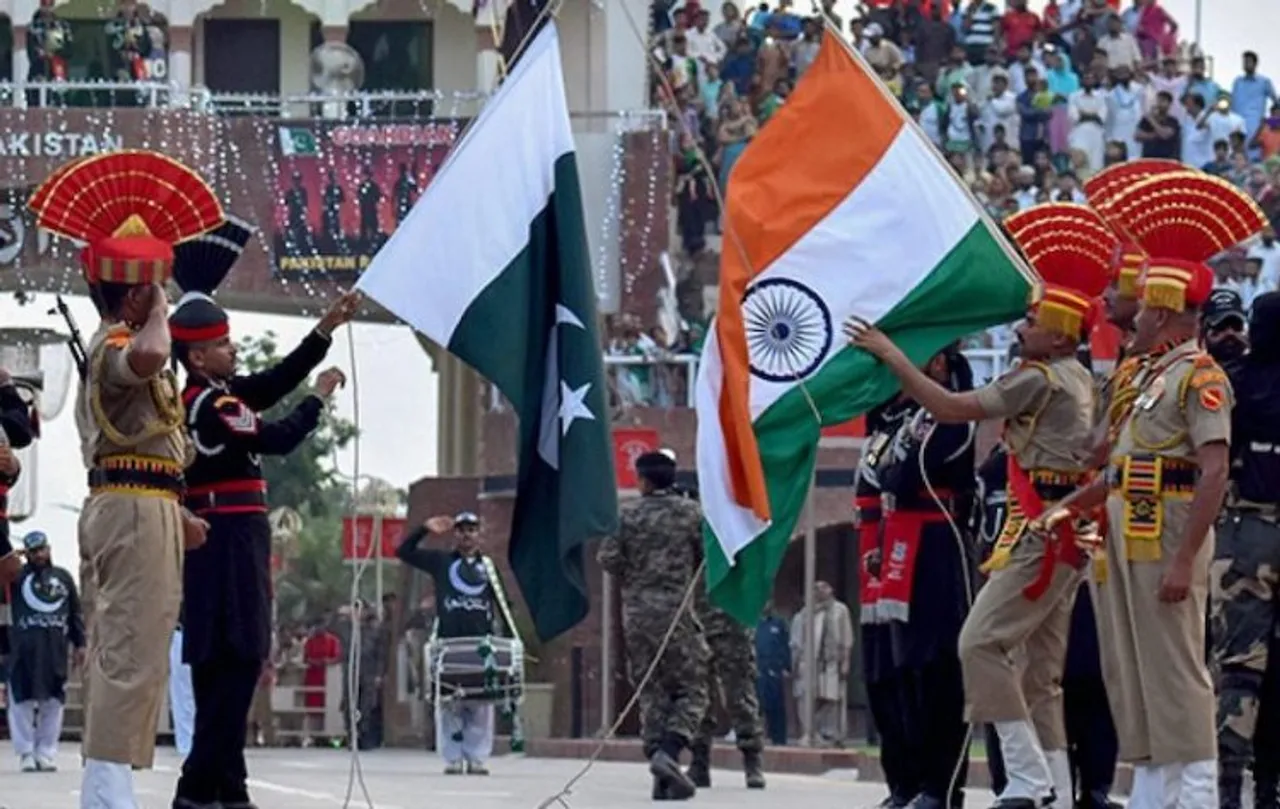 Islamabad: A senior government official confirmed on Saturday that the backdoor channel between Pakistan and India, the Nuclear-armed South Asian neighbours, was working well and that the two sides may resume the process of dialogue soon.
"Two sides have been maintaining close contact behind the door. You may call it Track-2 diplomacy. In fact, behind the curtain diplomacy has always been working well between two sides. However, Track-2 diplomacy worked wonderfully during the last couple of years. Results were more than expected," a senior Pakistani official told 'News Drum' on condition of anonymity. 
"Did you notice that guns have been silent across the LOC for a couple of years? Two sides have stopped accusing each other of their problems. Above all, Indian goods are making their way to Afghanistan passing through Pakistan. These are only a few outcomes of the backdoor channel of Track-2 diplomacy," said the official who is, in fact, among a few officials in Pakistan tasked with initiating and monitoring the backdoor channel with India.
When asked about the possibility of resumption of bilateral talks between Pakistan and India, the official said that the ice is melting between arch-rivals and a breakthrough was expected in this regard soon.
"Things are moving ahead in the right direction. Two sides are on the way to resuming dialogue soon. We are working on it," said the official adding that Pakistan and India may restore the full diplomatic relations in a couple of months.
The off the record conversation and background interviews with government officials have revealed that Pakistan's business community has been asking the previous governments to restore the bilateral relationship. However, authorities didn't pay attention to their requests.
"Business community in Pakistan was badly affected following the downgrading of Pakistan-India bilateral relationship. Especially the textile sector was worst hit as import of high graded cotton yarn from India has been stopped," government officials this correspondent spoke to revealed.
Pakistan had stopped the import of cotton yarn and sugar from India following India's violation of its air space on February 26, 2019. Following repeated requests from Pakistan's business community, the Economic Coordination Committee had proposed to the government of Prime Minister Imran Khan in April 2021 to allow imports from India. However, Imran Khan's government rejected the proposal which disappointed Pakistan's textile industry.
Jawed Bilwani, chairman of the Pakistan Apparel Forum, criticised the government for the decision and said the move will corner the country's textile industry.
"Ban on import of cotton yarn from India is hampering Pakistan's textile Industry. The government needs to lift the ban," Bilwani said.
However, things are changing rapidly soon after the change of regime in Pakistan. Following the ouster of Imran Khan from power, Shahbaz Sharif took over as Prime Minister in April this year. Analysts believe that under Shahbaz Sharif, Pakistan-India ties were expected to grow.
"Repairing Pakistan's international diplomacy is high on Shahbaz Sharif Government agenda after four devastating years for Pakistani diplomacy marked - among other things - by regular tensions between the government of ousted ex-PM Imran Khan and the diplomats at the Ministry of Foreign Affairs," Ahmad Quraishi, Islamabad based foreign policy expert told NewsDrum.
In an interview with NewsDrum, Quraishi said that Communication between Pakistan and India is inevitable even if either party pursued a policy of disengagement. There are too many regional and international factors that render a policy of shutdown toward the other impractical for both.
"There is not much information available on what's happening between Islamabad and New Delhi behind the scenes if there are such contacts. But engagement is necessary for both to contain possible escalation and open doors for conflict resolution," Quraishi told the Newsdrum.
"It is fair to say that ceasefire in Kashmir has allowed both nations to move, albeit very slowly, toward a situation where we might see some forward movement on trade and conflict resolution in Kashmir and elsewhere. There is no sure way of judging that this will happen, but we see very early signs of the possibilities ahead," he added.
Experts on Pakistan's foreign policy believe that under Shahbaz Sharif, Pakistan will surely improve its ties with India and the USA.
"Under Shahbaz Sharif, Pakistan will return to a healthier economy and its relations with its traditional supporter the US as well as its rival India will significantly improve," Mustansar Klasra, a PhD scholar at Quad I Azam University Islamabad and a visiting professor at the University of Chakwal told NewsDrum in an interview.
Mustansar said Pakistan's military establishment was in favour of establishing a cordial relationship with archrival India. However, Pakistani politicians had never shown the will and courage to normalize the relationship with India.
"You will appreciate knowing that the military establishment in Pakistan has been favouring maintaining cordial ties with India. However, Pakistan's civilian leadership never wanted it. You must have observed peace and stability across the Line of Control for more than a year. It is because of military chief General Qamar Javed Bajwa's initiatives," Mustansar Klasra added.
It is worth mentioning that the bilateral relationship between Pakistan and India has been running all times low following the Pulwama attack. In February 2019, Pakistan called its High Commissioner in the wake of heightened tension between Pakistan and India following the Pulwama attack. Further in June 2020, India had asked Pakistan to reduce its staff at Pakistan High Commission, a move which Islamabad had reciprocated immediately.
In February a suicide bomber had rammed a vehicle with explosives into a caravan carrying paramilitary troopers. Forty soldiers had died and scores got multiple wounds. Jaish-e-Mohammed had claimed responsibility for the act. The bomber himself was a local Kashmiri identified in the media as Adil Ahmad Dar. The attack had severely damaged the already fragile relationship between the two hostile nuclear-armed neighbours.
"Shahbaz Sharif is aware of the importance of a good relationship with neighbours. I am sure he is going to reach out to India in this regard," Advocate Azizullah Khan, Lahore-based expert on foreign policy and International Law, told the NewsDrum over the telephone.