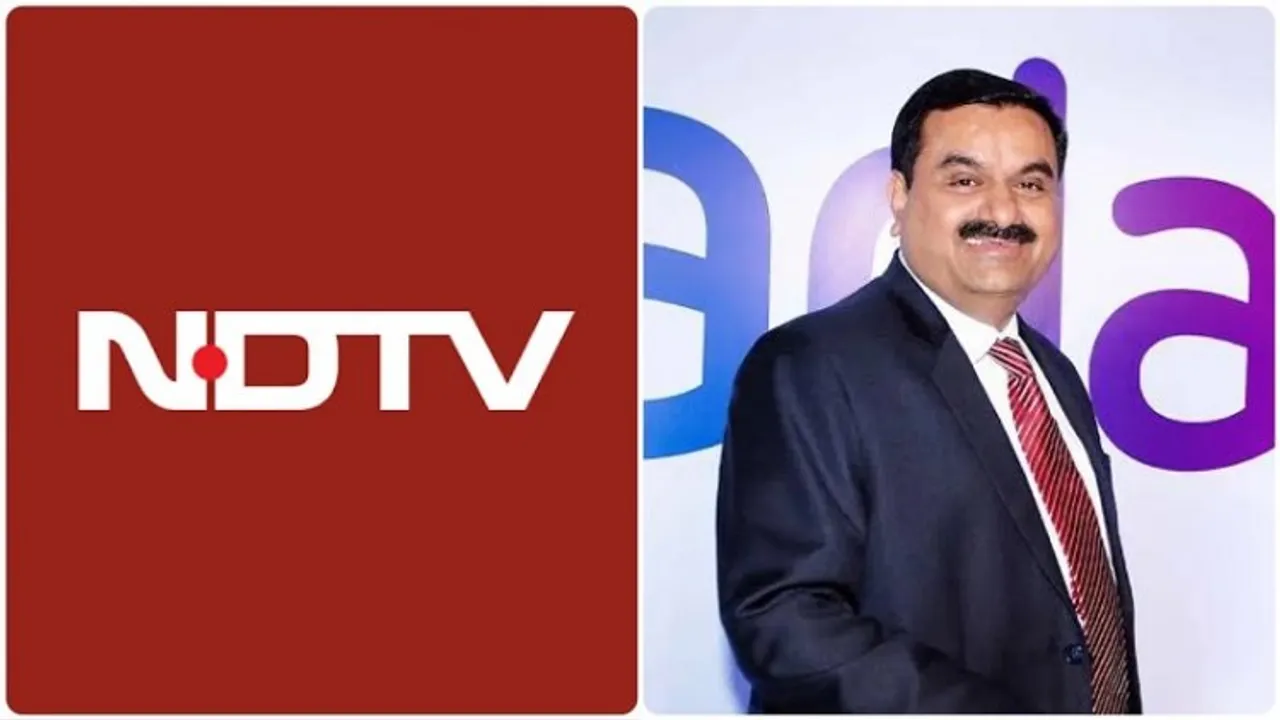 New Delhi: Ever since the news about Adani Group taking over NDTV broke in August, enough has been speculated about the future of one of the oldest news television brands.
Some called it the death of the last bastion of independent journalism while many called it a 'hostile takeover' to silence the NDTV style of journalism.
However, the statements from the NDTV founders Radhika and Prannoy Roy followed by a couple of interviews given by Gautam Adani to Financial Times and India Today Television, and the recent internal communication by NDTV Group President Suparna Singh to staff tell a different story.
NewsDrum maintained that it was "not a hostile takeover" after the announcement of acquisition.
Adani's attempt to foray into the media business came to the limelight in September 2021 when NDTV denied buyout by Adani Group. The so-called 'hostile takeover' was indeed an acquisition route of RRPR through VCPL on a mutual agreement.
And, it was evident from the statement of Roys on December 23 announcing their decision to sell a whopping 27.26% stake to Adani's last week, a move that was reported by NewsDrum on December 3.
Roys said that with "mutual agreement", they have decided to divest most of our shares in NDTV to the AMG Media Network.
"Since the Open Offer was launched, our discussions with Mr. Gautam Adani have been constructive; all the suggestions we made were accepted by him positively and with openness," the statement from Roys read.
After the process of buying back shares from the public through an open offer ended on December 26, Gautam Adani told India Today Group Editorial Director Raj Chengappa in an exclusive interview that NDTV will remain a credible and independent global news network with a clear 'Lakshman Rekha' between management and editorial.
Adani, who chose India Today over any other Indian news channel for his first-ever video interview, asked for some time before everyone starts judging him and his company for interfering with NDTV's editorial policy.
Finally, Adani took control of NDTV on Friday, December 30, with Roys resigning as Co-chairpersons of the company.
This was followed by NDTV Group President Suparna Singh's internal communication to staff addressing the road ahead. 
"The Management team, our editorial team, and I have met with Sanjay Pugalia, CEO of the AMG Media Network, and held extensive discussions about how we will operate. Sanjay has assured all of us that the DNA of NDTV, its commitment to independent journalism and its much-valued culture (we are family, NDTV is our home) will be preserved and nurtured and that these principles are as important and valuable to our new stakeholder as to us," Singh wrote.
"Sanjay and I will share more details at a town hall very soon. In the meantime, I have been meeting with team leaders to shape plans for the new year. I remain available at all times for any questions that you may have," she added.
Singh's note brings clarity over a lot of concerns being raised by both internal and external people.
First and foremost, except for a few people including Ravish Kumar who chose to quit on 'moral grounds', all the staff across all levels are going to stay with the company and Adani's are not looking at any overhaul.
Singh will remain at the helm of NDTV and will run the show with Pugalia representing the new owners.
The second and most important takeaway is that there will not be any major change in the editorial stand or DNA of NDTV and its commitment to independent journalism. 
Singh reaffirmed after meeting Pugalia that the values and culture of NDTV are as important and valuable to their new stakeholders as to the earlier regime.
When Adani's invested in Raghav Bahl's Quintillion Business Media which publishes BQ Prime in English and Hindi, it was expected that they will take the acquisition route to establish their media business and the debt-ridden NDTV was the best fit for their plan.
And, now the new owners will have to stay true to their promises of making NDTV a global brand.